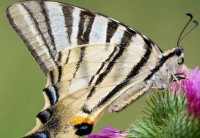 Every child is familiar with the graceful and colourful butterfly. But what do we really know about this fascinating animal? It is hardly believable, but there are more than 4,000 different species of butterflies in Austria, a major part of these also in Lower Austria. Many of them are seriously threatened with extinction. The exhibition presents the measures that are necessary to preserve and support them. The developmental stages from the egg to the caterpillar and chrysalis to the finished butterfly are among the most impressive processes in the animal kingdom. Would you have known, for example, that moths are also butterflies? Who knows that, like birds, some butterflies undertake long-distance migrations and that many species are masters of camouflage?
These are only a few of the questions taken up in the exhibition, providing multifaceted insights into the fascinating world of the local butterflies.
Curators: Thomas Holzer and Josef Pennerstorfer
Opening Hours:
Tuesdays to Sundays 9 am to 5 pm
Mondays closed, except holidays.
Tickets:
Adults: EUR 8
Reduced: EUR 7
Young adults
age 7 to 18: EUR 4
Family ticket: EUR 16
School classes per student: EUR 3.50
Guided tours: EUR 2.50