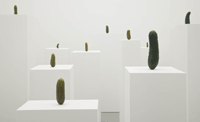 Eröffnung Sa, 19. October 2013, 05:00
"Cooking and eating are events. Their messages cannot be transmitted. They are the message. They are read, not on paper, but inside one's mouth. The pleasure imprints them unforgettably." Peter Kubelka Eating is not just a vital necessity, but as a constant of humanness a highly culturally informed social event which acts as a catalyst of conviviality, festiveness, pleasure and vice. It marks the interface between nature and culture, and works as an expression of forms of companionship and socio-political processes. As part of our cultural identity, it has always been a source of inspiration for creative work. Metaphorically, eating in art becomes the epitome of pleasure and enjoyment, corporeality and life, but also of gluttony, vanity, and death. This is visualized in the classical still life as it is in Eat Art, which transforms edibles into genuine art material. Contrary to Adorno's dictum that "taking pleasure in art" must not be "modeled on real enjoyment," an artistic take on foods may heighten the capacity for more discerning sensual perception.
From Daniel Spoerri, Dieter Roth, Joseph Beuys, Hermann Nitsch, and Adolf Frohner to Christian Ludwig Attersee, Heinz Cibulka, Alois Mosbacher, and Erwin Wurm, the exhibition presents work that evidence the relevance of an artistic approach to basic food as an elementary link between art and life.
Curators: Sabine Fellner, Dieter Ronte