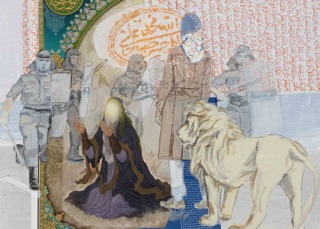 With her drawing- and collage series "Stories I live by" Mona Hakimi-Schüler casts an analytical look at her homeland and the human existence in Iran.
The artworks show fragments of Hakimi Schüler's personal memories and imagination, creating an utopian image. Each of these revivals tells of another event , while giving an insight into the perception of the artist. Figures from Persian mythology such as, i.e. Simurgh – a benevolent, winged creature in the shape of a bird with Promethean power which also stands for self-awereness and trut, is set next to Islamic ornamentation and scenes of everyday life in Iran…
"Mona Hakimi-Schüler was born in Iran in 1977. After studying physics in Tehran she moved to Germany to study art and art education. In her work she uses a wide range of media. Besides drawing which is her main medium she also paints, makes collages und creates space-encompassing, story-telling installations.
In her projects she deals with her own experiences and collective memories which she intertwines with events currently happening in her home country. Using symbols and imagined space situations she creates worlds of dreams and phantasy, that can be interpreted in different ways.
Mona Hakimi-Schüler's main aim ist to find a way to narrate stories that are searching for a way to balance out the collective and the subjective.
Mona Hakimi-Schüler has had various solo and group exhibitions in Europe, the UAE and the US, has received awards such as the Valentine-Rothe-Price and the Piepenbrock Kunstförderpreis.Her works are to be found in collections such as the Collection Essl in Vienna and the Piepenbrock collection in Berlin." (Source: http://www.ab-gallery.com)
Azita Ebadi, Art Manager, lives and works in Berlin and Tehran. She headed the International Department at the Art Tomorrow, the bilingual (English / Farsi ) Art Magazine in Tehran. Since 2004 she has worked as coordinator, among other, for the House of World Cultures (Berlin) in the film industry or as a freelance for international exhibitions, works .
Please pay attention to different opening hours on Saturdays!!! (11am – 2pm)