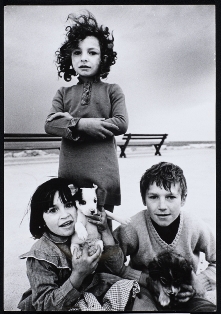 True friends go with us "through thick and thin"; they accept us and love us just as we are.
For the fifth time, the MdM Rupertinum presents an art exhibition specially for children and families. The focus this time is on the abstract yet highly emotional topic of friendship. Friendships often start early, in kindergarten, school, playground or elsewhere.  Friends play, laugh, cry, dance and talk with one another; they offer consolation, they help and listen. Friends also quarrel sometimes – this is all part of friendship – but they make up, and everything is all right again. Anyone can be a friend – the little girl in the sand-pit, the boy next door, mother, father, grandparents or pet. It has nothing to do with age or appearance. Friends often stay with us for a lifetime.
How do friendships start? What makes a good friend? Why are friends so important? What is special about a best friend? How do artists see the subject of friendship, and how is this shown in their works? Do they sometimes work together – as artist friends, so to speak? The interactive exhibition deals with these and other questions, and shows works from the Salzburg MdM collection, by artists including Friedensreich Hundertwasser, Paul Flora, Alfred Kubin and young contemporary artists such as Stephen Mathewson, David Moises and Nicole Schatt.
With an "art experience" room, lots of interactive stations and exciting events, Through thick & thin invites all friends – old and young – to join in a journey of discovery.
The exhibition is accompanied by a varied fringe programme. Once a month, storyteller Hildegard Grasedieck presents a picture-book cinema, Dorit Ehlers offers a drama workshop, and Georg Bydlinski gives a reading on the subject of friendship. Every second Saturday, children can bring their parents, grandparents, aunts and uncles to do creative work in our open studio.
Works on loan from Alpine Gothic (Christina Breitfuß *1971, Schwarzach/A, Erik Hable *1968, Linz/A and Wofgang Wirth *1966, Innsbruck/A), Nicole Baïer & pupils of the Josef-Rehrl-Schule, Heinz Baumüller (*1950, Kollerschlag/A), Hannah Breitfuß (*1987, Salzburg/A), Fabian Fink (*1979, Oberndorf/A), Susanne Jirkuff (*1966, Linz/A), Stefan Kreiger (*1981, Salzburg/A), Stephen Mathewson (*1962, Evanston/USA), David Moises (*1973, Innsbruck/A) and Friedrich Rücker (*1968, Salzburg/A).
Curated by Erik Hable, Lena Hofer and Martina Pohn
Wednesdays longer opening hours!!! (10.00 am - 8.00 pm)