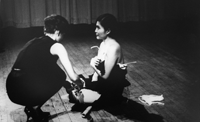 Born 1933 in Tokyo and now based in New York, the artist Yoko Ono was a well-known figure of the avant-garde and performance art scene already in the 1950s and later, together with George Maciunas and John Cage, became one of the leading minds of the Fluxus movement.
Ever since her beginnings she has made it her mission to challenge conventional views in visual art, to break through viewers' passivism and to use provocative impulses to address a broad audience. Yoko Ono has internalized this approach and, over the past six decades, has created a truly epochal oeuvre of drawings, photography, installations, sculptures, art actions, poems, compositions, and films.
Soon after she had started studying philosophy in Tokyo, she moved to New York with her parents in 1952 where she went to study contemporary composition and poetry. Her future musical work was informed in particular by her confrontation with the twelve-tone technique of the Second Viennese School around Schönberg and Webern. As early as 1955, she realized performances together with her first husband, Japanese composer Ichiyanagi Toshi. A milestone of conceptual art was her 1962 exhibition "Works of Yoko Ono" at the Sogetsu Arts Center, Tokyo, where, instead of paintings, she showed "Instructions" as ideas of paintings. Until today, this show has been considered as one of the moments of birth of conceptual art. Aside from her conceptual and Fluxus-oriented works, she received acclaim and recognition from avant-garde circles as a radical performer and initiator of happenings. For example, her "Cut Piece" performance of 1964, in which Yoko Ono had her clothes cut off her body piece by piece by the—largely male—audience, went down in art history as an instance of proto-feminist action art.
The conceptually oriented films that she started doing from the mid-1960s make up an important part of her total oeuvre, showing Yoko Ono as a formally radical filmmaker who holds a position of her own in the history of experimental avant-garde film. In 1966, by then already an artist well-established in the art scene artist, she met John Lennon who came to see her exhibition in London; an encounter which was to prove very consequential for the lives and careers of both artists. In particular, their joint political and artistic "Love and Peace" happenings indicate the amalgamation of two independent positions into one artistic entity with the goal of providing impulses to transform society through art. A universally recognized pop and cult figure not least because of this union, she has been an activist for the global peace movement for decades. Memory work, the question of how to address and deal with individual and collective memory, is yet another constant of her many-faceted cross-media activities.
The exhibition at the Kunsthalle Krems is the first comprehensive retrospective of the artist—who received a Golden Lion for her life-work at the 2009 Venice Biennale—ever shown in Austria. It was produced in cooperation with the Schirn Kunsthalle Frankfurt, the Louisiana Museum of Modern Art, and the Guggenheim Bilbao and presents the artist in the full diversity of her all-encompassing oeuvre. (text source Kunsthalle Krems)
Curator: Hans-Peter Wipplinger