Motorcyclist's Happiness Won't Fit Into His Suit (2021)
Berlinale Shorts Competition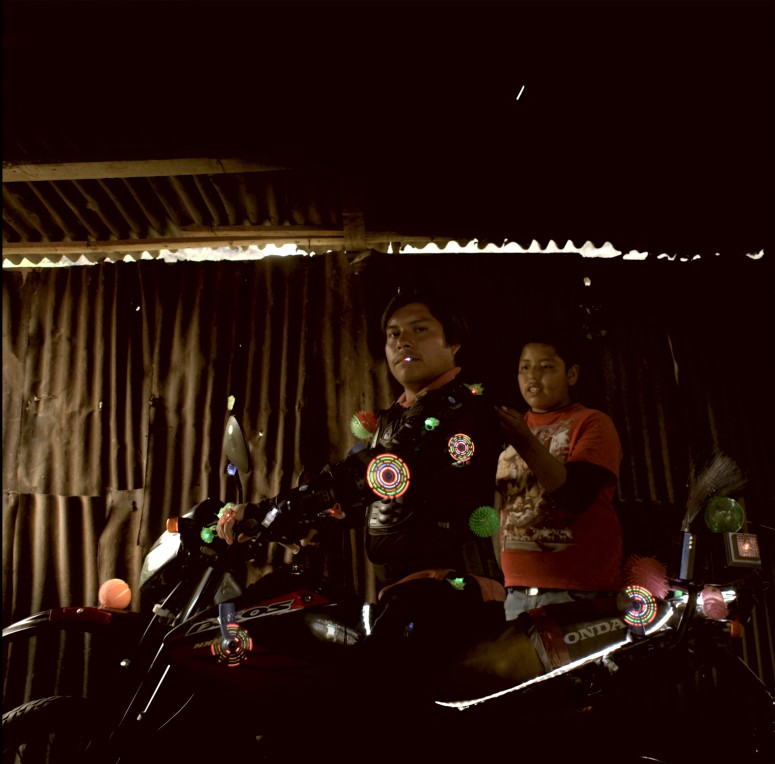 The understanding of beauty, with all its socially rooted codes and trends that trod along, is the cruelest judge of who, what and how gets accepted, cherrieshed and loved, and this is not something that formed its shape yesterday, nor in the 20th century or even back in Middle Ages. Humankind's relationship to "attractive" is tricky, and not so detached from the mechanisms of power. Along these lines, Motorcyclist's Happiness Won't Fit Into His Suit kicks off with a quotation by an unnamed woman that each one's responsible for their beauty, and that being ugly is an insult to other people. This clearly is a right introduction to the local (filmic) wisdom "To each their own motorcycle".
A sturdy young man is proudly demonstrating his bike. Not that he is talking or pointing at anything in particular. A bit pretend-busy by checking a command or two, he is clearly satisfied with his iron horse. His gaze straight into the camera lens screams "look at my bike!" moments before his leather jacket gets brought in with pompeous grandeur by four young people. The man, obviously a leader, is all set to get the engine rolling to conquer the area.
When the rider starts the engine, we are still boxed in his royal red "warrior" tent, with only a slight idea what's outside. Although in command of a motorized cavalry waiting for him in the greenery, he wants to be the first one to explore. "Him and no one else" was getting into the jungle, is something that Hernan Callejas allegedly said to his exploration brigade back in the 16th century conquest of Mexican territories. He wasn't actually first, considering it was the rest of them cutting through plants and scaring off indigenous people. Back at that time, it was the conquistadors' helmets that shone in their cold elegance.
In his Berlinale Shorts contender Motorcyclist's Happiness Won't Fit Into His Suit, Gabriel Herrera paints a nonconformist picture of the Spanish conquest of Indigenous lands, set in modern context. The relationship between new and ancient, modernity and nature is put into a play of reversed roles. "The new world was full of unexpected objects, unreasonable plants, drunk animals, unknown prayers. He dressed them all in his own suit…"
The beauty of the conqueror. His shiny armor and display of superiority over those he came to erase on his expedition, for a higher purpose. He dominates the nature and the foreign habitat, dressed in his best clothes.
This is a film that will certainly travel a long festival road. Shot on 16mm and shown in the boxy 1:1 aspect ratio, Motorcyclist's Happiness Won't Fit Into His Suit is a window into a parallel universe of history brought forward in the now.
---
Original title: Al motociclista no le cabe la felicidad en el traje
Country: Mexico
Language: Spanish
Year: 2021
Runtime: 10′
Directed by: Gabriel Herrera
Written by: Gabriel Herrera, Stefanie Reinhard
Produced by: Susana Bernal
Production: Black Maria Producciones
Co-produced by: Artemio Narro
Supported by: Goethe Institut, Disruptiva
Cinematographer: Stefanie Reinhard
Sound Design: Gabriel Herrera
Sound Editor: Naybi Suya, Rodrigo Navarro, Pablo Herrera
Sound Mixing: Ricardo Artaega
Sound Recording: Alajandra Hernández
Editor: Gabriel Herrera
Production Designer: Luis Castaneda
Cast: David Illiescas, Ángel Morales, Lisandro Robles, Estefania Guerrero, Ulises Robles, Joel Ramirez