Review: The Balcony Movie (2021)
Crossing Europe Film Festival
European Panorama Documentary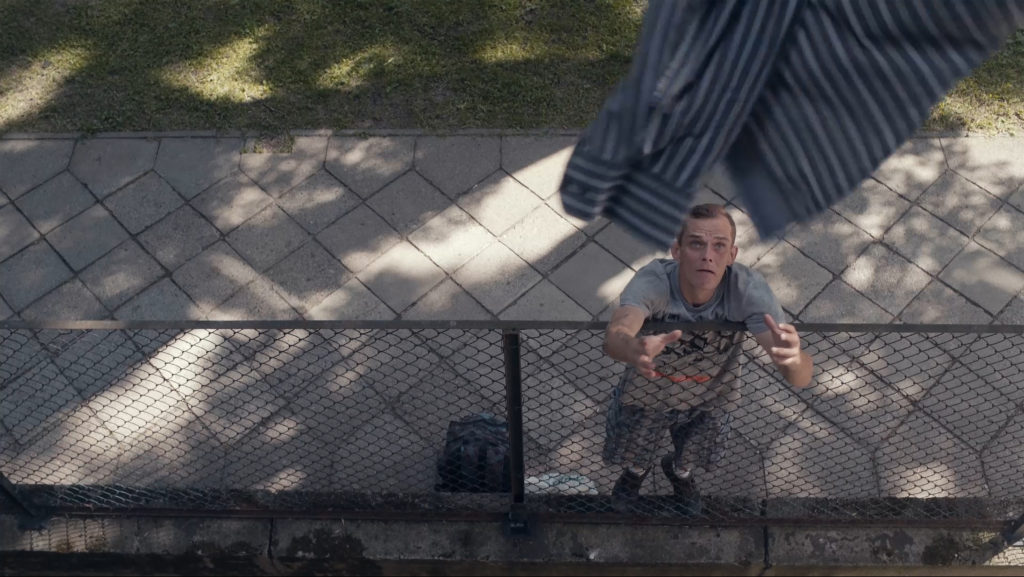 There is no escape from being filmed. Wherever you go, there is someone with a smartphone in their hands, and with their own agenda about what (and who) is a potentially interesting subject to filming. You can not hide good enough in public spaces, not even between the four walls belonging to your own home. The mobile phone camera is ready to spy upon your most intimate moments and turn it into a social network ready material.
When Paweł Łoziński started shooting The Balcony Movie, he wasn't sure about the shape the film was going to take. He was guided by his own curiosity about the lives of his neighbours, people he knew from seeing and greeting on their brief encounters somewhere between the narrow corridors of his residential bulding and the local supermarket. From the moment the project started taking its shape, he became obsessed with people he spoke to below his balcony, eager to now who they were.
This is not the first time Łoziński takes on his immediate environment. He made it into a habit of trying to understand what is going on right in front of his doorstep, or to the people he feels deeply connected to. When his mother was diagnosed with cancer, he decided to listen to the stories of other people going to similar experience in the hospital she was getting her chemotherapy at. The camera helped him getting the desired distance between the concrete problem, and to establish the connection with his mother who wasn't ready to talk about what she was going through. The material shot during that dramatic period resulted in his documentary Chemo (2009), a deeply personal, emotional take on the aggressive and mostly effective way to beat the most leathal desease of our time.
"How about a short chat about life?", the director asks one of the passers-by beneath his balcony. "Nope, because life is shit" answers the man in an honest manner, and there is no argument one could send his way. For most of the people that stop to chat, life is as enigmatic as the person asking them questions about life universe and everything.
A young woman is reading Carl Sagan's book Billions and Billions: Thoughts on Life and Death at the Brink of the Millennium (1997) which she proudly shows to Łoziński, and when she is stopped by the director and asked about our special place in the universe, she simply answers that we don't have it. Not as directly vocal about it, but living exact those words is a desperate former convict, recently released from prison, who tries to collect some money from passers-by, at the same time very aware of his place in the society that rather would not have anything to do with him.
Nocturnal scenes are introduced after half an hour into the film, and they bring a completely different energy: raw, sensitive, a notch more sincere.
The Balcony Movie is an exciting dialogue between the filmmaker and his surrounding that takes the filmic shape of a speed-dating cost-free psychotherapy that most of us would want to get. His curiosity is genuine, almost childish and for a moment, one believes to be watching the Little Prince on his visit to the Earth asking all kinds of right questions that we earthlings somehow forgot to ask.
The film has travelled the world since its world premiere in the Semaine de la Critique program section in Locarno, where it won the Grand Prix.
---
Original Title: Film Balkonowy
Country: Polen
Language: Polish
Year: 2021
Runtime: 100′
Producers: Paweł Łoziński, Agnieszka Mankiewicz
Production: Łoziński Production, HBO MAX
Written/ Directed by: Paweł Łoziński
Camera: Paweł Łoziński
Editing: Paweł Łoziński, Piasek & Wójcik
Sound/ Sound Design: Paweł Łoziński, Franciszek Kozłowski
Music: Jan Duszyńskiales: KFF Sales & Promotion