Hiking Theater FRIEDL of the empty pockets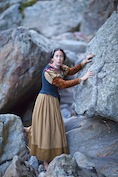 A "hiking theater" leading from Vent to Marzellferner Glacier (Ötztal | Tirol).
Taking place from 01 to 22 September 2013, from dusk to dawn.
A group of one hundred hikers walks silently across scenic Niederes Tal valley towards Martin Busch Hütte. On this beautiful route they can experience the escape of Tirol's Archduke in an authentic Alpine setting, divided into different stages and locations spread all over the untouched Alpine landscape. Text and music via earplugs. History is made here.
Friedl in search of a hideout
Tirol's Archduke Friedrich IV must have been a good guy. Apparently only the worst or the best become famous, going down in history as mythic personalities. Friedl, the Tirolean, is one of them. He trusted in the wrong Pope – yes, in 1406 he still had the option. Pope John XXIII was to have a brief reign before all powers were taken away from him in Constance. As a consequence Friedl, his supporter and conspirator, was officially banned from both the Empire and the Church. The worst punishment for a nobleman. On his escape he found shelter at the Rofenhöfe farms working as a farmhand. He tried to flee several times. Friedl in search of a hideout amidst the wide open Alpine valleys, encircled by ridges and summits. Meran was the Tirolean seat of government. After a successful escape Friedl transfers his official residence back to Innsbruck, to the north, close to the country's salt and silver mines. Thanks to his alliances with farmers and tradesmen this was the beginning of an incredible economic upturn owed to Archduke Friedrich. Legend has it that Friedrich also built the Golden Roof in Innsbruck as a proof of his wealthiness.
One hundred people
In the wide open mountains of the rear Ötztal Valley, where less than 100 people live on more than 100 square kilometers, many regions are still cultivated like some 600 years ago. Almost no trace of the 21st century can be found amid the scenic Niederes Tal valley. The entire area makes an authentic setting for a unique story about an escape across the main Alpine ridge. This stunning backdrop offers both a superb atmosphere and an incomparable hiking area. In 1415 FRIEDL saw the same ravine, the same rushing Alpine brooks. Sheep and Haflinger horses are still grazing on the pasturelands in this secluded high-altitude valley. The theater group, accompanied by their hiking audience, leave the Rofenhöfe farms – Austria's highest permanently settled farmhouses at 2011 m above sea level. Across the suspension bridge they reach the ascending trail through Niederes Tal. Very special locations host the single theater acts which are rest stops at the same time: for example a prehistoric stone cave or vantage points below the glacier snouts of Diem-, Schalf-, Mutmal- and Marzellferner. The new Samoar Cottage (Martin Busch Hütte) is the hike's destination. The broad and comfortable walking route is also suitable for less experienced walkers wearing light hiking boots.
Listening from far
Near will be far at the same time, far will seem near. And where does the sound come from? The scenes take place along the hiking route, right next to the trail or far away – depending on the importance and intensity of the scene. The audience can experience all intimate dialogues and acts close-by, similar to Gods watching the world without being recognized. Equipped with tiny microports, every hiker seems to be in the acoustic center of a giant open-air auditorium embedded in natural landscapes of awesome beauty. Very often film and theater music focus unconsciously on emotional aspects provided by pictures and sounds. Pastoral songs or motets, shepherds drives or historical dances. "Friedl", the hiking theater, takes advantage of all facets. A truly breathtaking atmosphere coupled with a very special sound score transmitted via modern earplugs. A story combined with contemporary music of the 15th century, and a very special language: the original Middle High German language can be found only in selected scenes. Most of the text is in typical Ötztal dialect (UNESCO Intangible Cultural Heritage) and standard German.
Theater Performances: 01 – 21 September 2013
This ultimate hiking theater is produced by Hubert Lepka and the ultimate lawine torrèn artistic network, which has put on stage also the successful Hannibal glacier spectacle on Rettenbach. (Next performance on Friday, 12 April 2013). At splendid Martin Busch Hütte, the hike's destination, you enjoy a well-deserved rest. Hikers, actors and local participants get together here. The time is right for a nice chat – after hours of silence during the hike.
When: September 2013 – daily hikes
Rate: Euro 29 per person