Mario Merz| Arnulf Rainer in "DEEP WIDE [FRAGMENTS]"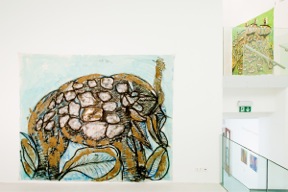 For the first time since documenta 7 (1982) Rudi Fuchs, the internationally renown exhibition maker, is presenting a joint show of works by Mario Merz and Arnulf Rainer. In MARIO MERZ | ARNULF RAINER – DEEP WIDE [FRAGMENTS] large format paintings by Arnulf Rainer will encounter the room-filling installations and pictorial objects by Italian Arte Povera artist Mario Merz. The exhibition of around seventy works which has been put together in collaboration with the Merz Foundation will be opened on the 25 May at 3 p.m. in the classicist building of the former ladies' bath in Baden.
"Both artists emerged in the Fifties as part of the broad and profound area of art suggestively termed Informel. It was not a coincidence that they shared a space at the documenta. We felt there was a spiritual kinship in the way they brought forms to light out of the underlying volatile and flowing structures and colours. All the natural forms in these mercurial works are incomplete and fragmentary," says Dutch curator Rudi Fuchs.
As Artistic Director of the documenta art exhibition in 1982, Rudi Fuchs pursued the principle of presenting the works simply and sublimely. The dialogue and interrelationships between artworks is intended to arise from a conscious confrontation. In this way painting encountered sculpture: Arnulf Rainer's "Fingerfarbenfest" from the hand and finger painting work period were shown with Mario Merz's walk-in, semi-hollow, sandstone slab spiral with large bundles of twigs. Rudi Fuchs now expands this exhibition concept in DEEP WIDE [FRAGMENTS].
Painting and panel paintings by Arnulf Rainer (*1929) from the 1990s with their main motif, the cross, will be on show. These T-shaped works, some of which were called "angel paintings" by Rainer, symbolize the apparel of angels, though this is divorced from any religious meaning. In contrast to the prior hand and finger paintings which he painted—by hand or brush—using heavily-applied, turbid and dark colours, the "angel pictures" appear fragile and light because of their inviscid application of colour.
For the purposes of comparison, DEEP WIDE [FRAGMENTS] presents Mario Merz's (1925-2003) igloo made of stone slabs which is three meters in diameter along with a room-filling spiral table. With these clay, glass, steel, or stone igloos the Italian artist created large, twentieth century art icons. Using simple means such as everyday, natural materials he is regarded as one of the main representatives of the Arte Povera movement which originated in Italy in the 1960s.
The show will also be exhibiting paintings, drawing and pictorial objects with characteristic elements which are repeated in much of Mario Merz's work: Fibonacci numbers, neon tubes, spirals and archetypical prehistoric animals. The works are from the early 1980s and on loan from the Fondazione Merz and private collections. Most of them are being shown in Austria for the first time.
The exhibition MARIO MERZ | ARNULF RAINER – DEEP WIDE [FRAGMENTS] has been realized in cooperation with the Fondazione Merz in Turin and will be open from the 26 May till 27 October 2013 daily from 10 a.m. to 5 p.m. in the Arnulf Rainer Museum in Baden near Vienna. During the exhibition there will also be concerts, performances and guided tours. Children and young people can get to know the works of Mario Merz and Arnulf Rainer in workshops and special evening tours.
A catalogue is being published by the Walther König Buchhandlung for the exhibition. It contains articles by Rudi Fuchs as well as texts by Mario Merz and Arnulf Rainer.
Since September 2009 the Arnulf Rainer Museum has been showing special monographic and thematic exhibitions of the multi-layered oeuvre of the world famous artist from Baden. TIEFE WEITE [FRAGMENTE] is, after GEORG BASELITZ | ARNULF RAINER – LUSTSPIEL, the second exhibition in which Arnulf Rainer's work is compared and contrasted with that of his contemporaries.
MARIO MERZ | ARNULF RAINER – DEEP WIDE [FRAGMENTS]
in cooperation with Fondazione Merz
Curator: Rudi Fuchs
Duration: 26 May till 27 October 2013, daily 10 a.m.- 5 p.m.
Tickets: € 6.- / € 4.-
Location: Arnulf Rainer Museum, Josefsplatz 5, 2500 Baden near Vienna, Austria
http://www.arnulf-rainer-museum.at
Exhibition catalogue: MARIO MERZ | ARNULF RAINER – DEEP WIDE [FRAGMENTS]
Verlag der Buchhandlung Walther König, Cologne
German, English, some texts in Italian
ISBN 978-3-86335-382-7
;