Review: A Dog Called Money (2019), by Seamus Murphy
What is creativity? How does an idea transform itself into a finished work of art? How do you define inspiration? And how about the creative process? There is no formula, but there are numerous examples and analogies, and a feature-length documentary debut A Dog Called Money by the Irish photojournalist Seamus Murphy might serve as one of them, especially in relation to its subject, the heroine of eclectic music scene and Murphy's life partner Polly Jean (PJ) Harvey. The film premiered at the Berlinale, in the Panorama section of the program.
The title of the film is taken from an entry in Harvey's journal written in the form of short notes from the travels to Afganistan, Kosovo and to the southern working class suburbs of Washington, D.C. where the artist was accompanied by Murphy. The journal is the source of the film's narration done by Harvey herself, but it also served as the source material for her latest album Hope Six Demolition Project. The observations from the journal were converted into lyrics (or poems, as Harvey's hardcore fans would say), accompanied by music, thus evolving into songs.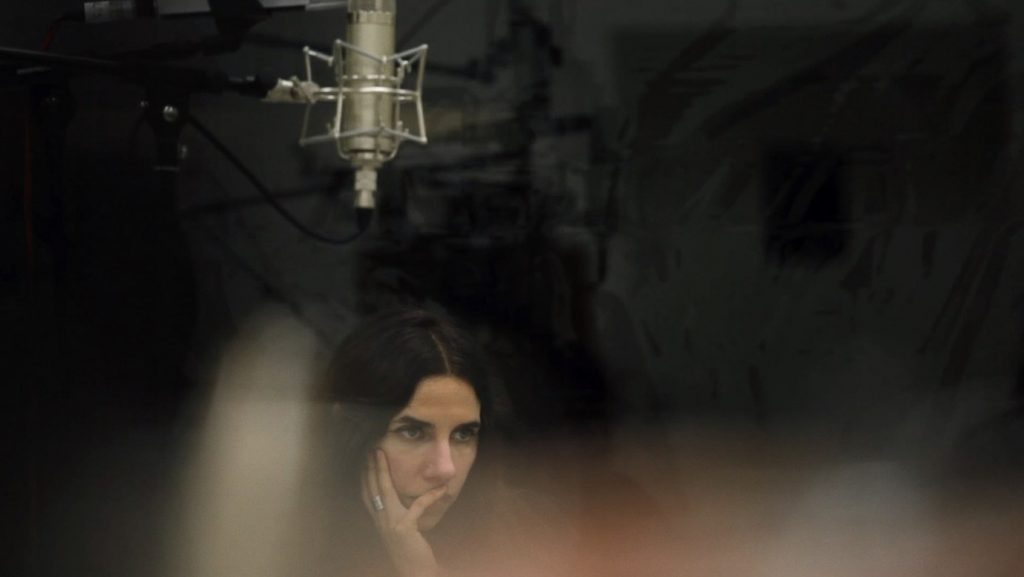 Harvey is a keen observer, sometimes going in depth with the things most of us would sign off as banal. Her position is somewhat special: she is an obvious outsider to the worlds she's visiting because she plays no particular part in social unrest, conflicts or in the post-conflict reality of some of those places, but she is nevertheless not an ordinary tourist. However, her insights, as we see and hear them in the final version of the film, are a bit devoid of a deeper social context, which can perceived as charming since A Dog Called Money is not primarily a social issues documentary.
Murphy's and Harvey's travels are cross-cut with another layer of the film covering the recording of the artist's album in the basement of the Somerset House in central London. The process was quite unusual for the standards of music business not just because of plenty of improvisation techniques employed by Harvey and her band of session musicians, but also because it was open to public who was able to watch through the one-way glass and Murphy's camera lurking on either side of it.
It might be considered as an artistic experiment of sorts and it works really well as a record and deep insight into the artistic process of creating a particular, well-rounded piece of work, while because of the lack of a firm narrative structure, the travelling part might seem random at places and repetitive at times. Murphy, serving as his own cinematographer has a good eye for particular detail and an instinct for lyricism of the image to make the film impressive albeit its lack of coherency. One might argue that there is deeper realism to it since the artistic process can be hardly qualified as coherent itself, but one thing is true: Harvey's verbal artistry is well-matched by Murphy's visual.
---
Country: Ireland, UK
Running Time: 90′
Production companies: Pulse Films, Blinder Films, JW Films
Cast: Polly Jean Harvey, Mick Harvey, John Parish
Director/ Screenwriter/ Cinematographer: Seamus Murphy
Producers: Isabel Davis, Katie Holly, James Wilson, Seamus Murphy
Editor: Sebastian Gollek
Music: Polly Jean Harvey
Venue: Berlin International Film Festival (Panorama)
Sales: Autlook, Vienna