Review: Patision Avenue
Thanasis Neofotistos' Clermon-Ferrand multiple winner and EFA short film candidate Patision Avenue which world-premiered in Venice in the short film competition, opens with a black screen, only with the sound of vocal exercises done by actors before coming on stage. This time, however, there is also a sound of the lively street in the background. We can guess and we shall be right, it is the central Athens street from the movie's title.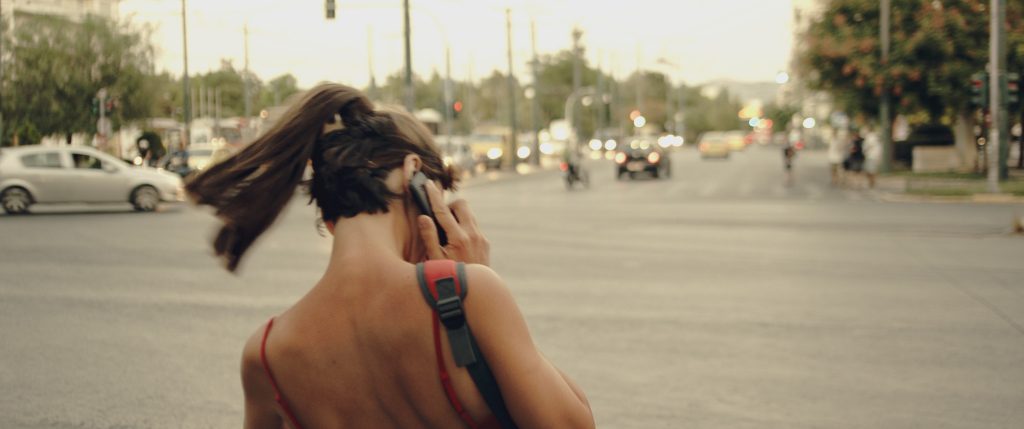 The woman played by Marina Symeou, always seen from the back and from close by, is an actress that runs late for an audition for the role of Viola in Shakespeare's play Twelfth Night. She is in the last round, competition with only one more actress, so her chances are looking good. The trouble however is, that her young son Yannis is being left home alone due to a misunderstanding with the nanny, and our protagonist has to deal with the situation over the phone, balancing several calls at the time. Her stress grows bigger when she gets caught in the middle of demonstrations that are about to go out of control.
Marvellously shot in two takes by Yannis Fotou and competently edited by Panos Angelopoulos, Patision Avenue is more than just one story that could be told from the titular street, and it is too rooted in its main character to be yet another social commentary on the political situation in Greece. Neofotistos keeps the pacing throughout, has a strong sense of local topography and uses the changes of light on different sides of the street for a dramatic effect. The script penned by Neofotistos, Yorgos Angelopoulos and Pavlos Sifakis is functional and the lines written for Marina Symeou are convincing enough for us to accurately presume what is being said from the other side of the phone lines.
---
Title: Patision Avenue
Country: Greece
Language: Greek
Year: 2018
Running Time: 12′ 26"
Director/ Editor: Thanasis Neofotistos
Producer: Ioanna Bolomyti
Writers: Yorgos Angelopoulos, Thanasis Neofotistos & Pavlos Sifakis
Cinematographer: Yannis Fotou
Costume Design: Eva Gaitanidou
Sound Recording: Yannis Antipas, Christos Sakellariou
Sound Designer/ Sound Editor/ Sound Mixer/ Sound Recordist/ Sound: Alejandro Cabrera Zuniga
Colorist: Panos Angelopoulos
Cast: Marina Symeou, Konstantina Koutsonasiou
Sales: Ben Vandendaele (Radiator IP Sales)