Review: 45 Seconds of Laughter (2019), by Tim Robbins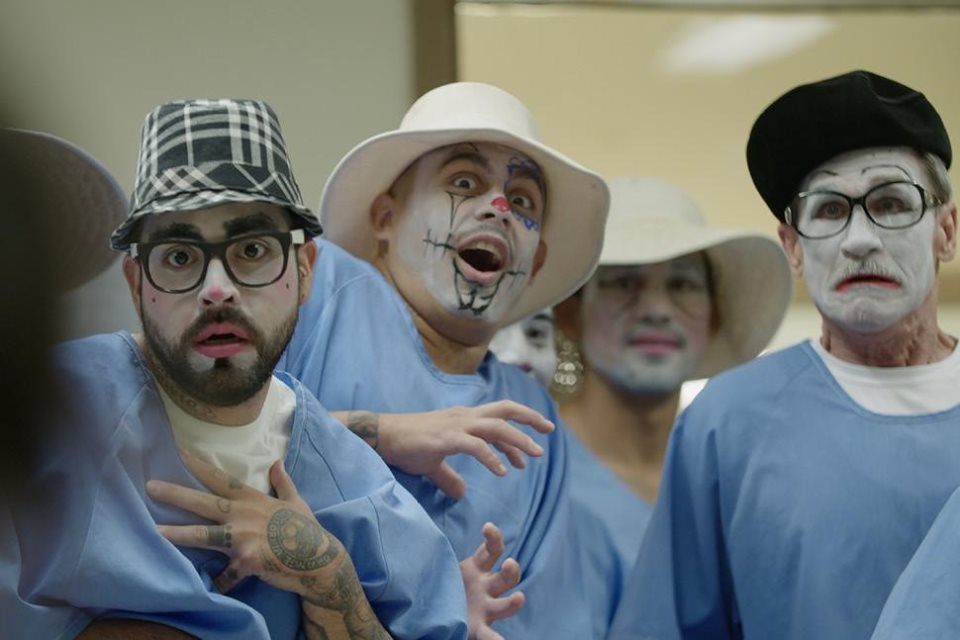 As we all know, laughter is therapeutic. It raises the level of hormones responsible for feeling happy. If it is natural and hearty, that is. Probably everyone could and should find something to laugh about for a short period of time each day. And that is one of the key premises of Tim Robins' documentary 45 Seconds of Laughter.
Contrary to its title, the film is not cheerful, but rather serious because it deals with a very specific group of people who need different types of therapy in their lives. The group in case here are the inmates of a high-security prison in California and Robins and his assistants from Actors' Gang are here to help them from the positions both in front of and behind the camera. The goal here is to teach them to channel and communicate different sorts of emotions and the therapeutic method is one thing Robins knows best – acting.
It is worth noting that prison is a community, a society and/or a system with its own rules, official and unofficial and showing emotion there can be very dangerous because it is being seen as weakness. Everything that is there revolves around basic survival and the concept of rehabilitation and introduction of that people seems abandoned long ago. They tend to stick to their own "kind" seen from the aspects of race and gang affiliation because they feel safer in group.
The new therapeutic, acting group is there to break some of the unwritten rules of prison society. First of all, it is multiracial so some of the prisoners who never knew one another can communicate freely and openly for the first time. Second, it deals with emotions directly, first by bringing them to a conscious level, then communicating them. The end result is the prisoners' ability to switch from one emotion to another and finally using the newly acquired skill to act in a Comedia dell'Arte type of play. So all those games and exercises with clapping, balls throwing and meditation we see in the film make a lot of sense.
As a star in prison films and a filmmaker responsible for one of them (Dead Man Walking), but also as a thorough actor, Robins knows what he talks about and deals with. He also knows that his approach is not just humane and humanitarian, but also quite revolutionary and game-changing. His dedication is inspirational and the results he gets from the group classes are astonishing.
Robins also proves to be more than an apt documentarian with great instincts. 45 Seconds of Laughter is never trivial, but it still steers clear of being preachy. There is even some sentimentality in the film's fabric that comes to light only at the very end, which was not necessary, but it is not harmful either. The decision to keep the narration off-screen (instead of using the "talking heads") was also the right one since 45 Seconds of Laughter remains quite easy to follow without feeling bland and plain, and occasional lack of synchronicity between what we see and what we hear feels quite fresh. One more commendable trait is also the brisk running time of under 90 minutes so the film never outstays its welcome. But the mane selling points are still importance and humaneness.
---
Country: US
Language: English
Runtime: 95 min
Production: Havoc
Producers: David Diliberto, Allison Hebble Starkovich
Cinematographer: Josh Salzman
Editor: Neil A. Stelzner
Re-recording Mixer: Frank Gaeta
Sound Mixer: Evan Marcus
Cast: Tim Robbins, Sabra Williams, Hannah Chodos, Jeremie Loncka