Film Review: American Factory (2019), by Julia Reichert and Steven Bognar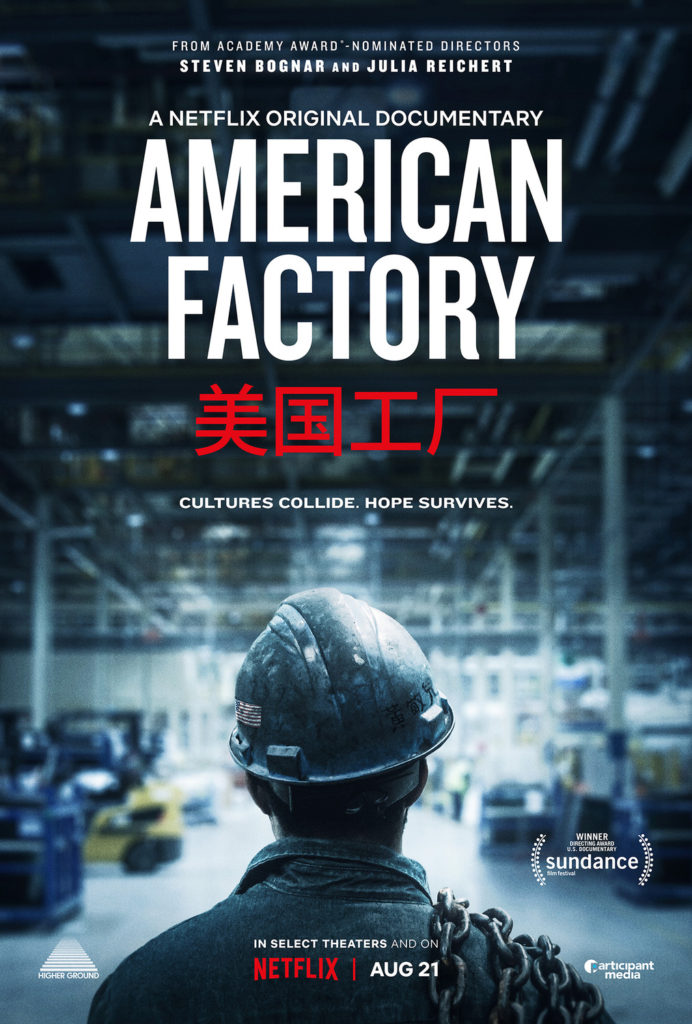 Compelling and frustrating in equal measure, American Factory is something of a follow-up to Bognar and Reichert's The Last Truck: The Closing Of A GM Plant, the oscar-nominated short about the closing of the very same GM plant that opens this film. This is the first feature-length doc produced by Barack and Michelle Obama's Higher Ground Productions.

Years after the GM plant closure, a Chinese billionaire decides to re-open it as Fuyao Glass America. Jobs and general prosperity are promised as American leadership is replaced with Chinese workaholics who happily put in 12 hour shifts and never need weekends or coffee breaks. The Chinese also don't need safety regulations or decent pay, only visit their families in China once a year, and live packed together in small flats near the plant. This is what global unorganized labor looks like, and some Americans in Dayton, Ohio aren't buying. Others apparently have no choice.
The central narrative focuses on the American workers' attempts to join a union while the Chinese rely on new and traditional propaganda techniques to dissuade them. The American workers yearn for the good times of the past, when a factory worker enjoyed good pay, benefits, and a safe workplace. For the Chinese, those kinds of demands are ridiculous. Chairman Cao, the billionaire behind Fuyao, sums up the Chinese philosophy when he says "life is about work." The film suggests that community, family and free time are just as important to the Americans.
Inept attempts to bring Chinese corporate propaganda to Dayton deliver the most glaring culture clashes. Grammatically incorrect translations of Chinese motivational slogans are amusing but troubling, while videos on the factory walls inexplicably featuring ebullient children and posters of fanatically motivated workers are the stuff of Orwellian nightmares. American supervisors invited to Fuyao's homeland are subjected to performances by Chinese workers from the local factory. A young woman sings about productivity and hard work to generic C-pop. A dance troupe does their thing with neon-silhouetted products from Fuyao Glass. Americans, all wearing red scarves like their Chinese associates, try not to recoil in horror as little Chinese girls dance in near-perfect formations to yet another pop number about company loyalty. Later, young couples rapidly become man and wife in groups at the celebration. In China, the company encompasses all things. Individuality has been abolished. This brand of primitive indoctrination induces odd reactions from the Americans who want to believe in the Fuyao miracle. One manager sheds tears and opines ambiguously "It's all one world." The American contribution to the evening's entertainment, a sloppy dance to The Village People's "YMCA," does little to bridge the cultural divide.
That's just the start of the Chinese cultural invasion of Dayton's former GM plant. Chinese managers in Dayton are instructed to see Americans as lazy children in need of a strong hand. Americans, they are told, are super-confident but incapable. They must learn to be better workers from their new Chinese masters. The American employees are required to attend disinformation sessions organized by a "union avoidancy consultant," where they are instructed, as one would expect, to avoid unions.
The final title cards of the film tell us that Union Avoidancy Consultation is currently a booming business all across the US. I would have appreciated a more precise examination of the phenomenon in American Factory. Exploring the differences between American and Chinese indoctrination techniques would have given the film more depth and direction. The final moments of the film also feature a look at the future of automation, a trend that some researchers suggest will put 800 million people out of work in the next 10 years. It's a shame that these ideas are introduced just moments before the closing credits.
The changes in Dayton, Ohio represent well-documented global trends. Brainwashing, disempowering workers, lowering wages, and removing safety regulations have been studied since Spain conquered the Incas, so why can't we get a little more information about today's Dayton, Ohio? Some clues about America's dependency on China would make it easier for us to grasp the historical changes that allow a state-supported Chinese company to impose their philosophy on American workers, but American Factory is too preoccupied with skewering the Chinese to bother with historical context. While the suffering of the American workers gets some coverage, those of the Chinese are nearly invisible. Wong, a long-time employee of Fuyao, muses about life in America and speaks of loneliness and pressure. Chairman Cao himself regrets the destruction he has wrought on the environment all over the world. He seems like a man tortured by fate, divided and ultimately victimized by his country's system. These brief glimpses of the Chinese side left me wanting to know more about the contradictions of the Chinese Empire and less about the American workers' failed campaign to unionize.

Like many speeches made by Barck Obama, the film comes across as meticulous and vague at the same time. There is no salient story of an American worker to follow. Chairman Cao is too human to be the film's villain and too absent to be its protagonist. A scene that distills my frustration with this film comes towards the end. It's when a worker in Dayton, fired for a minor infraction from his low-paying job at Fuyao, says he is still determined to believe in the American Dream. Why?
American Factory is nominated for the Academy Award in the category Best Documentary Feature, and is BAFTA Award Nominee.
---
Original Title: American Factory
Country: USA
Runtime: 1h 50 min
Produced and directed by: Steven Bogner and Julia Reichert
Executive Producers: Jeff Skoll and Diane Weyermann
Co-producers: Mijie Li, Yiqian Zhang
Editor: Lindsay Utz
Cinematographers: Steven Bogner, Aubrey Keith, Jeff Reichert, Julia Reichert, Erick Slott
Compositors: Thanos Fatounas, Timothy Fryett
Recording Engineer & Mixer: Matthew Snyder
Sound Design: Lawrence Everson
Re-recording Mixer: Tony Sereno
Music by: Chad Cannon