Review: A Machine To Live In (2020)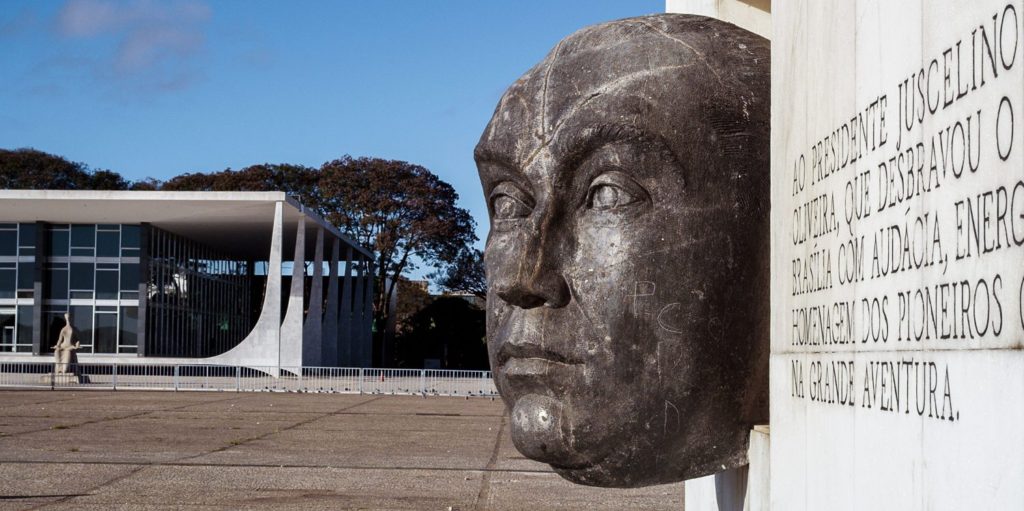 The feature debut of Chicago-based visual artists and cinematographers Meredith Zielke and Yoni Goldstein, A Machine to Live In is an impressionistic portrait of Brazil's iconic federal capital Brasilia, a hybrid documentary which functions more as dreamlike meditation than factual investigation. The directors describe their project as "a video poem to the utopian imagination" and Brasilia itself as "a generative domain for imagining alternative cosmologies". In other words, Toto, we are not in Kansas any more but in that fuzzy borderland between fact and fiction, esoteric essay-film and audio-visual artwork.
This freewheeling, psychogeographic approach to documentary proves frustratingly cryptic and disjointed at times. But A Machine to Live In also contains many moments of sublime beauty, occult oddness and quirky human drama from Brasilia's 60-year history. Following its online European premiere this week at Switzerland's Visions du Reel festival, this absorbing and visually impressive work deserves to be seen on big screens in the post-lockdown future. Carved out of virgin wilderness in just 1000 days between 1957 and 1960, Brasilia certainly makes a strikingly cinematic subject with its gleaming modernist architecture, mostly designed by the legendary Oscar Niemeyer, and its flawed history of grand-scale socialist urban planning. But Goldstein and Zielke are less interested in straight biographical facts than in how Brasilia occupies its own rich space in Brazil's literary, cultural and spiritual imagination. 
In between observational shots of Brasilia's futuristic urban vistas, Goldstein and Zielke interview an eccentric cross-section of citizens including maintenance workers, masonic temple members, a children's choir and a community of Esperanto speakers. In one of the film's strangest episodes, a leather-clad biker recalls the city's rowdy glory days before trying to start a fight with a passing stranger off camera. Contemporary footage is woven with archive clips and quotes from architects, artists, cultural theorists and more: most notably Niemeyer himself, though it is the cult Brazilian author Clarice Lispector who dominates, serving as a kind of phantom narrator for much of the film.
A Machine to Live In is full of fleeting impressions and wild digressions. Some historical background characters are fascinating, like the truck driver and medium Neiva Chavez Zelaya, who founded her Valley of the Dawn movement on a commune close to Brasilia. Her mystical cult has since expanded into a worldwide organisation, whose colourful rituals are depicted in the film. Other motifs are too thinly explained, like a recurring fixation on triangular forms to suggest the city's half-hidden cosmic geometry, and a visual effects sequence which appears to blur Niemeyer's face into that of Brazil's current authoritarian president, Jair Bolsonaro. This is clearly intended as some kind of political commentary, but its meaning is too obscure.
But even if A Machine to Live In feels too diffuse as factual documentary, it is a visually ravishing experience. Shooting in widescreen 4K digital, the directors and cinematographer Andrew Benz find limitless examples of alien beauty in Brasilia's space-age vistas, maximizing the retro sci-fi aura of Niemeyer's pristine white Kubrick-ian designs. Deploying drones, helicopters and even hot air balloons, the film-makers capture stunning aerial views of the city. They also use 3D "lidar" laser mapping technology to generate some highly original graphics, high-definition computer imagery that dissolves vast concrete structures into swirling digital dust. The effect is exquisite and magical: all that is solid melts into air.
---
Original Title: AMachine to Live In
Country: USA
Language: Portuguese, Esperanto
Runtime: 89min
Directed by: Meredith Zielke and Yoni Goldstein
Written by: Yoni Goldstein
Co-writer: Sebastian Alvarez
Cinematographer: Andrew Benz
Executive Producers: Maida Lynn and Andrew Benz
Editor: Iva Radivojevic
Editor: Stefan Oliveira-Pita
Sound Design: Julian Flavin