Review: Electric Swan (2019)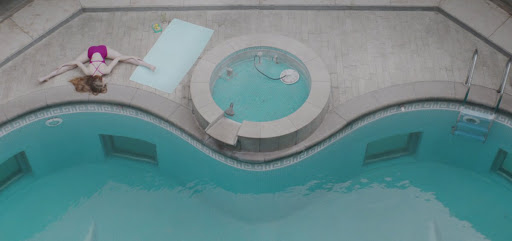 They say that in China, some parks have battery powered animals that swim around the lakes. A simulacrum designed to keep people happy, to sidestep inconvenient things such as nature and reality. In Konstantina Kotzamani's Electric Swan, reality is a strange bird indeed.
Carlos is the superintendent in a high rise building located on Buenos Aires well-to-do Avenida Libertador. Every day he deals with the bourgeois residents – the old lady who wants him to euthanize her dog, the little girl who has gone wandering the building late at night – and then heads down to his leaky dwelling, deep in the building's basement. As he tries to find the source of the leak, Carlos notes that many of the residents could swear that the building is moving…
Those have experienced Kotzamani's previous films – such as Washingtonia or Limbo – will know that a straightforward reading of her work would be to miss the point. Like David Lynch or Věra Chytilová she revels in the logic of dreams and enjoys it as the surreal and the absurd dance around in the imagery. Electric Swan is no different – the building is its own little world, redolent of both trashy soap operas and the dark underground world of ancient myth. The residents also seem to inhabit their own plains of reality, trapped in their own bubbles, and each treats Carlos as a tool, a piece of property to be used. And at the centre of it all there is Carlos himself, an impassive figure whose desires and dreams are taken for granted by everyone  (helped by a masterful performance by Juan Carlos Aduviri in the lead). It all leads to a conclusion of magical realism: strange yet there is a vein of hope in the air.
There is an underlying sense of satire about the film, as it presents a pointed critique of class division in Argentina. The rich bourgeoisie sit at the top, worried about their ivory towers crumbling. Those at the bottom have to deal with the detritus the rains down from the top. This satire is enhanced by a gentle absurd humour throughout the film – Carlos looks for a leak in a hole in his roof, his hand suddenly poking out of a resident's floor. It's silly, strange and completely compelling.
At 40 minutes long, Electric Swan never outstays its welcome though it's 'medium length' status probably saw the film not receive as much attention as it deserves. Which is a shame as the film is a glorious slice of the surreal and sidestep into another world that is both gently amusing and wonderfully thought provoking.
Electric Swan has been selected by the Venice Film Festival as part of their selection for the We Are One Global Film Festival which begins on 29th May. For more info go to: http://www.weareoneglobalfestival.com/ and youtube.com/weareone.
---
Country: Argentina, France, Greece
Language: Spanish
Runtime: 40 mins
Fiction
Director: Konstantina Kotzamani
Producers: Caroline Demopoulos, Emmanuel Chaumet (Ecce Films)
Screenwriter: Konstantina Kotzamani
Cinematographer: Roman Kasseroller
Editor: Smaro Papaevangelou
Co-Producers: Maria Drandaki (Homemade Films), Victoria Marotta (Un Puma)
Cast: Juan Carlos Aduviri, Nelly Prince, Elisa Massino, Nikita Zuckerberg, Susana Pampin