Review: Moment (2019)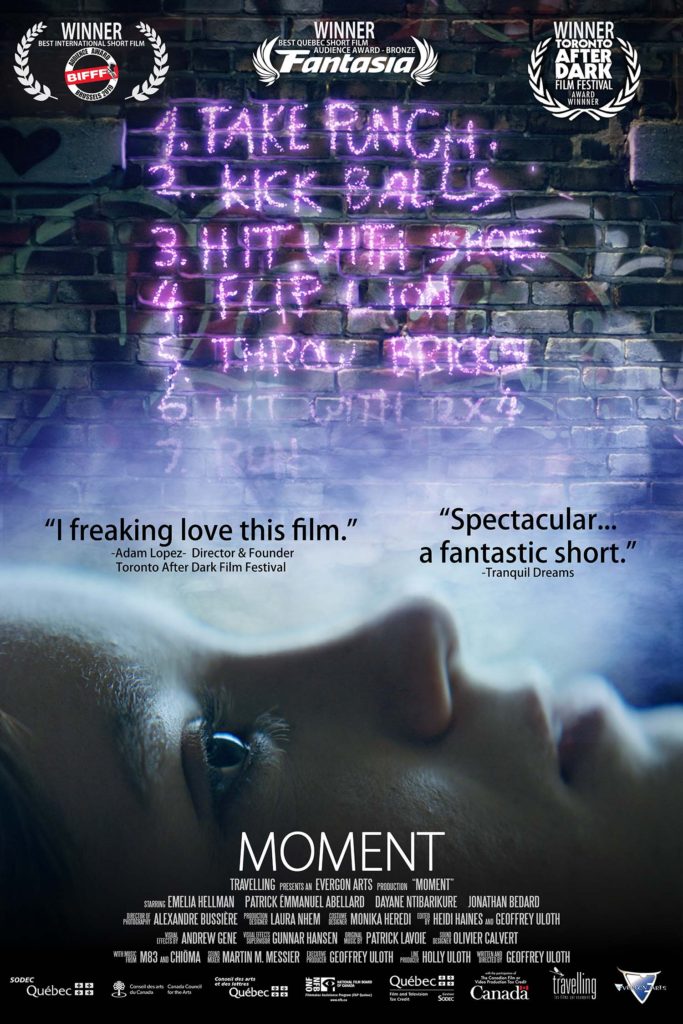 Geoffrey Uloth's Moment is a bit of a phenomenon in the terms of its success on the festivals nationally (Fantasia, Toronto After Dark) and internationally (BIFFF, SPIFF) with a tally of dozens of awards and nominations. This fantastic action drama was also shown at HÖFF, in Little Nightmares sidebar, where we caught it.
Moment features a prolonged exposition due to an atypically large number of supporting characters for a short film clocking only 22 minutes of runtime. Our protagonist is Charli (Emelia Hellman), a runaway teenage girl living in a squat collective together with her douchebag boyfriend (Oliver Ross-Parent). She is a street musician and he is a small-time drug dealer. After a Halloween party going not exactly according to her plans, she gets cornered on an empty empty street by a mob of masked assailants. Luckily for her, a duo of super-hero teenagers consisting of Kevin / Astral (Patrick Abellard) and Sandy / Timeless (Dayane Ntibarikure) who can freeze time, come to the rescue. However, they cannot actually save her physically, but they can keep her enough to help her forge the plan for fighting the mob off and escaping.
Contrary to the popular belief, success in physical combat is more depending on fight plans and tactics, and less on physical attributes like strength and even numbers. A rather large part of action and martial arts movies magic is that they never show the preparations and planning (except for those fast-forward montage sequences, occasionally). Uloth does exactly the opposite, making a planning session a centrepiece of the film, simultaneously developing Charli and her backstory (there is a sub-plot involving the relationship with her mother that feels a bit too much, but comes in handy for the ending) and elevating Kevin and Sandy above the level of stock characters.
The reason while all of that works is a very precise execution of Uloth and his crew, with the director proving to be a master tactician and conductor of the orchestra. More intimate scenes are shot in hand-held fashion by the DoP Alexandre Bussiere, while those more elaborate, especially the fight, feature a fixed camerawork and shots wide enough to make them clear and easy to follow. The music, varying from a piano theme in the opening part to a slowed-down synth-pop instrumental for a fight scores some additional elegance points for the film. The only thing that could possibly go wrong is a rush of over-the-top sentimentality, but Uloth does his best to keep it at the acceptable level and even to pass it on as something humane.
Right from the start, it is obvious that Moment is a serious cinematic work. Its budget, big enough to cover the production of a cheaper, indie feature, might come as surprise for some, but it does not undermine Uloth's and Moment's success both with the audiences and the juries. Like Charli's fight scene with the masked punks, the whole film is carefully planned and executed with the highest level of competence.
Original title: Moments
Year: 2019
Runtime: 22′ 03"
Country: Canada
Language: English, French
Directed by: Geoffrey Uloth
Written by: Geoffrey Uloth
Cast: Emelia Hellman, Patrick Abellard, Dayana Ntibarikure, Susan Glover, Oliver Ross-Parent, Jonathan David Bedard, Allan Yuk-Iun Chou, Jonathan Silver
Cinematography by: Alexandre Bussiere
Editing by: Geoffrey Uloth, Heidi Haines
Music by: Patrick Lavoie
Sound design by: Olivier Calvert
Production design by: Laura Nhem
Costume design by: Monika Herédi
Make-up artist: Samantha Lamothe
Visual effects by: Gunnar Hansen, Andrew Gene
Colourist: Lyne Lepage
Assistant directors: Morgane Pinel, François Jacob
Produced by: Geoffrey Uloth
Line producer: Holly Uloth
Production company: Evergon Arts Inc.
Supported by: Sodec Québec, Canada Council for Arts, CALQ, National Film Board of Canada
Distribution: Travelling