Review: The Haunted Swordsman (2019)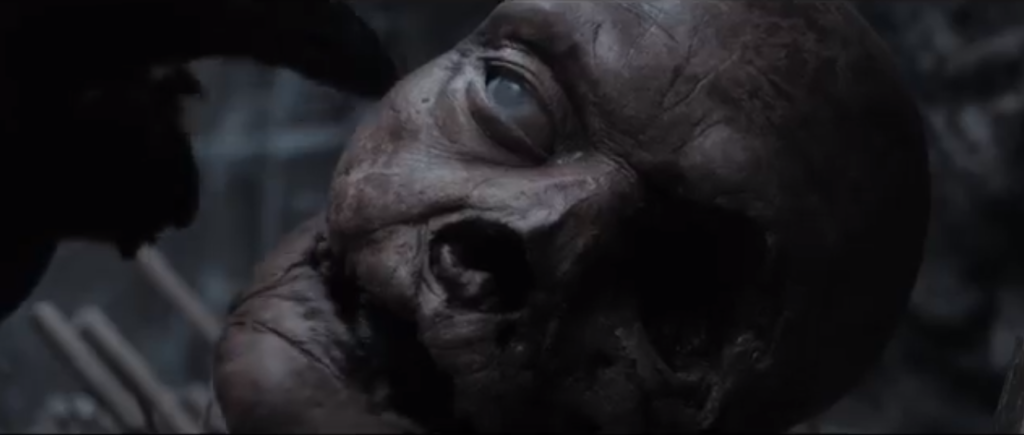 The only bad thing about The Haunted Swordsman is that it makes the viewer crave for more. It is destined to be a huge hit packed in a compact format and it would work as well as a pilot episode of a series and as an intro for a feature-length film. The animated short written by Tab Murphy (of Disney's The Hunchback of Notre Damme fame) and directed by Kevin McTurk who made his stellar reputation with his previous animated short gem The Mill at Calder's End (2013) is already a huge hit on the festival circuit, on which it also made a stop at HÖFF.
After the opening credits set against the traditional Japanese taiko drumming, the voice-over narration by the titular character (voiced by Jason Scott Lee) kicks in, informing the audience about all they need to know about the cosmology and the background of his adventure. He is a ronin on a quest to avenge his late master he failed to protect by killing his killer, a supernatural demon entity. With a severed one-eyed head (voiced by James Hong) serving as his guide, the samurai has to climb the mountain and go to a secret temple where he encounters other mythological entities like the Onibaba Witch (Franka Potente) and the Black Monk (Christopher Lloyd), among others. It is just the beginning of his adventure…

Everything here is done perfectly, from nailing the Japanese mythology, the style of action that reminds of a number of samurai movies, the engaging and compelling story, to the perfectly measured pacing and choreography details. The animation itself is on the whole another level, with the detail the team invested in sculptures and their moves over the digitally rendered background, blending the cinematic reality with a pure fantasy in a perfect measure. Oddly enough, the only human character is the most rigid of the bunch, but it kind of comes with the territory of samurai fantasies. It is not a mistake on any level, The Haunted Swordsman is a feast for the eyes for the whole of its 16 minutes of the runtime. Even the otherwise abrupt, surprise ending works here on its own terms, making this animated short an absolute must-see.
---
Original title: The Haunted Swordsman
Year: 2019
Country: USA
Language: English
Runtime: 16′ 33"
Directed by: Kevin McTurk
Written by: Tab Murphy
Voiced by: Jason Scott Lee, James Hong, Franka Potente, Christopher Lloyd
Cinematography by: Bennett Cerf
Editing by: Michael Fallavollita
Music by: Will Thomas
Sound design by: Jason W. Jennings
Production design by: Guy Davis
Lead sculptor: Arjen Tuipen
Digital imaging technicians: Burak N. Kurt, Lance Heruela
Colourist: Paul Yacono
Produced by: Sultan Saeed Al Darmaki, Heather Hanson, Lisa Hanson, Elias Savada, Jason Speer
Production company: The Spirit Cabinet