Review: Heat (2019)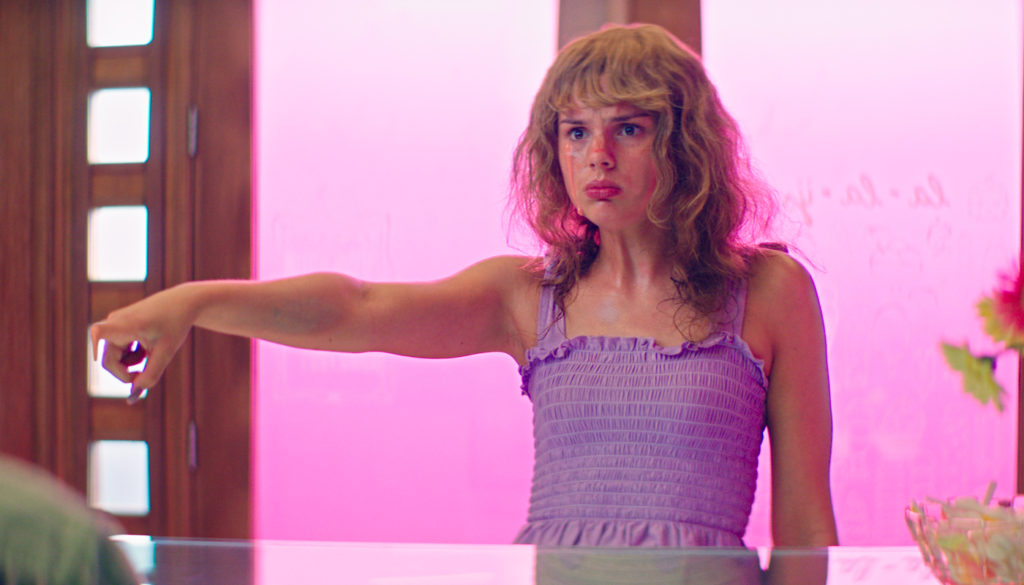 How much a filmmaker can tell in an extremely tight frame of just two and a half minutes? Obviously a lot, if she is as experienced and as versatil as Thessa Meijer. Her latest short film – Heat is a proper masterpiece of writing economy in the terms of dealing with different divisions in society (gender- and class-based) and of design and packaging. It premiered at last year's edition of Sitges and is currently showing at NIFFF's, in the international short film selection.
At first, it all seems like a commercial with the tuned-down tempo and an non-intrusive electronic lounge music playing, simulating the feeling of a lazy summer day in an adequately candy-coloured ice cream shop. A girl (Famke Louise) walks in, craving for refreshment. When the seemingly nice and polite owner (Daniël Kolf) starts the conversation with her, the door closes and heat proves to be more than an "outside" problem.
Heat is predominantly a dark comedy, laced with the elements of body horror realized through a variety of outlandish and even cartoonish, but highly effective visual- and special make-up effects, done by Thaumar Rep and Rob Hillenbrink, respectively. Meijer's dialogue is wickedly funny in its functional simplicity, especially when matched with equally simple directing style relying on the series of reverse shots with rare excursions to wider-angled establishment shots. The camerawork by Boas van Milligen Bielke captures all the luxury of the set- and costume design mimicking the hipster retro-chic.
Under the perfectly polished surface and the sheer shock value, there is a lot to be read into the material regarding the gender, the class and the assumed roles in the process of a simple trade. The metaphors Meijer reaches for are quite obvious, which comes with the territory of such a short short, but there are enough layers to be discovered with each of the repeated viewings. And Heat deserves all of them.
---
Original title: Hitte
Year: 2019
Runtime: 2′ 23"
Country: The Netherlands
Language: Dutch
Directed by: Thessa Meijer
Written by: Thessa Meijer
Cast: Famke Louise, Daniël Kolf, Priscilla Da Costa, Anouk van Efferen, Frits Lambrechts
Cinematography by: Boas van Milligen Bielke
Editing by: Fatih Tura
Music by: Ella van der Woude
Sound design by: Regard Ibrahim
Costume design by: Babette Tielrooij
Art director: Floor Knaapen
Make-up by: Pur Thijs
Special make-up effects by: Rob Hillenbrink
Visual effects by: Thaumar Rep
Assistant director: Bo van der Mer
Produced by: Julia Rombout
Production companies: July Film, Cineville