Review: Regret (2020)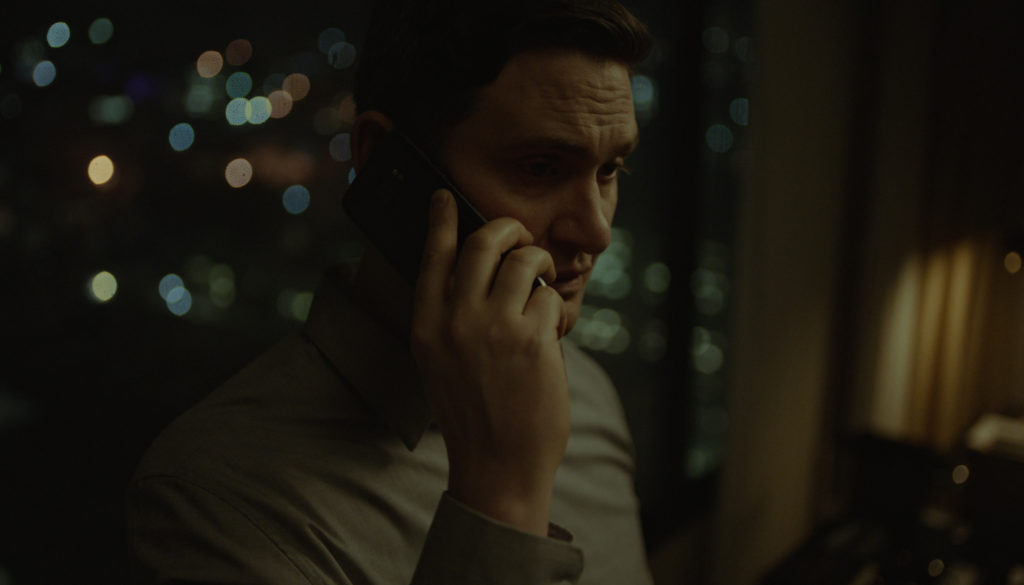 When combined, solitude, recent tragedy and traumas from the past can prove to be a lethal cocktail inducing an overdose of regrets, as it is the case with Santiago Meneghini's exquisitely spooky and metaphorical short Regret. It premiered earlier this year at Sundance, before winning in the midnight shorts competition at SXSW and competing at Palm Springs. Its European (virtual) premiere took place at the recently closed NIFFF.
Wayne (Brent Skagford) is a yuppie loner-type whom we meet while on the phone in his hotel room in Montreal. The other party in the conversation is his sister and the topic of conversation is far from pleasant: their father has recently passed away, she is stuck with the funeral arrangements, while does not even plan to come. At least he agrees to call their mother later in the evening.
However, strange things begin to happen to him in his room. First, there are knocks on the door that could not be attributed to anyone, since there is no one there. Than he starts hearing weird noises and even has a phone conversation with his mother (or at least he dreams about it), who is in a cheerful mood because his father is beside her. It all culminates when a masked figure (Mich Todorovic) appears, with a blade in his hand.
From then on, it might seem that Regret is a run-of-the-mill slasher-horror, but the whole highly atmospheric build up reaches its climax in a chase sequence in the hotel's lobby. Olivier Gossot's top-notch camerawork focuses on the architecture, amplifying the rectangular shapes filmed in isometric perspective with a slightly off sense of symmetry. Since for most of the time Brent Skagford is alone in the frame, the sound design proves to be crucial and Théo Porcet's and Jean-David Perron's work in that department is spot on, with accent on blending it with Brian D'Oliveira's eery score.
Underneath the whole package lies a quite simple metaphor which serves its purpose to fill in as a perfect genre filmmaking exercise in evoking emotions. Calibrated perfectly by the writer/director Santiago Meneghini, who also served as the film's editor and visual effects supervisor, as well as one of the producers, Regret is a joy to watch.
---
Runtime: 15′ 47"
Country: Canada
Language: English
Directed by: Santiago Meneghini
Written by: Santiago Meneghini
Cast: Brent Skagford, Mich Todorovic, David Nerman, Noah James Turlotte, Ellen David, Anna Rydvald
Cinematography by: Olivier Gossot
Editing by: Santiago Meneghini
Music by: Brian D'Oliveira
Sound design by: Théo Porcet, Jean-David Perron
Production design by: Susan MacQuirre
Costume design by: Renée Sawtelle
Make-up by: Nathalie Trépaniere, Ana-Maria Cimpola
Visual effects by: Santiago Meneghini
Assistant director: Myriam Panneton
Produced by: Dominique Dussault, Max Walker, Santiago Meneghini
Production company: Nemesis Films
Supported by: CALQ