Review: Nobody Said I Have to Love You (2019)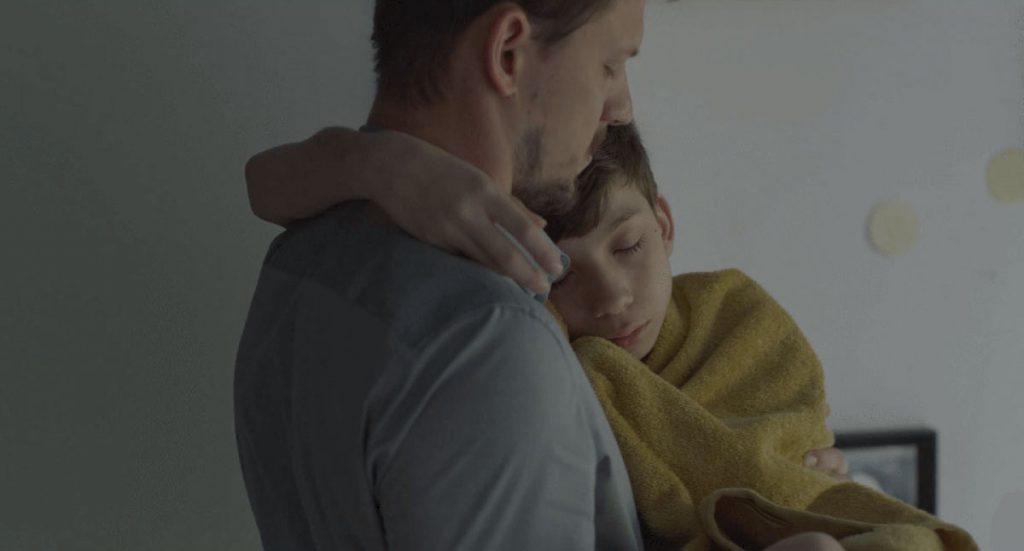 We cannot imagine a world without parents' love for children, or children's love for parents. But does the love for someone come automatically, from a sense of obligation or does it have to be earned somehow? The unspoken line of dialogue, said either by a father to his son or a son to his father, serves as a title for Matjaž Jamnik's short Nobody Said I Have to Love You. The film that premiered as the part of Cinéfondation selection at last year's Cannes edition, has just won the Special Mention in the national competition of FEKK.
Aleksander (Jernej Gašperin) wakes up next to Katarina (Lea Mihevc) in a long static opening frame of the film. He goes about his morning routines before waking his partner up to tell her about a dream he had, taking little notice to the fact that she might want to sleep longer. That scene filmed in a single shot serves perfectly as an exposition of his character: self-absorbed and slightly distant.
His next task is to take his son from the previous marriage, Jan (Tin Vulović), to the flute lesson. The son is, however, running late, so the father goes to the apartment to fetch him. Jan rejects all father's efforts to get him going to the music school and resists in any way possible, until he experiences a seizure. It would all be revealed when Jan's mother (Tina Vrbnjak) comes back from work…
Nobody Said I Have to Love You looks and acts like an advanced student film, which it is, realized completely in the production of Ljubljana Academy of Theatre, Radio, Film and Television (ARGFT). Its functionally coded directing in which every shot is self-explanatory might seem sterile in a way, but it actually serves the film topic quite well. The same also goes for the slightly subdued acting of the mostly professional cast. Nobody Said I Have to Love You might not be a groundbreaking piece of cinema, but is is certainly well executed and communicates its idea in a festival-friendly way.
---
Original title: Nihče ni rekel, da te moram imeti rad
Year: 2019
Runtime: 18' 05''
Country: Slovenia
Language: Slovenian
Directed by: Matjaž Jamnik
Written by: Matjaž Jamnik, Gaja Naja rojec
Cast: Jernej Gašperin, Lea Mihevc, Tin Vulović, Tina Vrbnjak
Cinematography by: Gaja Naja Rojec
Editing by: Kristian Božak Kavčič
Music by: Laren Polič Zdravič
Sound design by: Samo Jurca
Sound recordist: Vincent Laurence
Production design by: Matjaž Pavlovec
Costume design by: Ana Janc
Make-up by: Mirjam Kavčič
Colourist: Gaja Naja Rojec
Assistant director: Atila Urbančič
Produced by: Nina Robnik
Production company: AGRFT
Supported by: Slovenian Film Centre (SFC)