Review: Faceless (2020)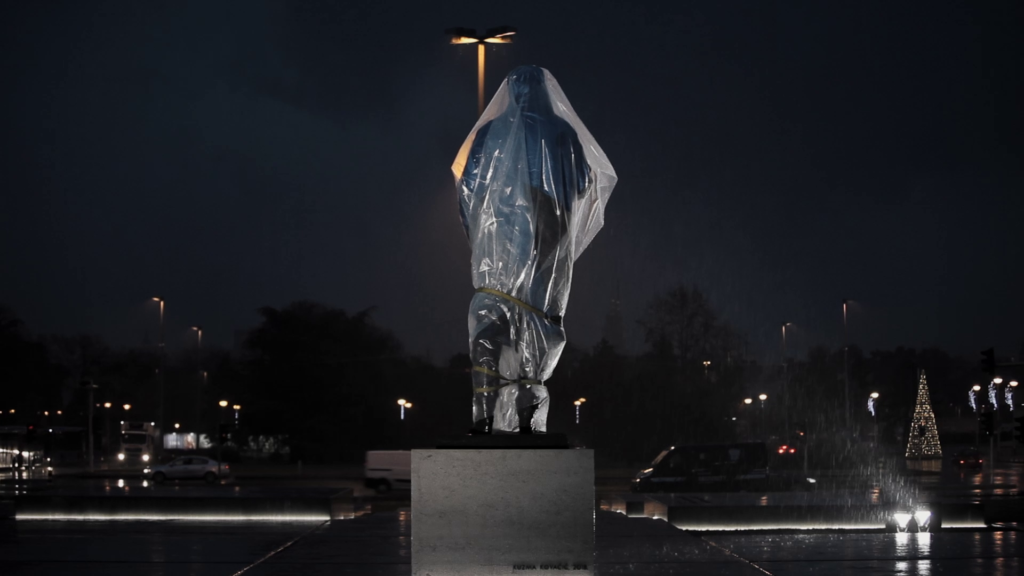 No matter how the political mainstream in Croatia wants to control the narrative about the country's first and war-time president Franjo Tuđman as the "father of the nation", he remains the controversial figure that, like a skeleton, jumps out of the closet around the elections time. Interestingly enough, until recently, there was no large-format monument of Tuđman, and the monument that was erected in December 2018 only fuelled the arguments between the opposing political blocks. The event itself was seen as a political manoeuvre more than anything else.
The monument and the whole hassle around its opening is the topic of David Lušičić's film Faceless. Balancing between the guerilla-style observational documentary, a formal experiment with the ultra-rapid editing in order to create an atmosphere of another genre and an essay/commentary, this quite telling film won the Regional Award (for filmmakers from Rijeka and surroundings) at Liburnia Film Festival. Although the film is not from Rijeka, its author is…
Lušičić observes all the preparations for the revelation of the monument to the public, from the ground works to place its pedestal, to the montage of the monument (always strategically covered) and the final stonecutting work of letter-engraving. The moment of truth is near, the monument is about to be revealed to the interested public, and the group of people, probably war veterans, assembles. The numbers are not large, but the aggressive stance of those people is threatening nevertheless. Lušičić amplifies the effect by using the series of close-ups, some erratic camera movements and extremely quick montage, with Luka Gamulin's aggressive, war-like sound design glued onto it to take us to another realm – war movie zone. The situation then calms, equally suddenly like it escalated, and the face of the first Croatian president remains strategically covered, making him some kind of cypher or a blank canvas on which every citizen is allowed to project own thoughts and attitudes.
Formally, Lušičić is a student of master studies at Zagreb Academy of Dramatic Arts, but Faceless is far more serious than a regular student film. On the other hand, Lušičić is already an accomplished visual artist and an architect, with enough of the filmmaking knowledge to create an impressive politically-themed installation.
---
Original title: Bez lica
Year: 2020
Runtime: 14' 10''
Country: Croatia
Language: Croatian
Directed by: David Lušičić
Written by: David Lušičić
Cinematography by: David Lušičić, Magdalena Ptiček
Editing by: David Lušičić
Sound design by: Luka Gamulin
Colourists: Darko Kašlan, Ivana Perčinlić
Produced by: David Lušičić
Production companies: Academy of Dramatic Arts (ADU) Zagreb, Zebra Creative Network