Review: Our Lady's Peace (2020)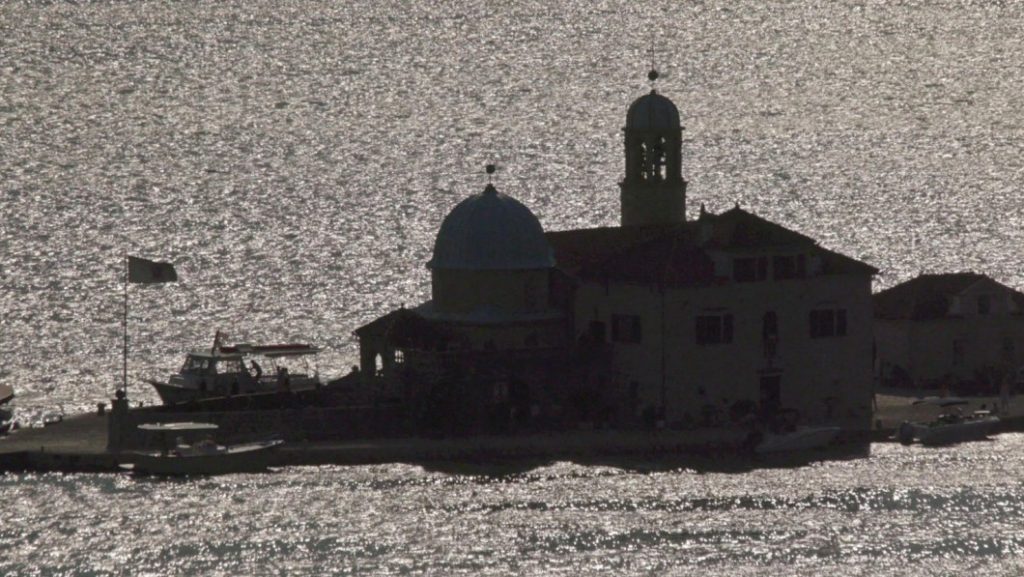 The protagonist of Vladimir Perović's newest documentary, Our Lady's Peace, is not a person, but a sacral object: the Our Lady of the Rock church located on a miniature island in the middle of Boka Bay in Montenegro. The film premiered at the recently finished Sarajevo Film Festival, in the documentary competition.
For centuries, the small church on a unique location drew the visitors from the ranks of the locals who used to row their boats from the mainland in order to come for a mass. More recently, with the touristic boom worldwide, Our Lady of the Rock got the attention of the tourists from all over the world who go there in large numbers on excursion boats. Apart from the church's location, the artwork inside is a stellar example of baroque and rococo, which is not the usual sight in the area. The threat to Our Lady's peace and quiet comes in the form of boats and ships, the people they carry and the noises they make.
For painting the picture, Perović uses various techniques that are subordinated to a simple and effective concept. The filmmaker observes its protagonist over a course of a single day, from the crack of dawn that brings the first visitor, to the dark of the night. The boats and the tourists are coming and leaving, the guides repeat the same text in different languages, the interior of the church is observed and the mandatory photographs and selfies are taken.
We see all that in a fast-forward montage that compresses the day to a short film format of 18 and a half minutes. There is no comment, no dialogue to speak of, only pieces of guides' monologues in different languages presented ambientally. For that reason, the emphasis is on the sound scheme designed by Dora Filipović. The footage lensed by Ivan Čojbašić, combining the telephoto shots with the details in close-up is masterfully edited by Aleksandar Uhrin.
The film's biggest issue, the repetitiveness, is there for a reason to establish a kind of routine. In that way Perović remains faithful to his vision and to the concept of one day in life of the centuries-old church. At the same time this takes a toll on the viewer by the sheer number and intensity of sensations with few, if any, new information, making the runtime seem a bit longer. Nevertheless, Our Lady's Peace is a formally interesting observance of a phenomenon of the contemporary society.
---
Original title: Mir Naše Gospe
Year: 2020
Runtime: 18' 27''
Country: Montenegro
Language: No dialogue, ambiental monologue in various languages
Directed by: Vladimir Perović
Written by: Vladimir Perović
Cinematography by: Ivan Čojbašić
Editing by: Aleksandar Uhrin
Sound design: Dora Filipović
Colourist: Dušan Vuleković
Produced by: Vladimir Perović
Executive producer: Jelena Božović
Director of production: Neven Staničić
Production company: CZK Tivat