Review: 22:47 Line 34 (2020)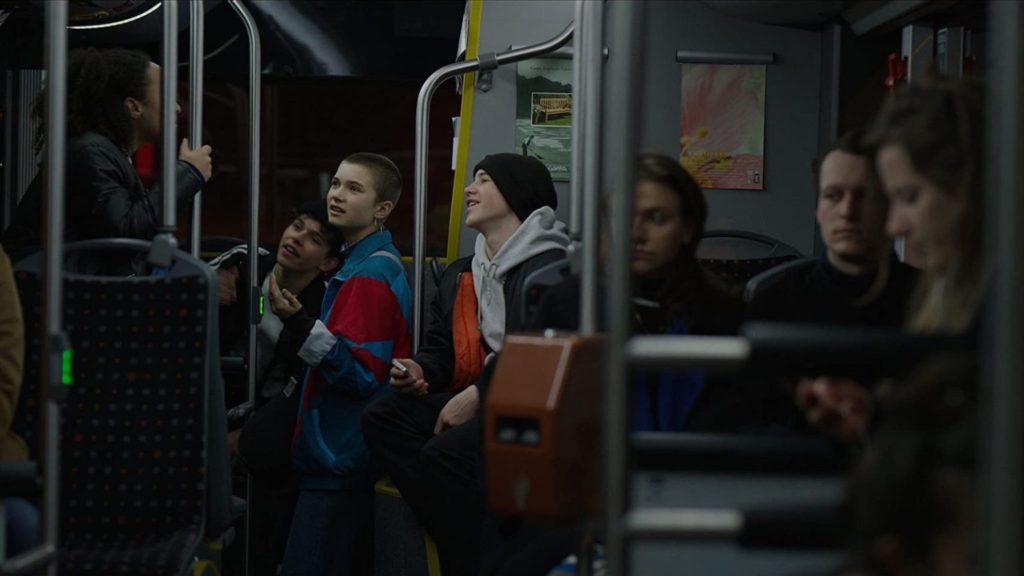 Public transportation is the place where different demographic groups come into a short, but close contact with one another. A late evening bus and especially its back part is in focus of Michael Karrer's short film 22:47 Line 34.
It premiered at the last year's edition of Palm Springs, where it was awarded with the Special Jury Prize at the International Student Short Film Competition, before touring and competing at various European festivals like Motovun, Lviv, Molodist and Odense. We got the chance to see it at Vilnius International Short Film Festival.
A group of ethnically diverse teenagers rides in the rear of the bus, keeping the noise level of their conversation a couple of decibels over the decent measure. The conversation that has barely touched a serious topic of racism is interrupted by the arrival of a visibly intoxicated man who decided to sit close to them. The kids shift to playing music loudly, which a drunkard takes as a signal to do a striptease dance, which is a clue for the kids to start filming it with a cell phone. A woman seated a couple of seats in front takes charge, teaching them a thing or two about the legality and the decency of their action. One of the kids talks back, the argument ensues and gets to a verge of spiralling out of control.
22:47 Line 34 would actually seem unoriginal and somewhat derivative film that relies heavily on the common places like the gallery of characters travelling by bus at night and the half-hearted attempts to weave the interesting and relevant topics such as multiculturalism, racism, privacy and decency into the setting. However, Michael Karrer has found a known formula and implemented it for the film. In 22:47 Line 34 he tries and succeeds in creating the notion of urgency by filming the whole film in a single take (the "invisible cuts" were probably employed), using the camera movements as the mean of the internal editing in order to shift the viewer's focus from one group of characters to another. The sense of the rhythm is balanced, the rise of tension is followed by the wilder and wilder horizontal spins of the camera, so 22:47 Line 34 becomes more and more gripping as time goes by. It is a showcase of a considerable talent.
---
Original title: 22:47 Linie 34
Year: 2020
Runtime: 10'
Country: Switzerland
Language: German
Directed by: Michael Karrer
Written by: Michael Karrer, Pablo Callisaya
Cinematography by: Alicja Pahl
Editing by: Hubert Schmeltzer
Sound design by: Nicola Misic
Sound recording by: Jan Gubser
Production design by: Jimena Cugat
Costume design by: Jeanne Vera Bourguignon
Colourist: Ralph Wetli
Production company: HDK Zurich