Review: Swamp (2020)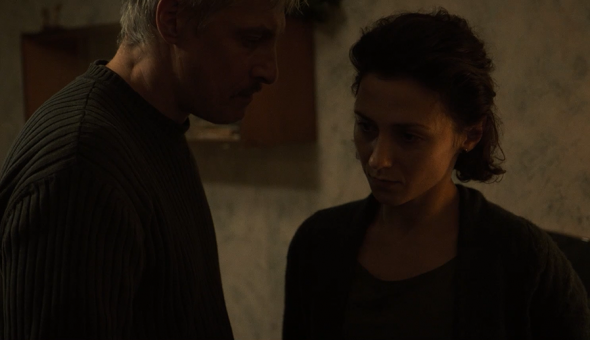 It does not have to be a rape, harassment is enough for a woman to feel horrible. And when it comes to harassment, it does not have to come from a stereotypical creep. A majority of women have to deal with it on daily basis, suffering sexual or romantic advances from their co-workers, bosses, or simply men they encounter. It is rarely about sex and romance, it is about power and control.
Klementas Leonas Davidavičius' short film Swamp, based on the novel Nekaltutis (vaguely translatable as Innocence) by Laura Sintija Černiuskaité, deals with one such situation between a blue collar middle-aged landlord and his younger single mother tenant. It was released on the internet last year in order to compete for the Lithuanian Film Awards (it was nominated in student competition) and it is currently playing at Vilnius International Film Festival – Kino Pavasaris.
We meet the man (Dainius Gavenonis) as he gets ready to step out of his car and enter the flat. On the way, he watches the woman (Indré Patkauskaité) through the window while she dresses. Their relation, business or personal, is still unclear when he enters the home. The first thing he does is a small repair, so we assume that he might be a handy man of sorts whom she called. Then he sits at the table, tries to engage in conversation with her and insists that she sits with him and have a glass of wine. She is reluctant, he is mildly passive-aggressive, so she complies. One thing is certain: they know each other well enough.
In the next sequence, it becomes clear that he is her landlord. The troubling thing is that he is a father figure of sorts to her son (Jonas Krivičius). Could the boy be an entry point of his advances towards her? Are his intentions really that sinister? Is he just an awkward ageing man whose desperation makes him keep going and ignoring the signals?
Filmed in a murky colour scheme, representing both of their states of mind and with a controlled hand-held camera that suggests the immediacy and the closeness with the characters, and employing reverse shots to shift our perspective, Swamp is a gentle and profound examination of a situation that is unpleasant for both of the adults involved. It deals with the emotional grey zone in an appropriate and compelling way.
Swamp was chosen as the Best Luthianian Film by the audience at Kino Pavasaris Film Festival.
---
Original title: Pelké
Year: 2020
Runtime: 19' 50''
Country: Lithuania
Language: Lithuanian
Directed by: Klemenras Leonas Davidavičius
Written by: Klementas Leonas Davidavičius
Cast: Dainius Gavenonis, Indré Patkauskaité, Jonas Krivičius
Cinematography by: Rokas Šydeikis
Editing by: Klementas Leonas Davidavičius
Soundtrack by: Alanas Gorinas
Sound by: Kipras Čésna
Production design by: Greta Vileikyté
Costume design by: Ruta Lečaité
Make-up by: Jurgita Globyté
Colourist: Justinas Vencius
Assistant director: Jonas Juškaitis
Produced by: Justé Michalinaité
Production companies: Lietuvos muzikos ir teatro akademija, ARTBOX laisvalikio klubas