Review: Cramps (2020)
Vienna Shorts
Nightmares: The Little Ones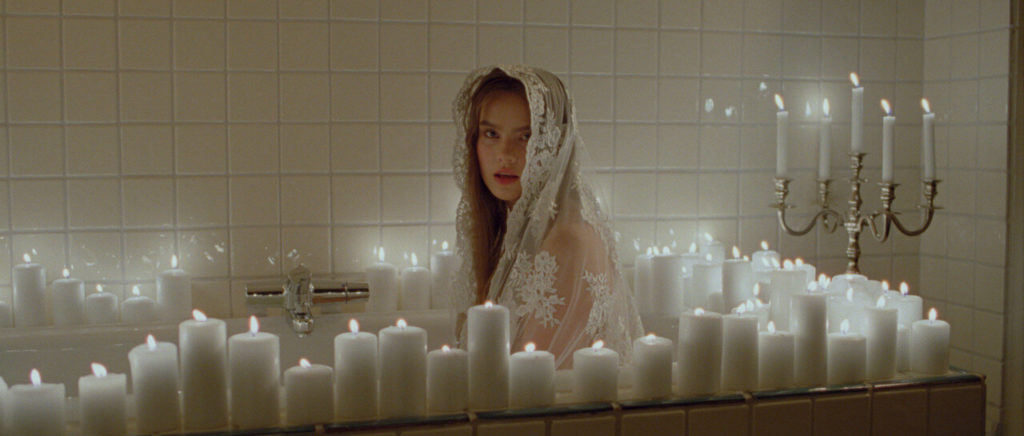 A teenager's mind is a messy place with all those thoughts and changing gears from regular, mundane stuff to the unimaginable troubles and secrets. The trick is that, once a person gets older and collects more experiences, all those troubles and secrets will seem like minor nuisances, but at the time being, they are huge and grave.
Thea Hvistendahl's nightmarish short film Cramps happens pretty much in the mind of her protagonist, a 15-year-old girl played by Sofie Steffensen. She is the narrator and the only speaking character and she is going through some kind of trouble that has something to deal with relationships and sexual activity. Pills and the bathtub water turning red would suffice for a clue what is going on, while her mind wanders back and forth between the particular problem she is facing and regular teenage stuff like the acceptance within the crowd and friends acting one way or another.
In the relatively short runtime of just under 10 minutes and with only one speaking character, Hvistendahl puts the accent on the manic tempo and the uniquely unpleasant atmosphere that nails the essence of teen anxiety. The colours go from mundane and cold to blazing hot to neon in Pål Ulvik Rokseth's cinematography "diced" to perfection by the means of Tormod Berge's precise editing and amplified by Sunniva Lindgren's music and Johan Rasmus Pram's telling sound design.
Cramps had an online life on the festival circuit since 2020, but Vienna Shorts, where it was screened in Nightmares – The Little Ones slot of the Late Night programme served as its physical premiere. The big screen plays a significant role in the evaluation of this one.
---
Runtime: 9' 50''
Country: Norway
Language: Norwegian
Directed by: Thea Hvistendahl
Written by: Thea Hvistendahl, Hanne Christiansen
Cast: Sofie Steffensen, Johannes Rüse Undall, Malin Angelica Ufstad Bergesen
Cinematography by: Pål Ulvik Rokseth
Editing by: Tormod Berge
Music by: Sunniva Lindgren
Sound design by: Johan Rasmus Pram
Production design by: Maria Naomi Disch
Costume design by: Alva Brosten
Make-up by: Stella Nora Mikkelsen
Assistant director: Sara Moland
Produced by: Mari Jørgensen, Marie Strang
Executive producer: Kristin Emblem
Production company: Einar Drama