Review: My Name Is Francesco Totti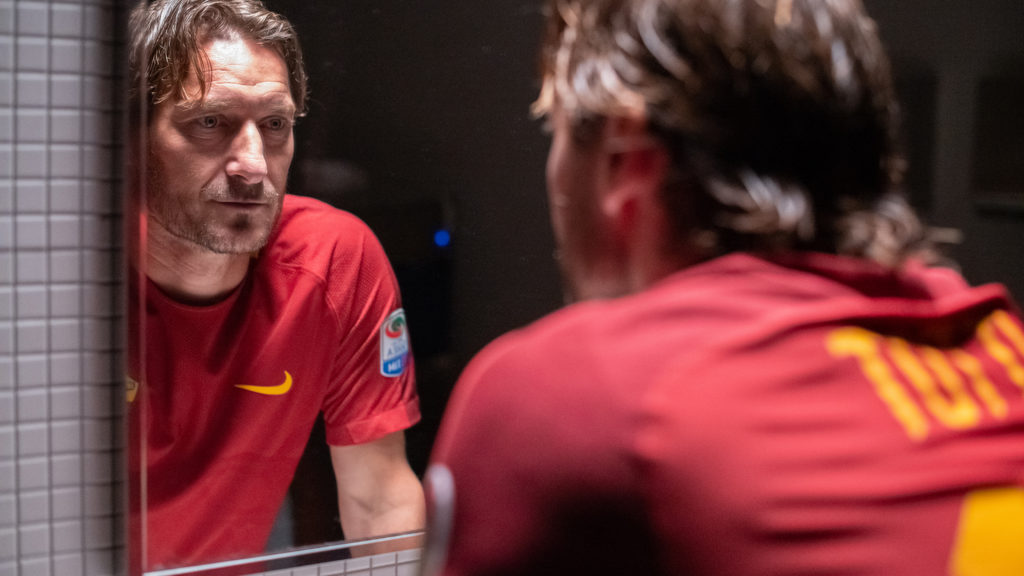 Francesco Totti was an unusual figure in the football world. At the time when footballers were filling pages of the yellow press with their shenanigans, quick marriages and even quicker divorces, he was faithful to his wife Ilary Blasi with whom he had three children. Also, at the moment when football ceased to be just a sport to became a global business, Totti opted to spend his entire career in one club – AS Roma instead of chasing more titles and lucrative offers with other clubs in other countries. One might say that the matters of heart dictated the life of this decent, camera-shy footballer with the killer right foot and a brilliant overview of the game.
Francesco Totti is the subject and the narrator of Alex Infascelli's documentary My Name Is Francesco Totti, based on the star's own autobiographical book. After its premiere at the home turf of Rome Film Festival and a couple of national awards (David for Best Documentary and Italian National Syndicate of Film Journalists Prize in the same category), My Name Is Francesco Totti had its international premiere at the summer batch of International Film Festival Rotterdam, where it scooped Audience Award.
Alex Infascelli's film is not of the ordinary kind.It is filled with talking heads of Totti's teammates speaking how much of a great footballer and a great guy he was, which is, more or less, common knowledge for anyone who has ever followed the Italian football. The key factor in My Name Is Francesco Totti is Totti himself: he assumed the role of the narrator and a guide to his own life, his victories and defeats on- and off the pitch. The frame for it is his latest game for Roma that took place in 2017, the day before, during the match itself and the immediate aftermath of it. Intelligent, sensitive and a level-headed person as he is, Totti is more than capable of taking us on the tour of his life- and career journey, and to provide some wonderful insights.
The imagery of the film consists of the various archival video material, some of it quite personal and presented to the global audience for the very first time. We see Totti as a toddler kicking the beach ball almost his size, and we learn that "ball" was the first word he said. We watch him playimg football with his older schoolmates, and beating them in their own game. We them got to see him as a ten-year-old playing for Lodigiani, creating havoc in the field. We learn that he was reluctant to go to his professional debut with the senior squad because he had already made plans for the weekend with his buddies (he was 16, after all). We see some of his 250 goals scored for Roma and the Italian national team. We see him celebrating his only Scudetto with Roma in 2001, and Italy's last World Cup triumph in 2006, in both of which he was the team captain. We are also reminded of the way he proposed to his girlfriend during the game, after the goal he scored. Additionally, we learn that his large and close-knit extended family was always in the first rows to cheer for him.
His relationships with different coaches and players, his friendship, and then rivalry with another Italian football genius Antonio Cassano is also revealed, along with his undying admiration for his predecessor in the role of "The Prince of Rome" and Roma captain, Guiseppe Giannini. We learn of his conflict with the Argentine coach Carlos Bianchi who wanted to make Roma a star-studded team, but had to leave because the owners stood behind then 20-year-old Totti, the exhausting physical training under Zdenek Zeman and the relationship with Luciano Spalletti that deteriorated from the father-son level during the coach's first stint to open hostility during the second one. Most preciously, we learn a thing or two about Roma as the unique club that favours loyalty of its players, the city of Rome as the source of Totti's inspiration and the star footballer position within it. He had to sacrifice his privacy to become one of the Eternal City's eternal heroes.
Composed with precision of the newly filmed footage by Marco Graziaplena and swiftly edited by Infascelli and Emanuele Svezia, My Name Is Francesco Totti is a great watch for the whole of its slightly over 100 minutes of runtime. One of the last genuinely good guys in football really deserves a good film about his career.
Original title: Mi chiamo Francesco Totti
Year: 2020
Runtime: 101'
Country: Italy
Language: Italian
Directed by: Alex Infascelli
Written by: Alex Infascelli, Vincenzo Scuccimarra
Cinematography by: Marco Graziaplena
Editing by: Alex Infascelli, Emanuele Svezia
Music by: Roberto Corsi, Francesco Fantini
Sound design by: Maurizio Argentieri
Sound recording by: Yi Ming Yhou
Production design by: Eugenia F. Di Napoli
Costume design by: Eugenia F. Di Napoli
Make-up by: Vincenzo Cormaci
Visual effects by: Fabio Cerrito
Colourist: Claudio Del Bravo
Assistant director: Giorgio Melidoni
Produced by: Mario Gianani, Lorenzo Mieli, Virginia Valsecchi
Production companies: The Appartment, Wildside, Capri Entertainment, Fremantle Media, Rai Cinema
Supported by: Sky Italia, Amazon Prime Video
Distribution by: Vision Distribution