Crock of Gold: A Few Rounds with Shane MacGowan (2020)
IceDocs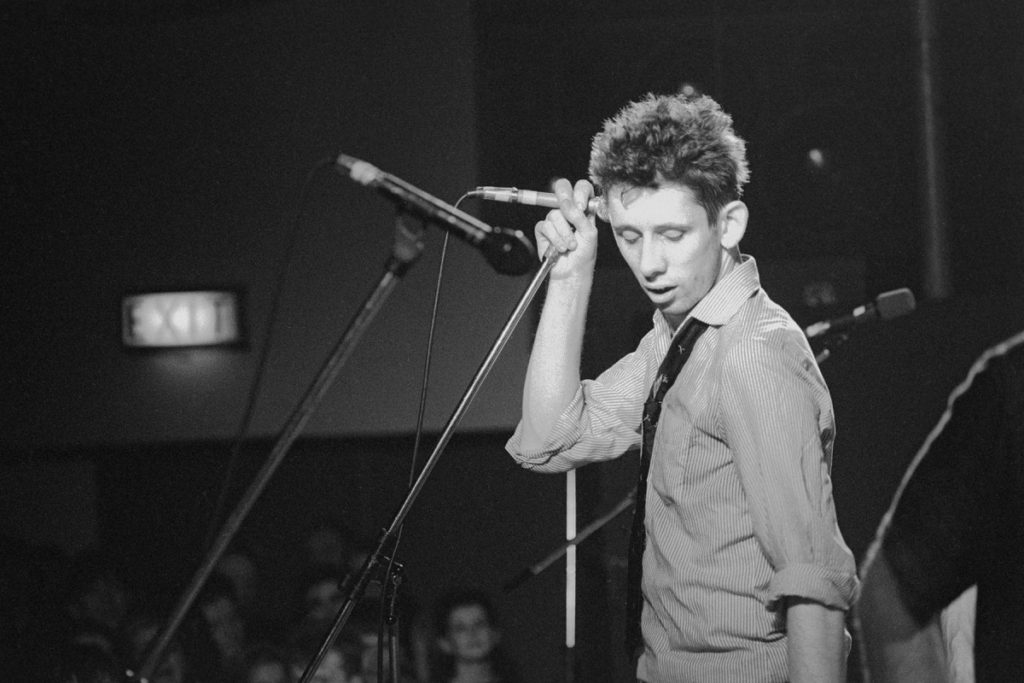 According to film director Julian Temple, making a documentary about Anglo-Irish Celtic-punk legend Shane MacGowan was like "flying through a radioactive rainbow". Portraying the former Pogues frontman as a complex, brilliant, moody, arrogant, funny, self-destructive poet laureate of the Irish diaspora, Crock of Gold: A Few Rounds with Shane MacGowan is certainly full of tensions and contradictions. MacGowan comes across as an evasive, suspicious, unreliable narrator of his own life story. But Temple's familiar maximalist style makes this bumpy ride through history a richly enjoyable experience all the same, blending contemporary interviews and archive material into a fast-moving mixtape montage of cultural, social and political detail. Screened on BBC Television in Britain last year, Temple's richly layered rock-doc is still touring film festivals, making its Icelandic debut at Ice Docs in late June.
MacGowan was an explosively charismatic performer in his 1980s Pogues heyday, rebooting traditional Irish folk music with punk energy, spiky humour and political bite. He even spent a few years as an unlikely pop star thanks to the festive 1987 hit Fairytale of New York, which remains an evergreen best-seller decades later. So it comes as a shock when Temple reveals the 62-year-old singer's current state, confined to a wheelchair since breaking his pelvis in a 2015 fall, his body bent and his speech slurred. MacGowan insists he is healing and aiming to write more songs soon. But decades of alcoholism, drug abuse and mental breakdown have obviously done serious damage.
Best known for politically charged music films rooted in the late 1970s London punk scene, including feted documentaries on the Sex Pistols and Clash singer Joe Stummer, Temple plots a careful path in Crock of Gold between boozy bad-boy mythology and solid biographical detail. The director's signature layered style is well-suited to larger-than-life figures like MacGowan, adding nuance and depth to his monosyllabic grunts, pained shrugs and wheezing fits of laughter. Crock of Gold is not the first screen profile of the former Pogues singer, but it is the most thorough and nuanced yet, undercutting a familiar crash-and-burn plot with multiple viewpoints and dense background detail.
MacGowan appears in irascible mood for much of Crock of Gold, refusing to give Temple a proper interview and insulting almost everyone who comes into his orbit. Even his Hollywood superstar friend Johnny Depp, who co-produced this documentary, is greeted with scathing humour. While it does not present MacGowan as simple hero or villain, the film does include revealing glimpses of his fiery temper. Denied a conventional interview, Temple hits on an inspired compromise by filming several one-on-one conversations between MacGowan and approved third parties, all trusted friends and famous fans. Chief among these is the singer's long-standing partner (now wife) Victoria Mary Clarke, who absorbs his prickly moods with a generous, loving patience. In his few awkward scenes with MacGowan, Depp becomes a fawning fanboy, even to the point of adopting a bizarre quasi-Irish accent.
Crock of Gold is full of strong visual motifs, beginning with MacGowan's idealised memories of childhood holidays on his family farm in the west of Ireland. Growing up in England with Irish immigrant parents, he suffered anti-Irish racism but found liberation through sex, drugs and rock music, making him the perfect candidate for the late 1970s punk revolution. As in his previous documentaries, Temple knits together the singer's story using an extensive audio collage of interview clips and playfully animated vignettes, including some scenes that pay stylistic homage to British illustrator Ralph Steadman, famed for his work with Depp's friend, the late "gonzo" journalist Hunter S. Thompson.
Temple's documentaries have always been strong on political context, and Crock of Gold has more meaty material than most, delving deeply into MacGowan's militant Irish republicanism. One of the film's more contentious guest interviewers is Sinn Fein politician Gerry Adams, notorious for his alleged links to the IRA. MacGowan himself views the Irish armed struggle against British imperialism through a dubious golden mist of romanticism heroism. "I always felt guilty that I didn't lay down my life for Ireland," he says. Maybe not. But judging by the singer's wrecked state here, he clearly came pretty close, sacrificing body and soul to an elusive poetic dream of Irishness.
Crock of Gold is a consistently colourful and entertaining yarn, even for non-fans and Pogues agnostics. It ends on a high-spirited note at MacGowan's 60th birthday party in Dublin with Bono, Sinead O'Connor, Nick Cave and others among the guests. A celebratory finale, but it speaks volumes that none of the singer's former Pogues bandmates appear in the film, even he does offer a handwritten apology at the end in case he offended any of them. These small, endearing touches of humility lend much-needed warmth to Temple's bittersweet portrait of a radioactive rock legend.
---
Runtime: 124′
Countries: United Kindom
Languages: English
Directed by: Julien Temple
With: Shane MacGowan, Johnny Depp, Victoria Mary Clarke, Siobhan MacGowan, Gerry Adams, Ann Scanlon
Cinematography by: Stephen Organ
Editing by: Caroline Richards
Music by: Ian Neil
Produced by: Johnny Depp, Stephen Deuters, Stephen Malit, Julien Temple
Production companies: Infinitum Nihil, Nitrate Film, Hanway Films, BBC Music, Warner Music Entertainment
Sales by: Hanway