Review: Night (2021)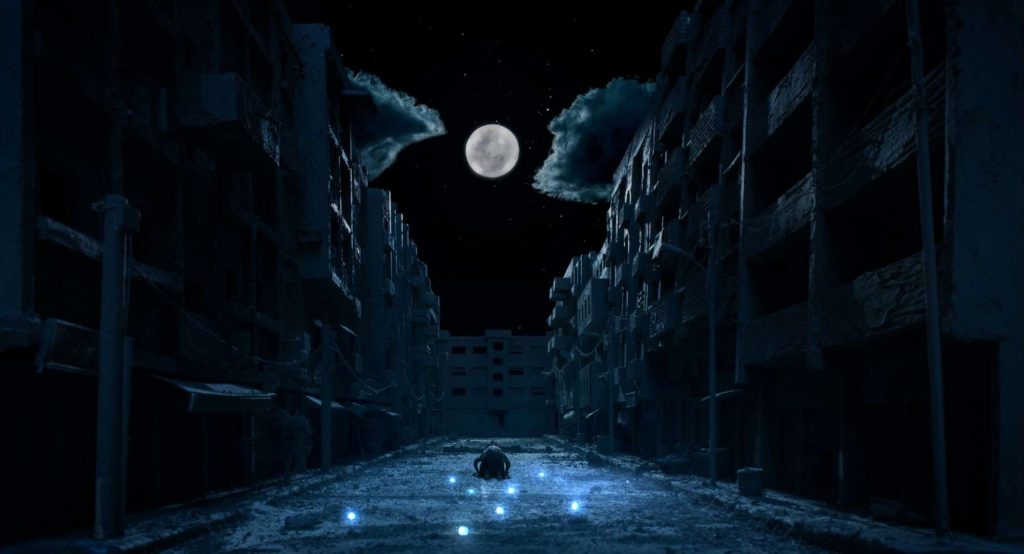 The moonscape of a bombed Syrian city has the look of artificiality about it. The wrecked buildings with walls and roofs missing resemble grim dolls houses with their cutaway sides lifted off by some capricious child, so you can see into the rooms. And as a mother tells her child a story about the night, the stars glimmer in the sky too neatly, too twinkly to overlook such devastation.

Ahmad Saleh's new animation is disconcertingly beautiful, but the tension between the intricate precision of the filmmaking and the brutal pain of the subject matter is precisely the point. A woman on the street, a mother voiced by Hiam Abbass, cries in desperation: "Has anyone seen a child looking for her mother?" Meanwhile, families huddle in the darkness of the ruins, flinching at the sounds of distant bombs. Their faces are contorted with pain and worn with fatigue even as they sleep. Their eyes move under their eyelids as who knows what trauma replays in dreams. Above them the spirit of the night, floats bent in sympathy but nonetheless as aloof as a drone.

The figures have the texture of the plastic moulding of Barbie dolls. It's tempting to think of this as hinting towards the pathetic cliche of the doll in the rubble screened on a thousand news reports. There's also fragility: not the ceramic shatter, but the more flesh-like melting. The figures feel as if they have been dressed a little like dolls as well and the animation is precisely observed small movements of those disturbed in sleep, or a moment of restlessness. Ultimately, Night (Rafia Aridi) intervenes and offers a respite that is magical and beautifully realized. As the mother has said, "Everything can be taken from us, but no one can take the night." Rafia Aridi also sings the song which closes the film.

Saleh's film is a poignant meditation, both moving and thought provoking. It is a dream, in a way, but one that has a fittingly disturbing relationship to the reality it portrays.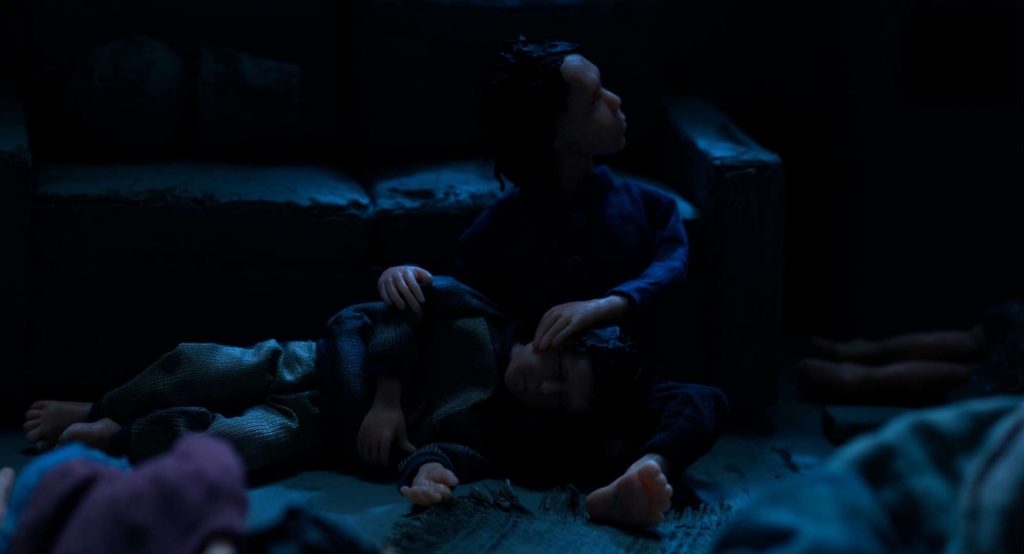 Countries: Germany, Palestine, Qatar, Jordan
Language: Arabic
Runtime: 15'57"
Year: 2021
Writer/ Director/ Editor: Ahmad Saleh
Producer: Jessica Neubauer, Saleh Saleh, Fabian Driehorst
Voice Actors: Hiam Abbass (mother), Rafia Aridi (Night), Salma Saleh (Daughter)
Art Director/ Cinematographer/ Production Design: Saed Saleh
Animation: Basel Nasr, Leon Vidmar, Saleh Saleh
Music: Suad Bushnaq
Lullaby Singing: Rafia H. Oraidi
Sound Design: David Black, Marcus Zilz
Sound Mix: Marcus Zilz
Script Consultant: Selina Ukwuoma
Concept Art: Sae-Yun Jung, Nara Bak, Saleh Saleh
Animatic: Basel Nasr
Puppets: Saleh Saleh, Ahmad Saleh
Costumes: Kati Ostermann
Set & Props: Saed Saleh, Saleh Saleh
Post-Production: Thomas Schmidl, Saleh Saleh, Kai Thorarensen
Voice Recording: Nassim El Mounabbih, Falah Hannoun