IFFR review: Italo Disco. The Sparkling Sound of the 80s (2021)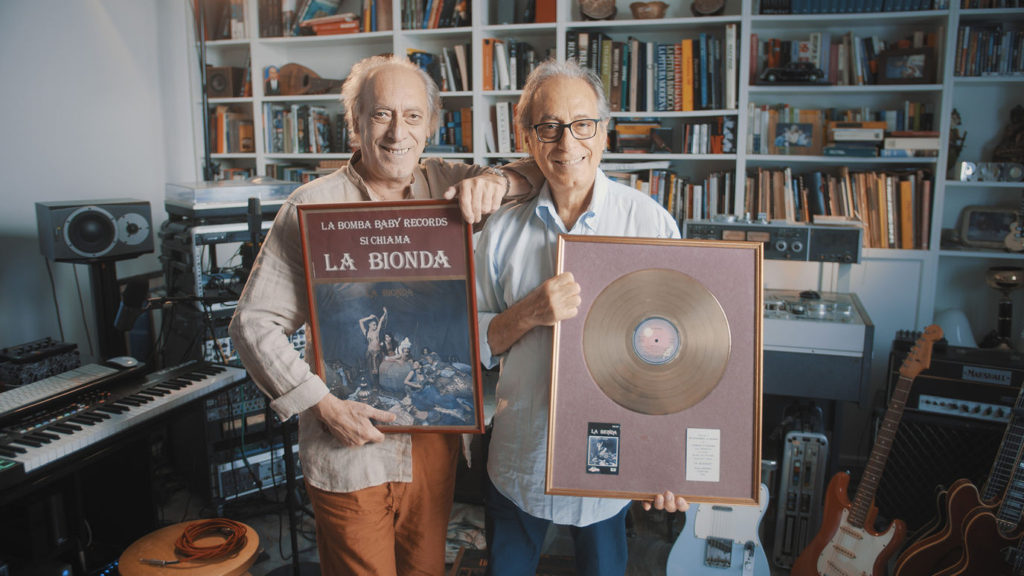 It may be by design that Alessandro Melazzini spangly survey of the Italo Disco movement houses the sort of synthetic-sounding narration you'd find on some ropey, low budget YouTube video. You could even say that it is apt for a late 70s/early 80s genre that favoured artifice over authenticity.
German DJ Mathias Modica frames it best at the outset of this affectionate documentary: "(Italo Disco is) a very curious phenomenon. Some find it terrible; others are very passionate fans." 62-minutes of synthesizer worship later, you're not necessarily closer to a pithier summation of its charms and challenges, but the uninformed are a heck of a lot more educated on the origins of this musical species.
Melazzini provides the links in the Italo Disco chain with input from those who were there – the La Bionda brothers, Linda Jo Rizzo from The Flirts, Savage and, most impressively, the scene's poster girl, 'Boys' singer Sabrina, all contribute – as well as acolytes, admirers and an Italian sociologist, Ivo Stefano Germano.
Illustrations interpolated amongst a treasure trove of archive material will likely remind some of the 1980s credits to the BBC TV series Grange Hill. Together, they make a fair evocation of the period, ensuring that the film is a giddy blast of retro euro trash pomp that is weirdly recognisable in our 80s-pop-culture-obsessed present.
The case is even laid out that Italo Disco strongly influenced dance maestros Daft Punk and The Chemical Brothers. Without those groups present to confirm or deny it to be the case, they must be swallowed with a pinch of salt. Other facts, however, are harder to deny. After all, it was on the sun-kissed beach of Gabicce on the Adriatic Riviera that the La Baia degli Angeli (The Bay of Angels) – a glamorous, musically adventurous nightclub – that helped to elevate the role of the DJ from unadulterated disc-spinner to bona fide artiste. This was two years before New York's legendary Studio 54 nightclub opened for business in 1977.
Non-believers are unlikely to be converted by this warm celebration of a maligned musical genre. The bombastic synths, Day-Glo leotards and English lyrics sung as though a first-year exchange student got their hands on a microphone will no doubt continue to grate. Even so, we are reminded of the high(er) brow influences that ignited the scene.
Italo Disco pioneers La Bionda assert that it was Kraftwerk who were leading lights who inspired them. Fellow Italian, Giorgio Moroder, and his game-changing Donna Summer collaboration 'I Feel Love' was also a credible lynchpin for a school of electro-savvy impressionists that followed. It's just that that they gutted its darkness in favour of an insipid, pull-your-hair-out, nails-down-the-blackboard, insistent lightness. Musical modulations and intricate melodies abandoned in favour of two or three notes backed by propulsive, relentless rhythm. A different kind of Relentless Records (if you will).
Above all, what hits you is an inescapable irony that Italy, the country synonymous with style and sophistication, became responsible for a musical and cultural movement that is remembered for its kitschy trashiness. It's the musical equivalent of referencing the Mediterranean nation through a gondolier wheezing through 'O Sole Mio' as he dips his oar into a Venetian canal. Urgh. Enough. Substance was never an Italo-Disco calling card though. This is fluffy, vacant, absent-minded pop. Brain in neutral, limbs tickling the dancefloor.
It might be nice to say that the hollowness is confined to that era, but maybe the greatest trick Italo Disco ever pulled was to remain relevant in the face of reasonable expectation. On this front, Alessandro Melazzini's niche film makes its most compelling case.
---
Countries of production: Germany, Italy
Languages: English, Italian, German
Year: 2021
Runtime: 62′
Written/ directed by: Alessandro Melazzini
Cinematography: Alexander Vexler
Editor: Massimiliano Cecchini
Sound Design: Ralph Bienzeisler
Music: Luca Vasco
Sound mixer: Ralph P. Bienzeisler
Producer: Alessandro Melazzini
Production Company: Alpenway Media
With: Daniele Baldelli, Claudio Casalini, Flemming Dalum, Helmut Josef Geier, Ivo Stefano Germano, Pierluigi Giombini, Carmelo La Bionda,
Michelangelo La Bionda, Christa Mikulski, Mathias Modica, Stefano Righi, Linda Jo Rizzo, Sabrina Salerno, Roberto Zanetti, Eckhart Schmidt
Sales: Rai Com