Review: Flee (2021)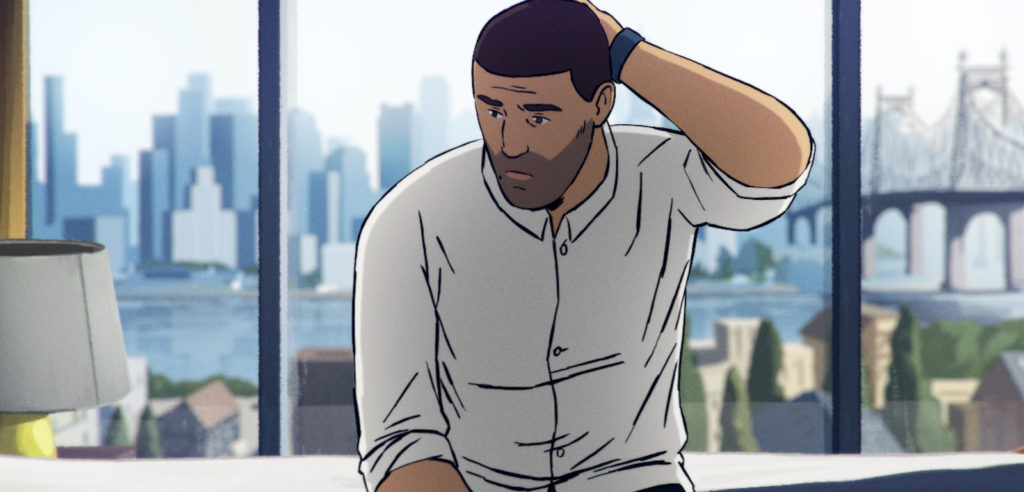 Jonas Poher Rasmussen's animated documentary Flee is clearly something else right from the start. The thing is not just its "track record" on the awards circuit where it achieved the milestone status of the first film to be nominated for the Academy Awards in the categories of the animated, documentary and international feature. It is also about the multitude of issues it touches in a unique and honest-to-god manner through a true, stranger-than-fiction story and bold artistic choices.
The film premiered at last year's Sundance, starting a long festival tour world-wide and getting released theatrically in some countries. Just at the peak of the awards campaign, it also landed on streaming services which are actually the ideal platform for this type of a multi-faceted film. We cover it as a part of our Awards Ticker section.
The protagonist of the film is a man named Amin, an Afghan refugee well-integrated into the Danish society where he finishes his doctorate and plans a wedding with his boyfriend Kasper. For obvious (and also not that obvious, but still legitimate) reasons, it a pseudonym. Amin is also the director Rasmussen's friend from their youth years, which makes this film a perfect mean for him to open up, almost completely, and tell his story about growing up, teenage years spent in the migration and realizing his sexual identity.
The framing consisting of (filmed) conversational sessions between the two friends might seem as a bit of cliché, especially when Amin lies down on the couch (psychoanalysis-style) before starting a "chapter" of flashbacks to various points in the past. However, it serves extremely well here, especially paired with his more free-flowing conversations with Kasper and an alternative framework of two of them planning to move in together to the newly-bought house in the countryside.
The flashbacks themselves are quite harrowing and they cover different chapters and details from Amin's earlier years. For instance, his childhood amid the 1980s civil war in Afghanistan he still has fond memories of, pictured in kite-flying sessions on the rooftop with his brother, or gentle time he spends in the kitchen with his mother. When his father disappeared, the remainders of the family decided to emigrate the only possible way: to go to the collapsing USSR on a tourist visa and to "overstay" there hiding in a rented apartment in Moscow while waiting for the opportunities to get further westwards, to Scandinavia. That lead to a number precarious, even perilous situations, as the family members separated from each others on their migrant journeys. Smugglers, loading spaces of the trucks, shipment containers, leaky boats are the part of the sad folklore about migrations, as are the unexpected encounters and sensations Amin felt on the way.
Finally, let us not forget that Amin is a gay man who comes from the culture that is very oppressive towards such things, meaning that even he had to take time to accept himself the way he is. Although Flee is only to a lesser extent a film about gayness and homophobia, internalized or external, it makes the reason for both the use of pseudonym and animated form. Revealnig Amin's true identity might result in broken family ties and putting his family in danger.
Digital animation approach opted for by the animation director Kenneth Ladekjær is pretty diverse and based on logical system of codes: Amin's inner feelings are matched with colour schemes (brighter for the childhood in Kabul, less saturated for the grey Moscow years) and styles that are precise and elaborate when he narrates the events, and more abstract black and white drawings when he talks about his feelings at certain periods of time. That might recall Ari Folman's groundbreaking work Waltz with Bashir (2008), but the idea here is quite different, since Flee is actually more factual piece of work in which the writer-director Rasmussen does not deal with the shakiness of memories. In that matter, the inserts from the live-action archival materials are not just mere "reality checks", but also a valuable addition to the animated material.
On his part he, however, does almost everything perfectly right, setting up a smart and servicable structure for the plot and relying on the work by his associates, especially the editing by Janus Billeskov Jansen (known for his on another groundbreaking documentary, The Act of Killing) and the fitting musical score by Uno Helmersson. All things considered, Flee is an extraordinary piece of filmmaking and a deeply sincere and moving complex story told in a respectful and astonishing manner.
---
Original title: Flugt
Year: 2021
Runtime: 89'
Countries: Denmark, France, Norway, Sweden, The Netherlands, UK, USA, Finland, Italy, Spain Estonia, Slovenia
Languages: Danish, English, Dari, Farsi, Russian, Swedish
Directed by: Jonas Poher Rasmussen
Written by: Jonas Poher Rasmussen, Amin
Edited by: Janus Billeskov Jansen
Music by: Uno Helmersson
Animation director: Kenneth Ladekjær
Art director: Jess Nicholls
Visual effects by: Theo Boubounelle
Produced by: Monica Hellstrøm, Charlotte de La Gourniere, Signe Byrge Sørensen
Production companies: Final Cut for Real, Sun Creature Studio, Left Handed Films
Co-production companies: Vivement Lundi!, Mostfilm, Mer Film, ARTE France, Pictanovo
Supported by: VPRO, Danish Film Institute, Swedish Film Institute, Norwegian Film Institute, Nordisk Film & TV Fond, Copenhagen Film Fund, West Danish Film Fund, MEDIA, CNC, Région Bretagne, Procirep, ANGOA, DR, Frit Ord Foundation, SVT, I Wonder Pictures, Movistar+, Animation Workshop, ERR, RTV Slovenia, RYOT Films, Anis, Vice Studios, YLE
Sales by: 30West, Cinephil