Kurt Vonnegut: Unstuck in Time (2021)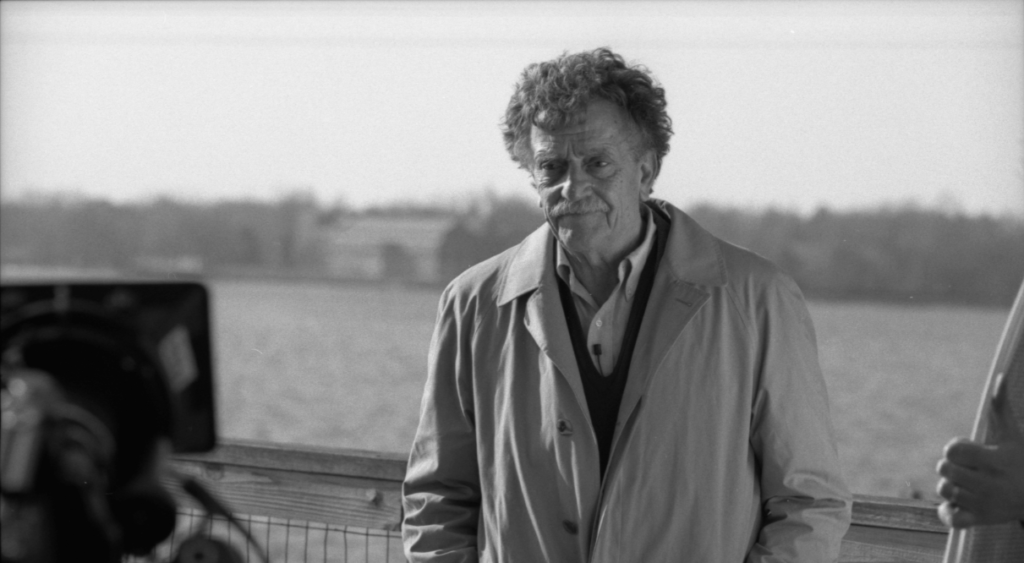 Never meet you heroes, they say. One of those truisms that – like many truisms – I've found not only to be profoundly untrue but to be so damaging to how you should go about living your life that it's almost as if it's been placed in circulation by our enemies to damage us. A poisoning of the well of wisdom. I've met a bunch of my heroes and they have all been amazing. And should I ever meet one that turned out to be disappointing, I hope I'd have the courage to be glad that my perspective had been altered.

Filmmaker Robert B Weide shares one of my heroes, Kurt Vonnegut, and in his new documentary Kurt Vonnegut: Unstuck in Time he gives us the opportunity to meet him, alongside the filmmaker. Taking several leaves from Vonnegut's own writing, Weide makes the prolonged making of the documentary – he was filming for 39 years – part of the subject of the film. We see as their relationship progresses and extends, until the documentary itself fades into the background noise of that friendship. 

Vonnegut came from a wealthy Indianapolis family who hit hard times in the depression. He studied anthropology before shipping off to war, during which he was captured and found himself present during the firebombing of Dresden, a moment that would become an inciting incident for his career and the inspiration for his breakout novel Slaughterhouse 5. Prior to that book's release and the fame it brought, Vonnegut struggled as a writer – earning money with short stories before that market collapsed. Tragedy dogged his life with the suicide of his mother and the death of his sister from cancer – which led to Vonnegut adding her four sons to his growing family. If the years of struggle were hard, success was no easier. The documentary is no hagiography. The children – both adopted and biological – attest to the writer's moodiness, his bouts of anger that was only occasionally relieved by a clowning sense of humour, inspired by his heroes Laurel and Hardy. Vonnegut abandoned his wife Jane, and family in order to embrace his new celebrity in New York.

Weide and co-director Don Argott have an embarrassment of riches when it comes to archive footage. Vonnegut gives great interviews and when he suffered a critical backlash to his writing, became one of America's most accomplished and amusing public speakers. His ability to say serious things in a funny way are at the heart of both his writing and his philosophy. It's deep wisdom in the vernacular – the most important thing in life is farting around, he writes. And yet Vonnegut was also an incisive critic of consumerism, US foreign policy and the damage human beings were doing to the environment. In a clip from a Jon Stewart interview, the host remarks sarcastically 'I'm sorry you lost your edge'. As avuncular as he might appear with his curly hair and puffing on his Pall Malls, there was always that sharpness and also the darkness that the humour underlined.

This is one of the problems the documentary has. With all that footage, do we really need the talking heads telling us how great the books are? Or the animated sections and the meta-sections in which Weide covers his own career as he becomes a successful television director on Curb Your Enthusiasm? At times, it feels like the 'making of' documentary for a better documentary they keep showing clips of. Weide talks at the beginning about his discomfort at being on camera, but he's on camera a lot and, unlike Vonnegut, he isn't (inevitably) as compelling. Ultimately, the genius of Vonnegut shines through and the warts-and-all portrait of the man is compelling, especially in a culture which has a tendency to the bipolar indulgences of stanning or hating. Weide and Argott are sympathetic and if there's one thing that Vonnegut teaches us: 'God damn it, you've got to be kind.'  And so I felt kind towards the documentary and its occasional lapses. After all, you should always meet your heroes. Just, perhaps, it's better to take a photo rather than a selfie.  
---
Country: USA
Language: English
Year: 2021
Runtime: 127′
Directed by: Robert B. Weide, Don Argott
Written by: Robert B. Weide
Cinematography: David Yosha
Camera operator/ Director of Photography: Cameron S. Mitchell
With: Linda Bates, Jerome Klinkowitz, Sidney Offit, Morley Safer, Daniel Simon, David L. Ullin, Kurt Vonnegut Jr., Bernard Vonnegut, Edie Vonnegut, Mark Vonnegut, Nanny Vonnegut, Sam Waterston, Robert B. Weide
Music by: Alex Mansour
Editing: Demian Fenton, William Neal, Bo Price
Re-recording Mixer/ Sound Designer/ Supervising Sound Editor: Ugo Derouard
Sound Effects Editor / Sound Ingest: Justin M. Green