Sheffield review: Karaoke Paradise (2022)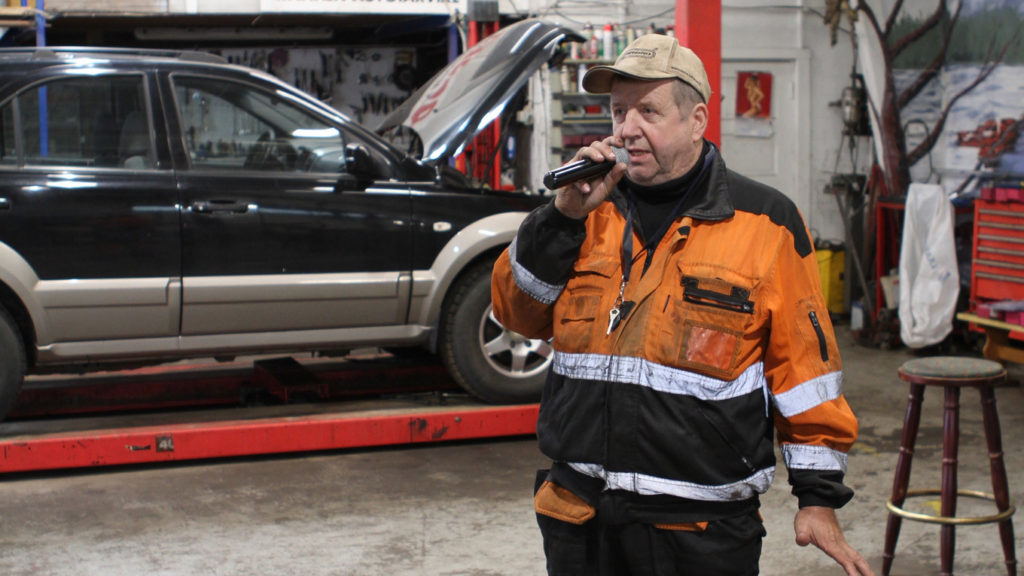 The first association to karaoke culture is its homeland of Japan, but it is actually very strong in Finland as well. That should not come as a surprise, not just because the Finnish quirkiness that marks the country as "the Japan of Europe", but because both karaoke and the Finnish society run on the same fuel of courage that is controlled by rationality. We can find examples of those in different aspects, from the Winter War to the individual sports with an extreme touch like ski jumping and motorsports, especially rally.
In his documentary Karaoke Paradise, Einari Paakkanen (known for his 2016 title My Father from Sirius) points out that similar, but not exactly the same type of courage is necessary for karaoke performance. The difference is that there are no enemies, competitors or the challenges of nature, but the people have to face themselves, the fear and the emotions within them. Sometimes, the effect can be therapeutical.
Karaoke Paradise premiered at CPH:DOX and was screened at Sheffield Doc/Fest. Given its warmth and pleasantness, further festival bookings should not be a problem, especially for those festivals that are in search for more of a light-hearted material. However, that does not mean that the documentary is short on emotion and dark notes, both in music varying from accordion folk to punk and heavy metal (with a special accent on the special Finnish blend of folk-rock called "rautalanka"), and regarding its protagonists and the challenges they have to overcome.
First we meet Evi, the karaoke organizer and promoter who lives on the constant tour from a town to a town and from a bar to a bar. For her, karaoke nights present the opportunity to meet people and befriend them at least for just one night. Laura and Miro have suffered a terrible tragedy, and for her, karaoke is the only way of therapy she responds to. Toni is a shy young man stuck at a pointless job and in home with his mother, and karaoke is his way of combating shyness. Kari is a lonely mechanic in a provincial town who craves for company, so he organizes karaoke gatherings in his garage. Finally, Elina is combating Parkinson's disease and she seems cheerful when she sings punk classics at karaoke clubs.
The subjects' stories are not the only ones regarding karaoke in Finland. They are probably neither the most extreme nor the most representative ones, and Paakkanen is well aware of that, so he fills his film with intermezzos made of montage sequences of people singing karaoke in even less likely situations: private gatherings, camps and even saunas. (Is there anything more Finnish than the latter?) But together, the stories add up to something close to the pure emotion and the healing power of art and performance. Because, as it is said in the film, "there is a little diva in everyone".
The fact is that Karaoke Paradise seems a little bit all over the place, especially in its elevated tempo, but there is a sense of rhythm and structure to it, so it works almost like a perfect karaoke song. The crisp digital cinematography by Marita Hällfors, the rapid editing by Paakkanen and Antti Reiko, the neon-coloured graphic design and the sound design by Pietu Korhonen all suit the film well, but the special shout-out has to be given to Upright Music for providing the film with such eclectic variety of tunes. This is the type of film after which a viewer will feel the urge to go and sing.
---
Original title: Karaoke Paratiisi
Year: 2022
Runtime: 75'
Country: Finland
Language: Finnish
Directed by: Einari Paakkanen
Written by: Einari Paakkanen
Cinematography by: Marita Hällfors
Editing by: Antti Reiko, Einari Paakkanen
Music by: Upright Music
Sound design by: Pietu Korhonen
Sound by: Lou Strömberg, Miiko Roisko
Visual effects by: Teemu Pitkänen
Colourist: Sarrah Wilkman
Produced by: Marianne Mäkelä
Production company: Napa Films
Supported by: Finnish Film Foundation, YLE, SVT, AVEK
Distribution by: Aurora Studios
Sales by: Rise and Shine