Sarajevo review: It's Not Cold for Mosquitoes (2022)
Sarajevo Film Festival
Student Film Competition
Heart of Sarajevo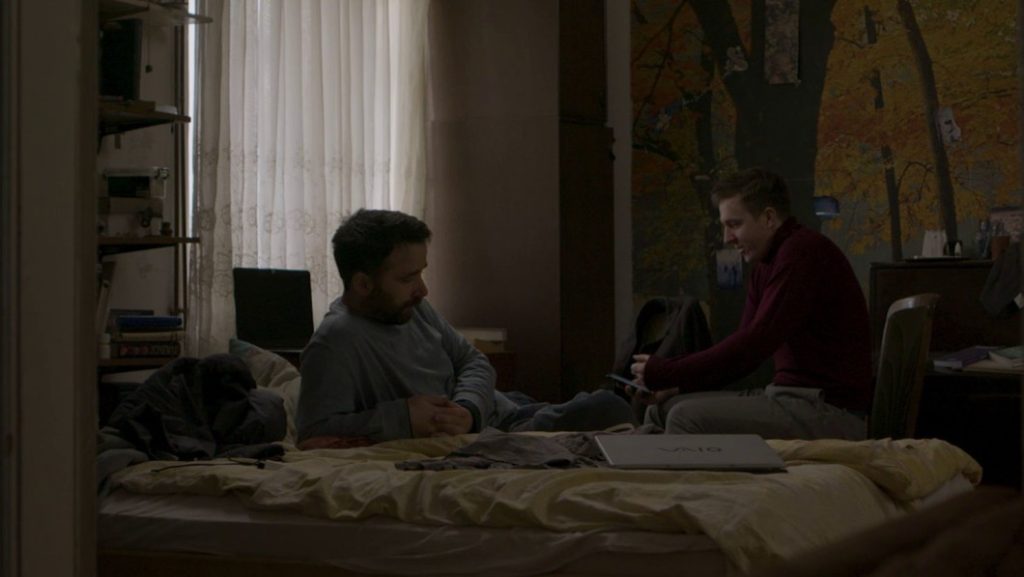 If it was not official after Summer Fruits (2019), White Christmas and Nine Months (both from 2020), now it became clear that Josip Lukić's own family-themed documentary phase (2018 Momsy and 2019 The Rex Will Sail In) is over and that he has turned his creative energy towards something else. Let us call it auto-fiction, since all the "post-Rex" films contain a fictionalized, potentially enhanced version of Lukić's own (nervous, sometimes even neurotic) personality serving as our point of view to the phenomena of summer longing (Fruits, strangely the only film where the protagonist is played someone else rather than the filmmaker, otherwise quite a usable cameo-actor), student depression (Christmas) and the anxiety of the early stages of pandemic (Months).
Now, together with Klara Šovagović whose previous credits include two editing gigs and one writing for different Croatian short student films, and under the mentorship of Zrinko Ogresta, Lukić tries to expose, or even to realize, the "new normal" brought by the pandemic in all of its long-standingness. One might argue that It's Not Cold for Mosquitoes is the final piece of a trilogy, or even a tetralogy. While Lukić's input can be seen as the continuity of the poetics and topics of his previous films, Šovagović also contributed to the filmmaking through her editing- and script work.
Karlo (Lukić) lives in a rented apartment, has an undocumented online "job", a girlfriend named Marija (Mia Petričević of Quit Staring at My Plate fame) who visits him, a roommate (Yuliya Molina) who is rarely home, some friends that come by and even a savvy nephew (Marko Nazlić) who understands how Tinder works. A day or so of routines and attempts of breaking it, filmed as a series of one-take scenes (from the fixed position), executed by the cinematographer Tin Ostrošić who replaced Marinko Marinkić), reveal how the life has changed in the last couple of years, and how it is felt by those who still have not "cracked" the rules of the previous reality yet, especially seen in an absurdly humorous protagonist's attempt at flirting with the veterinarian (Sunčica Ana Veldić, also an established filmmaker in short format) who treated the roommate's cat.
It's Not Cold for Mosquitoes (the title comes from the strange paradox that the mosquitoes in Vietnam are active only during the winter, as we are informed by the roommate who spent one childhood year there) premiered at Sarajevo Film Festival, where it also triumphed in the Student Film Competition. It seems that Lukić keeps up with the tempo of producing films and scooping the awards at regional festivals.
---
Original title: Nije zima za komarce
Year: 2022
Runtime: 28' 51''
Country: Croatia
Language: Croatian
Directed by: Josip Lukić, Klara Šovagović
Written by: Josip Lukić, Klara Šovagović
Cast: Josip Lukić, Paško Vukasović, Sunčica Ana Veldić, Marko Nazlić, Mia Petričević, Yuliya Molina, Karlo Vorih
Cinematography by: Tin Ostrošić
Editing by: Josip Lukić, Klara Šovagović
Sound design by: Filip Zadro
Sound recording by: Sunčica Ana Veldić
Production design by: Ivan Turkalj, Franjo Mihaljević
Costume design by: Paula Zoričić
Make-up by: Ivana Lončar, Paula Peloza
Colourist: Ivor Lapić
Produced by: Filip Prah, Lucija Perić
Production company: Academy of Dramatic Arts (ADU) Zagreb
Supported by: Croatian Audiovisual Centre (HAVC)