Venice review: Tria (2022)
Venice Film Festival
Orizzonti Corti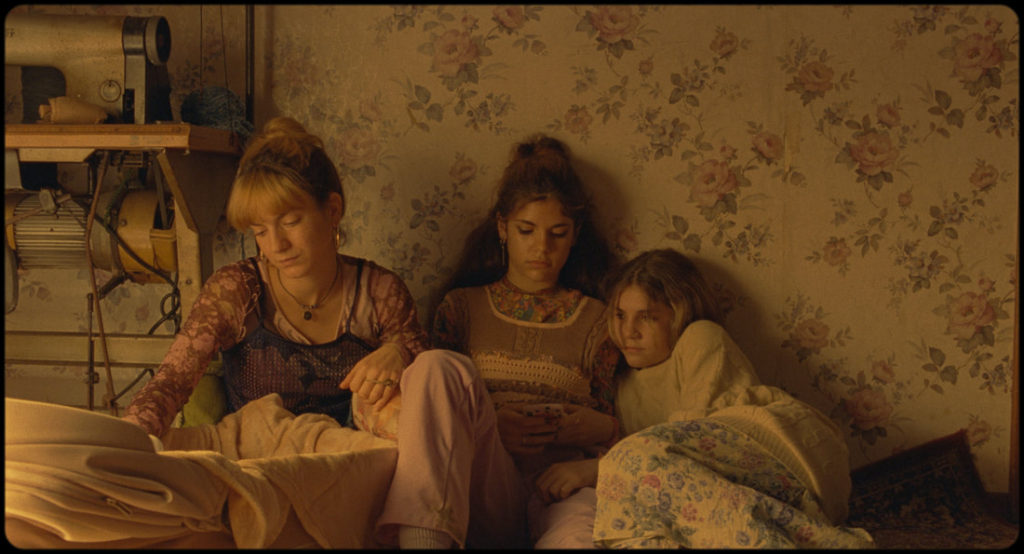 According to her biography, Giulia Grandinetti is a multi-talented artist in many fields of expression. She used to study dance before she went into filmmaking, and she tends to take multiple roles in front and behind the camera likewise. In her career, she made a handful of shorts and even one feature-length film in which she re-interpreted Lewis Carroll's Alice in the Wonderland. Her newest short, Tria, has just premiered in the Orizzonti Corti competition in Venice.
The film opens with a dream sequence, filmed in the Academy ratio with cropped corners, with some strong symbolic power. As the narration in Greek about the rules for immigrants in the dystopian world the film is set in, the camera slowly moves on to a bird guarding her nest with three eggs in it. As we are explained, the rules of that world are harsh for the immigrants: a family can have up to three children, and if the fourth is on its way, it has to be born, but one of the children has to be killed. The girls hold the priority over the boys to be sacrificed.
Then we meet our characters, the family of Greek immigrants who settled in the projects on the outskirts of Rome. There are three sisters, Cleo, Iris and the oldest – Zoe, who also serves as our narrator and point of view. They are about to get a baby brother, so one of them, according to the choice of their parents, is about to be killed. The outside world provides them with a little bit of comfort, while at their cramped home they "audition" to impress their parents. But the choice has already been made…
Filmed on 35mm stock using ARRI D-Vision camera, in drab and murky colours of autumn that reconcile the crispness with high saturation, Tria is unequivocally stunning. Grandinetti shows talent for the visual storytelling (her solution for the title, written by the finger on a misty car window, is simply brilliant) and for choreographing the scenes. Occasionally, she gets out of her league, ending up in a music video aesthetics and approaching the territory of a trailer for an Emir Kusturica mid-career film, especially given that the music background consists of Balkan Gypsy tunes arranged and selected (and to a smaller extent, composed) by Lucia Alessi and Pier Sante Falconi. In the end, Giulia Grandinetti's Tria presents itself as a missing link between Kusturica's blend of magic realism and the dystopian side of the Greek Weird Wave, which is quite a unique position in the film world.
---
Original title: Tria – del sentimento del tradire
Year: 2022
Runtime: 17' 20''
Country: Italy
Languages: Greek, Italian
Directed by: Giulia Grandinetti
Written by: Giulia Grandinetti
Cast: Irene Casagrande, Anastasia Almo, Sofia Almo, Ilir Jacellari, Laura Gianatiempo, Tiziana Foschi
Cinematography by: Eleonora Contessi
Editing by: Niccolò Notario
Music by: Lucia Alessi, Pier Sante Falconi
Sound by: Giandomenico Petillo, Giulio Previ
Production design by: Luna Ranalli, Valeria Polieri
Costume design by: Martina Latorre
Make-up by: Irene del Brocco, Stella Bignoli
Assistant director: Francesco Pascucci
Produced by: Riccardo Neri, Vincenzo Filippo
Production company: Lupin Film
Sales by: Lights On