Silence, please!
A PLACE OF QUIET ENCOUNTERS WITH ART
As it turns out, somebody has put a great deal of effort in calculating the amount of time an average museum visitor spends in front of a piece of art – and they came up with the meager and embarrassing number of 12 seconds! According to the statistics, running through the exhibitions is what most of us seemed to be doing. One glimpse at the statue here, another at the painting there, oh look- there's an interesting installation, how much do we have left? It's the quantity, the feeling of a fulfilled job, like a ticked off task from a to-do list that, given the research, gives most of the people the sense of a perfectly rounded museum visit.
How many impressions are left after "roller-skating" through exhibition halls (apart from an ego-feeding sense of doing something sinful for one's soul)? Needless to say – very little.
The reasons for "speed dating" in museums some psychologists suggest, is a hectic schedule which leaves one with no time to deal with anything but work and family. If that sounds like a bad excuse, that's because it is.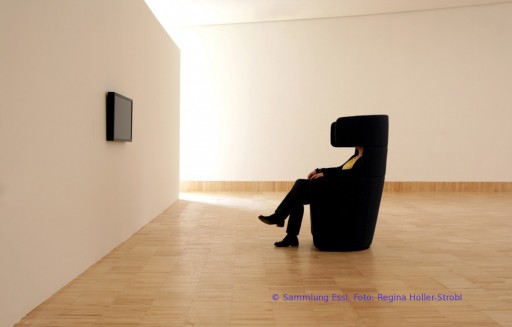 If you do not belong in this group, but rather long to be alone in a museum, leaning back in a comfy chair, spending eternity studying a painting, your wish may come true. With its latest concept Silence, the director and founder of ESSL Museum in Lower Austria's town of Klosterneuburg, Dr. Karl-Heinz Essel, has come up with the idea of a "private" exhibition room. It can be booked (for the maximum of one hour and two persons) until 30 May under: anmeldung@essl.museum or by simply picking up the phone and dialing 02243 370 50 150. Tickets can be purchased directly at the museum (reservations are compulsory!)
Two paintings are on display and we won't spoil the surprise by telling you which ones! We can only promise that the time spent in ESSL museum will be worth every penny.
Purchasing the ticket for Silence will enable you to visit other exhibitions currently showed at ESSL.
ESSL MUSEUM
KUNST DER GEGENWART
An der Donau-Au 1
3400 Klosterneuburg bei Wien
T: +43-(0)2243-370 50 150
F: +43-(0)2243-370 50 22
http://www.essl.museum/