Hans-Peter Feldmann, BAWAG Contemporary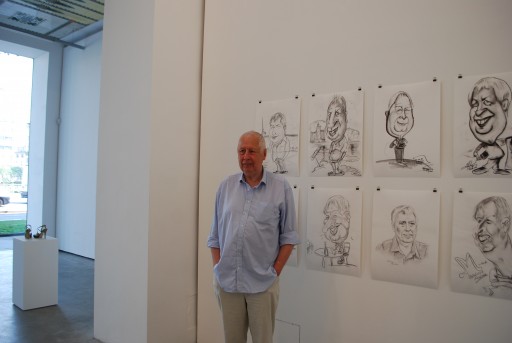 The first time I've heard about Hans-Peter Feldmann was in 2000 when the Austrian Museum in Progress published Profil without Words based on his model of the news magazine issue from February 7th. It was quite a powerful statement, both artistically and politically speaking. To start with, year 2000 was marked by a highly unpopular short-lived political coalition between Austrian People's Party and the populist right-winged Freedom Party of Austria. The title page of Profil was showing the Chancellor Wolfgang Schüssel signing the coalition agreement with his new political partner Jörg Haider, an action that sent thousands of people protesting across the country, booing the Governement and calling for immediate actions. Stripped of all texts, advertisments and graphic illustrations, Profil without words turned into an artistic study of human perception of the print media, questioning the role of textual and pictorial content of a political magazine at the same time unintentionally sending its visual silent message to the outter world – "we are speechless" . Hans-Peter Feldmann's intervention on the said issue of Profil magazine can be seen at the current exhibiton at the BAWAG Contemporary in Vienna along with the selection of his most important works.
There was a bit of an uproar in 2010 when Feldmann, who was awarded the Hugo Boss prize in recognition of achievement in contemporary art by Guggenheim, decided to cover the complete exhibit area of the famous NY museum with his prize money. The walls were plastered with 100.000 used 1- dollar bills, a show that had a strange impact on visitors who couldn't make head nor tail of it. For Feldmann, those money bills were probably no different than any of his reproduced photos or photocopies that he started amassing in the late 1960's. Notorious for the act of repetition and reproduction, he often insists upon the same artistic value of the original and its copy.
Shortly before the opening of his exhibition in Austria's capital, Feldmann had his first solo presentation in London, at the Serpentine gallery. With almost identical concepts, the two exhibitions differ in just few details. One of them is that BAWAG Contemporary unfortunately doesn't showcase one of Feldmann's latest conceptual works based on the contents of womens' handbags. The Düsseldorf born artist has asked a number of women to surrender their purses with all their possesions (safe credit cards, money and passports) for 500€ a piece. He then carefully arranged the found items in the 5 vitrines – mobile phones, sanitary protection, make-up, painkillers, crumpled pieces of paper, coins etc. with the photocopied money and the purses themselves – in the same careful way the precious archeological artefacts would be put in a museum.
Women have always interested Hans-Peter Feldmann who based many of his works on female nudes, collections of old pin-up postcards, erotic calenders or multiple snapshots of women's lips and knees. All the clothes of a woman is a photo series showing exactly what the title already indicates – individual pieces of clothing, collected and arranged for the perfect photo shoot. "It's hard for me to respect things that are taken seriously" is one of his most quoted statements from a rare interview and accordingly, he hates being considered an artist. He is, after all, a hobby thimble salesman who often stands behind the counter in his wife's souvenire shop in Düsseldorf, selling kitsch to tourists. Maybe he even used some of the trinkets from the shop in creating a darkened installation Shadow play (one of the few titled works) which made its way to Venice Biennale in 2009 ("Fare Mundi" curated by Daniel Birnbaum), but was also, funnily enough, projected on a screen in front of the Louis Vuitton maison in Münich in November 2010. This wasn't the last collaboration between the German artist and the famous French fashion brand which celebrated the Queen's Diamond Jubilee with Hans-Peter Feldmann's (Queen-inspired) exhibition in its London New Bond Street Maison. I am not sure if the Queen was amused by her red clown nose on the 10 £ bill!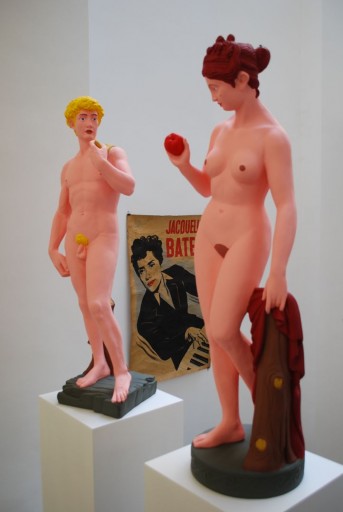 Shadow play, a twenty meter long table with revolving round platforms lit by clumsy-looking, but perfectly positioned spotlights, is a set of seven 'tableaux' with little figurines and toys: dolls, souvenirs of famous world monuments, plastic aeroplane, wedding cake decoration…
Hans-Peter Feldmann became famous in the early 1970's mainly for his photographic series presented in the form of artistic books. As a typical example of his early work stand the assembly of offset black & white copies of posters showing clichés about 'happiness & beauty' known under the name Sunday pictures with kittens, love couples, sunsets or exotic settings, arranged on the wall in no specific order. Such and similar pictures collected from calendars, magazines, newspapers, catalogues and postcards, Feldmann has used to produce collages, installations or photo albums by chronicling the most obscure moments frame by frame. One of the photo series show allegedly a bathtub before and after the bath for which, of course, there isn't any proof that it ever took place.
Installation consisting of vertically positioned plastic flowers in pots glued to the wall, small-size plastic animals placed on a red rug, golden shoes with pins on, it's hard to figure out what Feldmann's concept is, but this kind of almost childish naivete has a truly irresistible charm. As I approach the reproductions of Michelangelo's David and a sculpture of Aphrodite, I am taken aback by their ridiculously pink skin and head- and pubic hair painted in yellow & red. Upon being exposed to this kitsch attack I start comprehending why Feldmann refuses to be taken seriously.
After a couple of minutes spent at the gallery the absence of tags becomes apparent: "There are three things that Hans-Peter Feldmann really hates: interviews, signing his works and being called an artist", explains the curator Helena Tatay, continuing: "please, pay no attention to tags, this works should stay nameless", hurridly removing the evidence of names or explanations ever been given to them.
The exhibition is open until 26th August.