Photo contest "Photo Booth Art"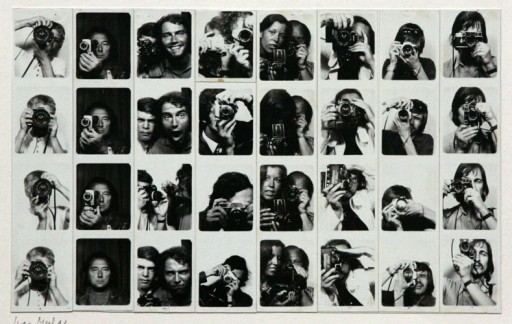 Within frames of Eyes On (Month of Photography, Vienna) and Vienna Art Week 2012
KUNST HAUS WIEN is holding a contest for the creative and artistic use of the photo booth that will be available in the foyer of the museum from 9 October 2012 as part of the exhibition. In order to participate in the contest, candidates must submit a strip of four photos and a completed entry form to the museum ticket office between 9 October and 11 November 2012. A jury headed by Andreas H. Bitesnich will select the ten most creative and original subjects, and on 21 November 2012 at 7 p.m., at KUNST HAUS WIEN, the winners will be announced and the prizes awarded. The winning subjects will be displayed at the exhibition until 13 January 2013.
In cooperation with:
Cyberlab, Lomography and Photoautomat.net
The Jury
Sally Bibawy, Lomographic Society International
Andreas H. Bitesnich, Photographer – Head of Jury
Gerhard Hinterleitner, cyberlab.at
Andreas Hirsch, KUNST HAUS WIEN
Georg Schlosser, fotoautomat.net
Awards
Ranks 1-3:
• Your submission ca. 120 x 23,5 cm, mounted by cyberlab On-Silicon 2+2, in the exhibition until 13 January 2013, afterwards in your possession
• cyberlab-voucher € 100,-
• Lomography-camera "Lomo LC-A+ Russia Day" (rank 1), "Diana F+ Colette" (rank 2), "La Sardina & Flash – Orinoco Ochre" (rank 3)
Ranks 4-10:
• cyberlab-voucher € 50,-
• Lomography-camera "La Sardina – Sapphire Serpent"
Award ceremony
Wednesday, 21 November 2012, 7 p.m. at KUNST HAUS WIEN
Terms and Conditions of Participation
Entry submission period
Entries will be accepted from 9 October 2012, 6 p.m. until 11 November 2012, 6 p.m.
What to submit and where to submit it
Each entry must consist of a photo strip comprising four photos taken in the photo booth in the foyer of KUNST HAUS WIEN as well as a signed participation form. Entries may be submitted at the museum box office or the museum cloakroom.
Competition organiser
KUNST HAUS WIEN GmbH, 1030 Wien, Untere Weißgerberstraße 13
Participants
Only the authors of the submitted photos may participate. Only one author may be named for each strip of four photos.
Copyrights and rights of utilisation
The photo works shall remain the intellectual property of the authors/entrants.
The submitted material shall become the tangible property of KUNST HAUS WIEN GmbH and may be published free of charge by KUNST HAUS WIEN GmbH and by its competition partners, both in the context of and independently of the photo competition, in printed works and on the Internet and may also be made available to the media (print and online) free of charge for publicity purposes, provided that the names of the authors/entrants are specifically mentioned.
In the case of publication, the authors/entrants shall indemnify and hold harmless KUNST HAUS WIEN GmbH and its competition partners and the media against any and all copyright claims of third parties, including, but not limited to, persons portrayed in the photographs.
After the conclusion of the exhibition "Photo Booth Art", KUNST HAUS WIEN GmbH will transfer the submitted photo strips to Musée de l'Élysée Lausanne free of charge. The authors/entrants consent to the transfer of the photo strips and the granting of rights of utilisation to Musée de l'Élysée Lausanne
(Text by KUNSTHAUS WIEN)