Dan Flavin – Lights
This post is also available in: Serbian/Croatian/Bosnian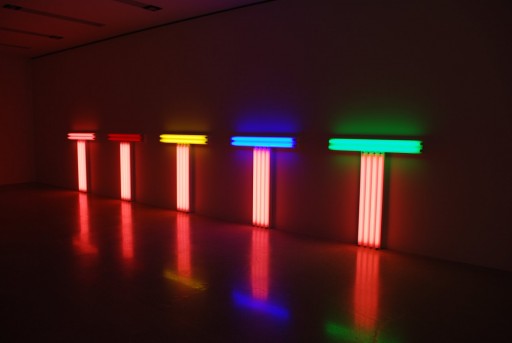 MUMOK is showing two exciting exhibitions which can be consumed together or separately: "Dan Flavin – Lights" and "Poetry of Reduction; Minimal, Concept, Land Art" – a well curated show which also includes Flavin's art pieces, this time in a broader international context. Flavin was, after all, one of the pioneers of minimal art, an honor he shared with some of the most influential artists of the 20th century – Donald Judd, Sol LeWitt, Carl Andre, John McCracken, Walter de Maria and Robert Morris.
What doesn't happen often is that an exhibition immediately melts into its exhibiting space. The strong reflection of fluorescent tubes which paint the naked walls in cold layers of blue, green, red and yellow, looks like it was "conceived" there and no place other.
Dan Flavin "Lights" 13. October 2012 – 03. February 2013
"Poetry of Reduction: Minimal, Concept, Land Art" 17. September 2012 – 05. Mai 2013
Opening Hours:
Monday: 2.00 p.m.–7.00 p.m.
Tuesday to Sunday: 10.00 a.m.–7.00 p.m.
Thursday: 10.00 a.m.–9.00 p.m.
Admission:
Normal: € 10,-
Reduced: € 8,- for Seniors, Groups of 10 or more, Club Ö1, Wien-Karte, DER STANDARD-subscribers
Reduced: € 7,- for Students up to 27 years of age, compulsory alternative draft, unemployed
Free entry: € 0,- for Children and young persons under 19, members of the Association of Friends of the Visual Arts, Annual Pass holders IAA-members, bearers of the 'Hunger auf Kunst und Kultur' ID card.
Term Ticket: € 12,- (Summer term Feb 1– Oct 30 / Winter term Sep 1– Feb 29), Students up to 27 years of age / incl. mumok film programme