Instalacija "The Morning Line" odlazi trajno u Karlsruhe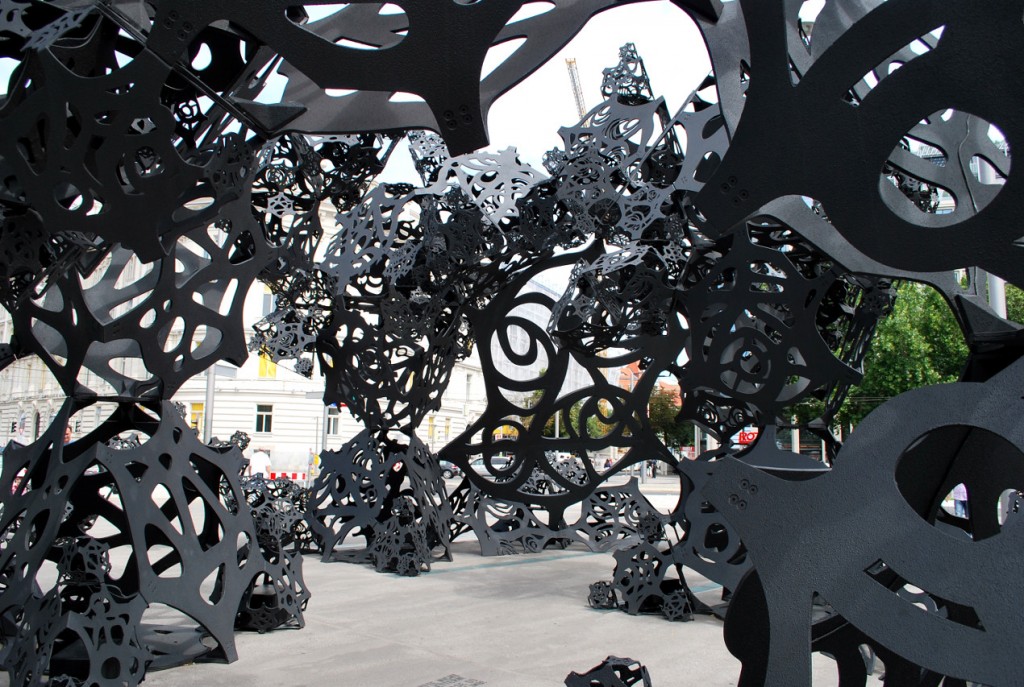 The Morning Line, intradisciplinarna platforma za kongruenciju informacija na javnom prostoru koju su 2008. kreirali Matthew Richie, Benjamin Aranda i Chris Lasch, nastala je po narudžbi TBA21 koja je ovo neobično umetničko delo javno izložila na dve različite lokacije – u Sevilji (2008) i Istanbulu (2010) – pre nego što ga je u leto 2011 "skućila" u Beču kao umetnički prostorni i vizuelni sklop sa ciljem da stvori jedinstvenu simbiozu između arhitekture i skulpture sa jedne strane, i zvučnog sadržaja sa druge. Delikatna struktura instalacije (10 metara visoka, 20 metera dugačka, 20 tona teška, sa 47 kanala i 53 zvučnika) će u nekoliko narednjih sedmica biti demontirana i poslata u Centar za umetnost i medijsku tehnologiju (Zentrum für Kunst und Medientechnologie, ili kraće – ZKM) u nemački grad Karlsruhe, gde će pod kuratorstvom Petera Weibela, u sklopu stalne muzejske postavke, biti testirana u okviru šireg umetničkog, medijskog, naučnog i tehnološkog projekta.
Kritičar za arhitekturu Sanford Kwinter je The Morning Line opisao kao "herojski delirijum" nastao primenom matematičkog koncepta razlomka u kombinaciji sa najmodernijom i inventivnom video i audio tehnologijom. Instalacija je opremljena sa 46 zvučnika i 12 sabvufera koji se kontrolišu preko centralne komandne table, a odlikuje je prilagodljiva forma koja u kombinaciji sa senzorima i video kamerama tvori interaktivnu scenu/ scenu živih performansa kao novi i jedinstven interaktivni muzički instrument. Od leta 2011. do 23. novembra 2012. The Morning Line je transformisao bečki trg Schwarzenberg u atrakciju za ljubitelje muzike, umetnosti i arhitekture. Ova instalacija je i mesto na kome su se održala dva festivala prostornog zvuka i savremen kompozicije (u 2011 i 2012) u okviru kojih je uživo izvedeno petnaest novih kompozicija koje će činiti jezgro budućeg arhiva prostorne muzike i difuzije.
Prema osnivačici i predsednici Thyssen-Bornemisza Art Contemporary (TBA 21) Franceski Habsburg, budućnost the Morning line nije samo ograničen na sudbinu skulpture u javnom prostoru već se može doživeti kao instrument modernih izvođenja: "Kao takav, on zavisi od okruženja u kome nastavlja da se suočava sa inovacijom i tehnologijom ali i od održavanja tradicije koncertnih programa baziranim na specijalnim narudžbama. ZKM nudi obe mogućnosti, kompetentnost i visoki nivo iskustva u baratanju sa sofisticiranim i zahtevnim tehnologijama. TBA21 sa velikim zadovoljstvom poklanja ovo izuzetno delo ZKM-u, u direktnom dogovoru sa Peterom Weibelom.