Where's my eight?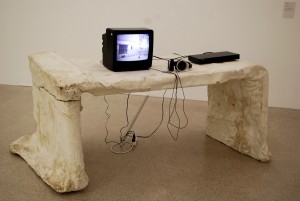 After great Viennese retrospective in the Museum of Modern Art (in 1996), which at that time was settled in "House 20", one of the most prominent Austrian artists Franz West addressed Mumok with an offer for a new cooperation. The title proposed by the author himself "Where is my eight" was understood by many as allusive of the bohemian lifestyle of the artist who passed away last summer, since in Austria the wine is being ordered by clients in "eights" and "quarters". In fact, Franz West only modified name of a gouache "Where is my weight?" (2004) that dealt with a newspaper story about a women showing her oversize trousers after a successful diet; this was done by a linguistic intervention, omitting initial "w" in "lost weight", and counting upon chance that our own imagination would lead to specific conclusion. This is not the unique riddle left to our intelligence to cope with, because West's speciality is to concoct serious themes and to quote from literature that concerns philosophy, psychology, arts and sociology, often combined with the slang and offering raw answers as an attempt to motivate the public to involve in the pursuit of own truths.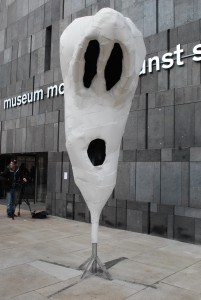 The Mumok exhibition functions as thematic whole as well, besides being a retrospective based upon West's principle of combinatorics. West does not believe in the completeness of an artwork, therefore his interest is subject to the reactions of the public that experience the active physical usage of the furniture and modular units, and the Mumok exhibition would be one of preciously rare places where one may sit upon the exhibit or touch part of an installation, but for the fact that the majority of the exhibits in fact is privately owned. Exceptions concern large scale sculptures, as well as papier-mâché structures finalized by 1970-ies, like those that constitute art of the installation "Ion" (2010), created in collaboration with Bulgarian performance artist and choreographer Ivo Dimchev.
In reaction to "untouchable" and allegedly illegitimate artworks that may freely be used by the public and visitors, West chose to hermetically enclose some of his sculptures of "found objects" covered with Paris plaster into a large case, which he claimed to be a protest against dogma of exclusive right to possess a work of art. The selection of structures enclosed in the case could be completely different, since Franz West often recombined works as a sort of an interactive dialogue. "As soon as we agreed which works were part of a whole, West would bring something quite different from the box", explains curator Eva Badura-Triska commenting short but fruitful cooperation with the artist. His departure imposes some questions, one of them being how would West, were he alive, react to the fact that it is accompanying programs, not the exhibition by itself, that stand for the dynamics that was essential to him and through which the interactivity of artworks with public is achieved.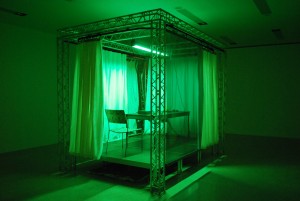 Combinations and re-combinations of artwork that created better part of the Mumok exhibition have remained, owing to the death of the artist, only partially defined and the best known arrangement "Smoked spare ribs" (1996) unites works of West's friends Martin Kippenberger, Herbert Brandl, Kiki Smith, Vittore Pisano, Werner Bittner, Albert Uhlen and Heimo Zobernig, including couple of chairs, a table upon the shining surface of which one reads "Drink the beer, but leave the bottle here".
The new situation in which the collector's desire stand hierarchically higher than artist's ideas and concepts complicated the effort of assembling all "dialog" segments of one of West's cardinal works – sculptural tryptich "Redundance" (1986), which an Europen gallerist disjoined, contrary to West's principles of combinatorics, and sold separately. Although the term was derived from Umberto Ecco's "Introduction to semiotics", the "Redundance" was in fact a reaction to the slogan of Document No. 7 of 1982 (Ben Vautier) that claims redundancy of art". Franz West said in 2011 about this work that it is upon beholder to decide what is redundant or not.
Tryptich stand in direct dialogue with three sculptural works of Austrian artist Heimo Zobernig who, jointly with Franz West, conceived and created a significant number of works. We particularly point the attention towards "Studiolo", an installation at which Zlatan Vukosavljevic participated as well, mounted at the Barbarigo Palace during Venice Biennale of 2005.
Of course, the comfort of the West's furniture is nothing to talk about, the fact known to anybody who tried to sit and rest upon it in the entrance lobby of the Vienna MAK, but the same instruments of discomfort covered with carpets stand as the only possible sitting option in the video-station which shows video works about the artist upon five displays.
"Where is my eight" retrospective exhibition of Franz West in Vienna Mumok shall be open until May 26, after which date it moves to Frankfurt Museum of Modern Arts.