The winner of the Austrian Photo award "Objektiv 2013" is Heinz Stephan Tesarek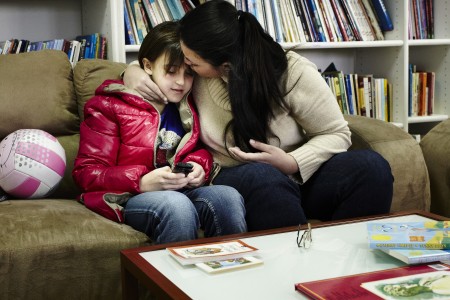 Photo series about a young Greek woman who had to put her only child in a foster home because, due to the financial crisis in her home country, she can't provide for her family, is Austria's "Press Photo of the Year" 2013. The photographer Heinz Stephan Tesarek was awarded with the Lens 2013 (in German: Objektiv 2013) for this touching photo story published in the weekly magazine News. This is the second award for Tesarek, who also won "a lens" in 2011.
In Greece, there is a growing number of impoverished mothers who are no longer in a position to feed their children. One of them visits once a month her daughter who was put in care at the S.O.S. Children's village in Athens, 300 km away from her home. In his photo series "How could you leave" Heinz Stephan Tesarek shows the mother in the moments of deepest desperation and sorrow, but also those rare moments of joy, when she has the oportunity to share a couple of hours with her daughter.