Marianne Maderna "Humanimals", Dominican Church in Krems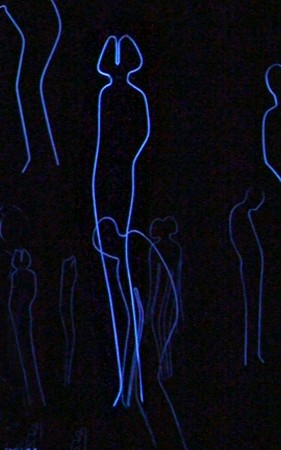 Krems: In the cellar like darkness, which hangs like a huge silk curtain in the interior of the Dominican church in Krems, the slightly unsure observer is drawn, pulled to left and right as though attached to an invisible thread between two opposing poles towards the current exhibition by Marianne Maderna – "Humanimals". The attraction of the cool blue light, in which the majestical installation of 8 thousand UV lit figures is illuminated and cosily ensconced in the church's apse, is truly magical. Here Marianne Maderna has created her own Pantheon from icon like aluminium gods and their subjects swaying in the air brought to life in the 3D animation screened on the opposite side of exhibiting space. Each creation has taken their own place in the hierarchy, described by the artist as 'Devolution'. Beings suspended from the very top – part headless, part phallus heads with two similar head formations – rule, threaten, oppress and render the other slumping figures powerless. They slowly mutate into mixed beings ending up as fluid amoebas and similar pre-historic forms before finally disappearing.
Marianne Maderna makes visitors literally feel her 40-minute 3D work 'Humanimals' on their skin. This artwork came into being through thousands of drawings in close co-operation with Ars Electronica Solutions and it is artist's perceptive 'Theatro liguidita' in which sound, cool light, the written, performed and the extreme melt together.
The artist has created her own shorthand for hierarchy, order and value systems. The masculine 'Big rulers, set slight back with their hands in their pockets, clearly demonstrates who has the say in the chain of power. A female figure, 'The boxer', who Maderna also calls 'Inventress of Wheel Act', refuses to comply with the masculine power structure in the installation and the 3D animation. She boxes her way through the whirlpool of beings with a witch like smile and turns the 'big fish eat little fish' concept on its head. This, in the very place where the Dominicans of Krems condemned 140 people to death and burnt them alive through witch trials. Under a blue light, long described as demonic – where better can a patriarchal stance be challenged, than in a church?
The exhibition in the Dominican Church in Krems runs through October 13th 2013.
*This article was originally published on July 3rd 2013 in Artmagazin.cc and in German language

_____________________________________________________________________________________________________________
Marianne Maderna was born 1944 in Vienna. She lives and works in Vienna and Lower Austria. She is a multimedia artist since 1997
______________________________________________________________________________________________________________.
Opening hours
June 9 – October 13, 2012,
daily 11:00 a.m. – 6:00 p.m.

Address:
Dominican Church Krems
Körnermarkt 14
3500 Krems