Kunsthalle Wien, Germany Design Award Winner 2014 for "Communication Tools"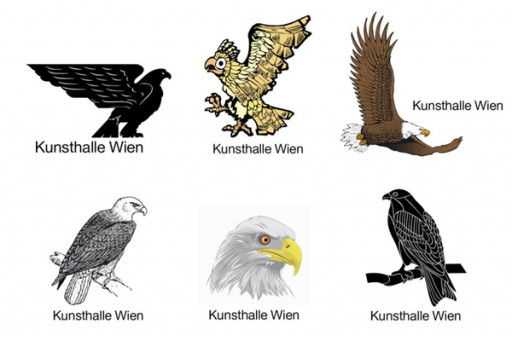 "Brutal but sexy!" – "is how the new visual identity of Vienna's Kunsthalle Wien gallery was presented. The logo of the institution is an eagle, which is reinvented time and again, resulting in a kind of alienation of the logo that is not only unconventional, but indeed courageous. Here the conservative symbol of the classic coat of arms is used not entirely without irony. Be it stately, macho or comic – every eagle serves as a Kunsthalle eagle, and yet the symbol is always recognisable as an originator. The new image thus does justice to the institution's ability to constantly question itself, to experiment and to change. Identity emerges through diversity. Provocative and exciting.", state the members of the Germany Design Award Jury.
Responsible for the new corporate design of the Kunsthalle Wien is the Belgian graphic designer and artist Boy Vereecken.
Kunsthalle has issued the following release (mot fully quoted): Next to the lion, the eagle is the classical animal of heraldry and is used in many coats of arms such as that of Vienna, which shows a black eagle with a breast-plate. Vereecken's design draws on this idea of the eagle in Vienna's coat of arms, yet refrains from laying down a definite representation. In accordance with the programmatic orientation of Kunsthalle Wien, the eagle will adopt a different form with each exhibition and, in its various visual manifestations, feature as a synonym for the institution's versatility. In line with this logic, the eagle will not only rise from Kunsthalle as a noble bird of prey, but also as a cartoon character.
Each of the eagles of very different origins forms an ensemble with a graphic grid incorporating the typography. The approach translates the former wordmark "Kunsthalle Wien" into an open concept flexibly adjusting to various contexts. This will lead to an identification of the image of the eagle with Kunsthalle Wien in the long run.
The new graphic concept also alludes to Marcel Broodthaers*'s famous "Department of Eagles," a conceptual museum expressing a critical attitude toward traditional art institutions. An outstanding artistic project that questions the profile of art institutions and pleads for new formats and functions, the "Musée d'Art Moderne. Département des Aigles"
provides both an inspiration and a possible reference for the new corporate design of Kunsthalle Wien.
*Some of Broodthaers' capital works such as – "Le Corbeau et le Renard" (1967), "Un voyage en mer du Nord", "Poèmes industrielles – Museum, enfants non admits" (1969/70), "Musée d'art moderne, les Aigles" (1969/70), "Carte du monde poétique" (1968) and, among other, the installation with Raas Van Gaverstraat "Rendez-vous mit Jacques Offenbach" (1972)" can be seen at the Mumok as part of the exhibition "Musée d'art moderne a vendre pour cause de faillite" (Herbert Foundation and mumom in dialogue)