Review: Meyrem (2017), by Reber Dosky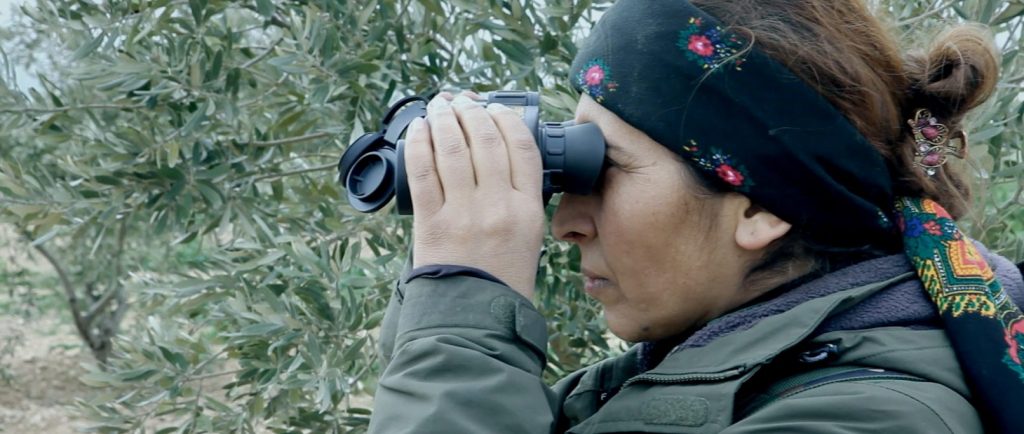 One of excellent proofs that a documentary doesn't have to stretch over 90+ minutes to offer a well-rounded story is Meyrem by Reber Dosky, a film about the female commander of almost all-female Kurdish combatants in the region of Rojava, Syria's West Kurdistan. As she leads her troop through the debris of Kobane, passing by charred human remains and belongings from bombed houses scattered around, Meyrem's mind is already occupied with plotting new strategies. Dosky's voice-over explains how they met and why the woman he's following around barely pays any attention to his camera. She tolerates his presence but has no time to give it any significance with air raids coming her way and with Isis fighters lurking from the other side of the village.
The film which had its world premiere at the Tampere Film Festival in 2017 is a form of homage the director is giving to his late sister who lost her life fighting Isis in the region, shoulder to shoulder with Meyrem. Dosky addresses the barely spoken about fact, that it was fighters like them who proved the local saying "women are good for nothing" wrong. Or in Meyrem's words: "War and religion are invented by men. God is a woman." As mostly women stayed to defend the land from the Isis, only few men can be seen in the troop and it's them who are checking the positions of snipers, or when the air raids will take place.
The calmness women are showing amidst fights to reclaim the occupied land is occasionally broken by mourning of someone's passing. It is then the full power of the sound department becomes evident, with the silence crumbling under fighters' sobs.
---
Country: Netherlands
Running Time: 15'11''
Screening format: DCP, H264, ProRes
Language: Kurdish
Director: Reber Dosky
Producer: Jos de Putter
Camera: Reber Dosky
2nd Camera: Nina Badoux
Sound Recording: Taco Drijfhout
Sound Design: Huibert Boon
Editor: Rémi van der Heiden
Colorist: Fernando Barrientos