Review: The Last Well (2017), by Filip Filković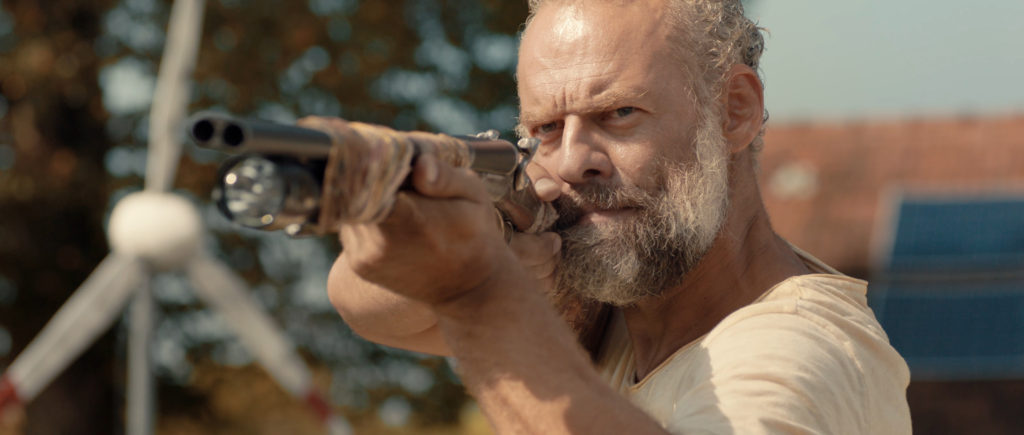 The year is 2037. The fresh water supplies in Europe are almost extinct. The family of desperados is going to the owner of the last well to obtain the water for their daughter who is allergic to the processed water, both from the tap and bottled. The raiders show up and the father of the family gets shot. The mother and the daughter are taken in by the silent water trader. However, even his well is about to dry out.
The whole "water is our treasure" narrative might seem lazy, since it is definitely a movie trope since the two last instalments of Mad Max franchise, but in some circles in Balkans it is almost a mainstream theory that goes well with the tendency of Balkan nations to think of themselves as special. And since there is no oil or rare materials in Croatia, the clean water might just do the trick.
Other than that, everything in Filip Filković's The Last Well works quite well and according to the rules of genre filmmaking. Working with the script written by genre veteran producer/scriptwriter/director Velimir Grgić, Fliković demonstrates good sense of direction and an admirable ability to operate with what he has: professional Croatian actors, an arid, summertime flatland landscape which gives the film the aura of western, ready-made relationships and interactions (mother-daughter-surrogate father triangle) and some more tropes like strong and silent war veteran types (which here can be also read in the context of recent events in Croatian history and their repercussions in the present time).
The end result is a serious and competent genre short that balances the motives of post-apocalyptic dystopia, western, action flick, rural thriller and family drama, a film that still tours the festivals two years after its official premiere.
---
Original Title: Posljednji Bunar
Country: Croatia
Running Time: 20′
Director: Filip Filković Philatz
Writer: Velimir Grgić
Producer: Danijel Pek
Executive Producers: Tamara Babun, Katarina Prpić
Director of Photography: Tomislav Krnić
Assistant Director: Igor Miklošić – Figo
Editor: Marko Šuvak Martinović
Sound Recordist: Damir Rončević
Sound Editor: Lucile Demarquet
Sound Mastering Engineer: Guillaume Couturier
Original Music: Side Project
Costume Designer: Alena Orović
Production Designer: Željka Rončević
Make-up Artist: Sanja Hrstić Kuterovac
Visual effects Supervisor: Chadi Abo
Artistic Supervision: Yasmeen Fanari
VFX Compositing Supervisor: Nasser Abo
VFX Compositing Senior: Sarah Beaudouin
3D Artist: Alexandre Quintin
Colour Grading: Arthur Paux
Additional concept art: Ivan Lugomer
Cast: Alen Liverić, Mia Biondić, Ozren Grabarić, Ida Rogić, Seck Zeen Hong, Seck Zoon Hong, Chongjun Zhang