Review: Session no. 78 (2018), by Bridget O'Driscoll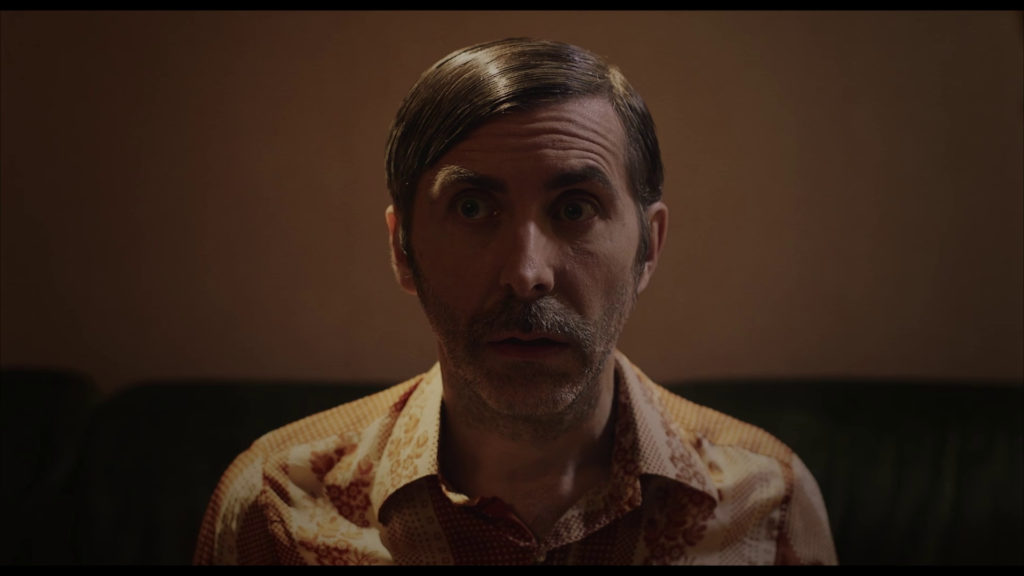 A man played by Cédric Villaneve wakes up and starts his daily routine of household chores in his small apartment. The work is accompanied by English lessons he listens on the tapes played on cassette deck. The times are analogue, cca. late 70s, as we can realize looking at his furniture and appliances. His accent might be thick, distinctively Slavic and East European, he is a diligent student and he is currently at the titular session no. 78.
However, the lessons he listens to, repeating everything he hears, is a peculiar one: it starts with one young women telling another how she spent the last night on a date. The other engages in conversation and it gets more and more explicit, sexually and otherwise, which makes it hardly a foreign language material. One sharp, darkly humorous plot twist form there the punchline comes and it is not to be spoiled…
The Irish-French filmmaker Bridget O'Driscoll comes from the background in music and sound engineering, with her first credited job as assistant sound editor of Gérard Pirès' Taxi. From that point on she's been working in various sound department – reated jobs for the directors like Guy Ritchie, Anne Fontaine, John Madden and others. Her professional origins show better in her directorial debut The Paris Hunt (2015), which was made around a music video, but sound also plays a big part in Session no. 78 – the feeling of the past decades and used and re-used audio-tapes is recreated to perfection and blended in into the film's very late 70's visual identity, which makes it quite a competent piece of filmmaking.
Having in mind that this is a comedy, a very tough genre to nail, O'Driscoll's success is even bigger. Her comedic timing is just perfect and her work with her regular actor Villaneve is perfectly precise. That kind of execution of the simple premise makes Session no. 78 a strong piece of filmmaking and a nice surprise on the short film festival circuit.
---
Country: France
Language: French/ English
Director/ Producer/ Executive Producer/ Production Manager/ Sound Editor: Bridget O'Driscoll
Screenwriters: Bridget O'Driscoll, Jérôme Wiciak
Assistant Director: Marie Dubois
Director of Photography: Matthieu Hussenot
Camera Operator: Philippe Coutant
Assistant Operator: Christophe Garnier
Sound Recordist: Amaury de Nexon
Sound Mixer: Jérôme Wiciak
Editor: Thomas Dessane
Production Designer: Julien Joanny
Costume Designer: Mélisande de Serres
Make-Up Artist: Rebecca Mignot