Eating out at the Cinemajové Film Festival, Valencia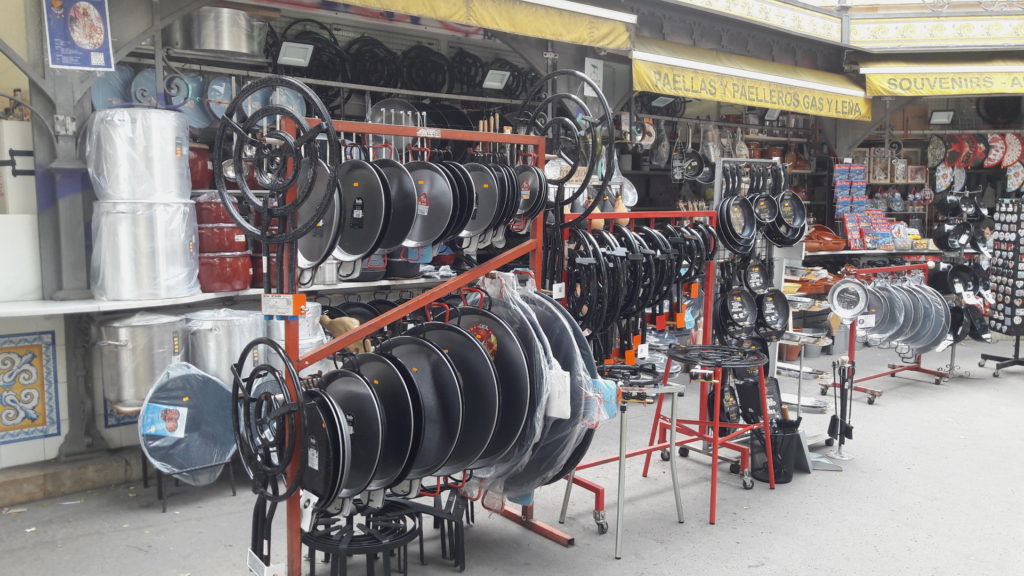 It's safe to say, you will never truly understand the meaning of "manana" before hitting Valencia, the Spanish queen of laissez-vivre. On my first ever trip to this beautiful city that buzzes with life long after the hours officially recognized as "the time to go to bed to re-thank the energy for the next working day", I managed to understand what makes this place so special.
In my very busy film festival life, travelling is more a means of coming closer to the cinema than to countries or cities per se, which sometimes leaves me frustrated – as someone who has spent her life exploring places and moving houses from country to country, I am often hit by the guilty feel of missing on something: an exhibition, a theatre play, a street festival or just getting to know the place I have happened to land in. In Valencia, while officially attending the Cinemajove film festival, I had the exactly reverse problem. My main task was not to watch films, but to experience the town, and for a short while, my mind was consumed with confusion and a guilty feel of not doing my job. That guilt trip didn't last long, and I embraced the opportunity to enjoy my stay to the full, walking around, eating out, and getting to know the city I was blessed to be invited to.
The first thing I learned about Valencia is that everything is negotiable. Rules are there as a blueprint for regulations, but you can easily dance around them if your arguments sound plausible enough. So was the case in my hotel, that for some unexplained reason had only two stars, although it offered more than an average tourist needs – a sparkling clean room, a comfortable (double) bed, a relatively pacious bathroom and a 24/7 reception service. And hey – have I mentioned really good wines at the price of only 12€ per bottle? All of it, a walking distance from absolutely anything of cultural relevance in the city and from the main festival venue. Upon checking in, I was told that there was a rooftop terrace above my room, where I could relax and observe the city from above until 11 pm. It took me only two minutes talking to the receptionist to negotiate my bottle getting cooled for later on in the evening.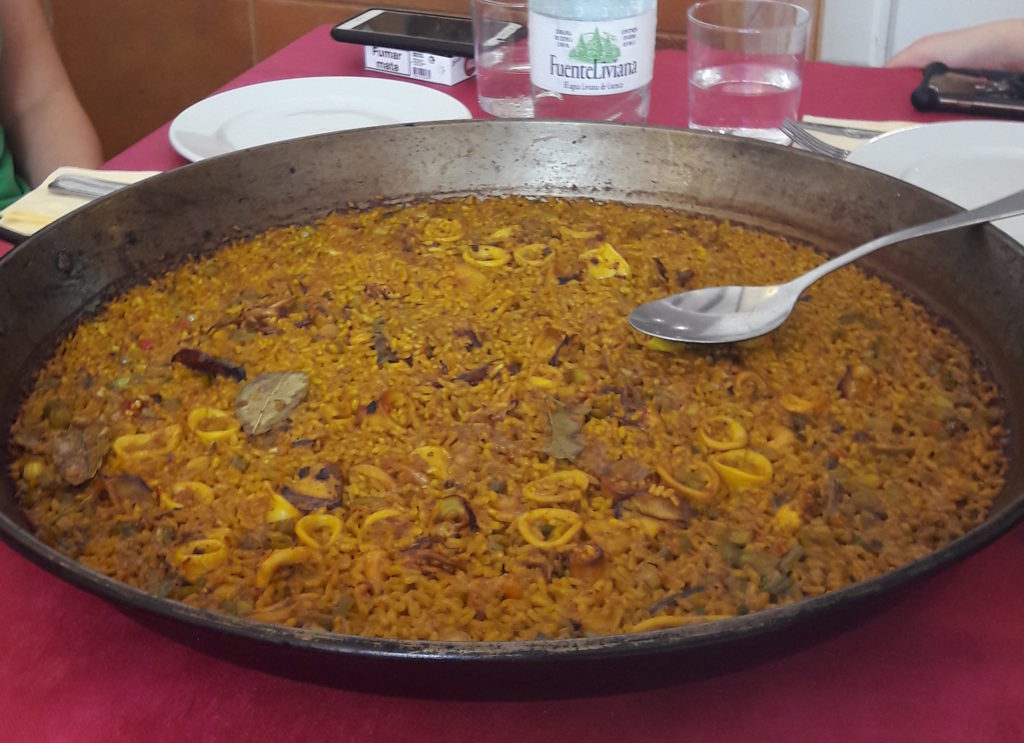 The second lesson I was given was about food. Think Paella, and you'll be wrong, because Sevilla is the place that teaches you about the proper paella, served in portions that scare the hell out of you. There are variations and variations of it, and you can bet your shirt on that even as a tourist you'll be served the proper thing, but not in such affordable prizes as when eating with the locals. Thanks to my hosts, I had a privilege of eating so many different paellas, that I got hooked to them. Still, the absolute favourite included the seafood. Unlike what we think to know about paella, it doesn't only come with rice, but also with slim fried noodles. The best ones I had were in the restaurant Yuso, that also has an incredibly wide range of drinks to it. Imagine having a mind-blowing portion of paella served in a huge frying pan, at a price of 13€ for two people and you'll probably want to make an effort to walk to Yuso. For a person suffering a severe gluten allergy, finding a range of gluten-free beers in this place was an epiphany. How come they are not served in "beer countries" like Germany, Austria, Czech Republic and Belgium?
Not being born rich, I had a pleasure of eating in Michelin (can't say how many stars) restaurants only on couple of occasions and all of those lunches or dinners were related to organized cultural events. In Valencia, I found myself in the food heaven "Habitual" together with my Argentinian fellow-critic Pablo da Vita. It's there we were savoring on best wines and meals, in this restaurant situated in the historic "Mercado de Colon", a market you would want to visit if for anything else, just to admire the architecture and smell all the spices. Shortly upon arriving, we were presented with a bottle of white Rioja wine wonderfully called "Predicador" (the Preacher). The waitress was capable of explaining everything that landed on our plates, and we begged for mercy after a 7-course meal, followed by two desserts that made us produce loud "oohs" and "aahs". As a starter, we were served roasted red pepper salad with mint, black olives and Parmesan cheese, followed by cheese-stuffed zucchini in sauce Hollandaise. The follow up – roasted celery in walnut and mustard Hollandaise Iberian dowlap, as well as Iberian pork shoulder blade with baby roasted potatoes in lentil vinaigrette, made us happy-tired. I will skip on the rest of the meal description to address the best dessert that I've ever had in my life – a Madagascar Vanilla flavored cream-caramel topped with cane syrup. The chef keeps his recipe a secret, and I can tell you – he should guard it with his life! But also, the cherries from Alicante's mountains with balsamic juice and caramelized almond ice-cream left us speechless for a while. We somehow rolled out of the restaurant and decided to go for a glass of Sangria at the market, just to add on some sugar, and when the popular Spanish drink arrived, it turned out that glasses were the size of the custom breakfast cereal bowls.  

The belief we've had the best Valencian food ever was of short duration, because the next day, we were sent to a place that convinced us otherwise – "Casa Montana", situated in the town's residential seaport area Cabanyal-Canyameral. Close to the sea and so adorably local that you'd see people sitting in front of their houses involved in conversations, perfectly unbothered by your presence, is a place you'd want to move to and stay there forever to become a part of the chill-out Valencian culture, that sees and knows tourists only as the "Casa Montana" visitors. The Cabanyal-Canyameral district should enter the history books as THE place of working-class resistance against the gentrification plans of the ambitious politicians. When the former Valencia mayor suggested radical architectural changes involving building luxurious residential houses and the highway, the whole neighbourhood rebelled, forcing the government to rethink its plans. The former river basin (diverted due to frequent flooding) was turned into a green recreation zone known as the garden of the Turia, popular among the Valencians, and it's a walk you wouldn't want to miss once in this beautiful city.
We were brought to "Casa Montana" by a local (female) taxi driver who made us fear for our lives for her care-free driving, but at the same time – it was an unforgettable experience. Obviously from that part of the town, she would stop the car to chat with people on the street, magically pulling her body through the widow, at the same time cheerfully chatting to us in Spanish, explaining the district.
Once we (finally) reached our destination, we were greeted by the manager who made us bend down to pass through the opening in the bar to enter the posh restaurant area. The white wine from the Navara region was already cooled for us, and the starters kept coming. Tuna filet marinated in olive oil and cardamom came together with the regional tomatoes, pickled in 7 spices and three kinds of pepper, and seasoned with smoked salt. Codfish croquettes followed, together with the house-baked bread, still warm and welcoming. Peppermint sauteed baby beans in a strong chorizo sauce (Jamon Iberica) were presented to us shortly afterwards, together with organic peeled tomatoes in olive oil, seasoned by the sea-salt only. We were explained that this was a special kind of tomato from the region that never gets watered, its only source of water being the occasional rain. Fried fresh anchovies, fished at the Bay of Castellón, melted like butter in our mouths, and the calamari were as tender as the finest piece of cooked vegetable. My biggest recommendation are the home-made chocolate truffles!

Founded in 1836, "Casa Montana" never ceased to be the popular gathering place of politicians and intellectuals, and yet it remained relatively affordable, particularly compared to "Habitual". If you don't drop your jaw at the sight of the hams hanged in the space between the bar and the restaurant, you will find pleasure in pieces of "casa Montana's" history displayed at every corner of this establishment. It you decide to go there, it is advisable to book a table weeks beforehand because the place is always busy. We watched people being turned away, and those who walked in for a limited dining time of an hour and a half, proud of even getting such a small time-frame for eating at the famous, traditional restaurant.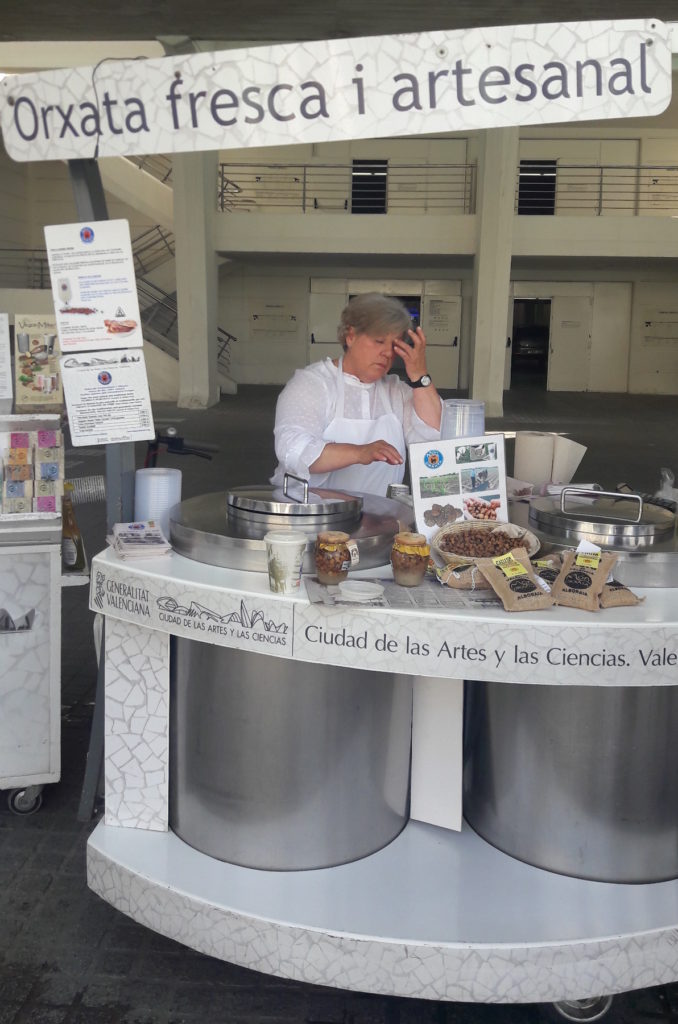 Since the moment I arrived in Valencia, I've been hearing stories about the local non- alcoholic beverage that exists at no other place in Spain. Or – it does, but "it's not a proper thing". But it took me a long walking trip through the garden of the Turia to the City of Arts and Sciences to finally have a taste of Orxata. I am normally skeptical of local people telling me about local things so amazing, they can never be found anywhere else, but here I was disarmed by a refreshing, healthy drink that recovered my body from the extreme heat I had to endure for an hour. Orxata has a 400-year old tradition in Valencia and it is still sold in pushcarts on the streets, although there are many classical ice-parlors and cafeterias that offer it in the meanwhile.
It is basically tiger nut (or – chufas) milk, made through crushing and sieving the tiger nut with water, and optionally sweetened with honey. Since the drink is not pasteurized, it has to be kept on temperatures between 0°-2°C, which unfortunately means that you'll return home without a bottle of Orxata. I was told that you can buy a powder to make it from, but was somehow not convinced (the freshness and the uniqueness of that taste just lingered on me for a long time).
Orxata is allegedly so healthy that it lowers the cholesterol, it's good for the heart, and it regulates digestion. It's caffeine- and gluten-free, and recommended to pregnant women. Most of the chufas used to produce Orxata come from a small coastal town Alboraya, not far away from Valencia. The city has become the "orxateria" attraction, and hosts a museum dedicated to it.
Popular with the Orxata consumers is a sweet pastry whose name sounds a bit unfortunate in English – farton. I can't really say how it tastes like because I couldn't eat it due to my allergy