Review: The Tears Thing (2019) by Clémence Poesy
Former lovers encounter each other accidentally four years after one of them silently walked out of the relationship, disappearing into untraceable anonymity. It's a shock moment for both, an emotional rollercoaster with tragic consequences that lead to a predictable, but nevertheless rounded, logical end. This could have been a disadvantage of the movie if it hasn't succeeded in tackling up the topic of scars born in an intense and doomed-to-end love relationship. "The Tears Thing" is a story sharp as a knife, or rather – painful as a bullet piercing human flash, and it was one of the contenders of the Orizzonti shorts competition at the Venice International Film festival.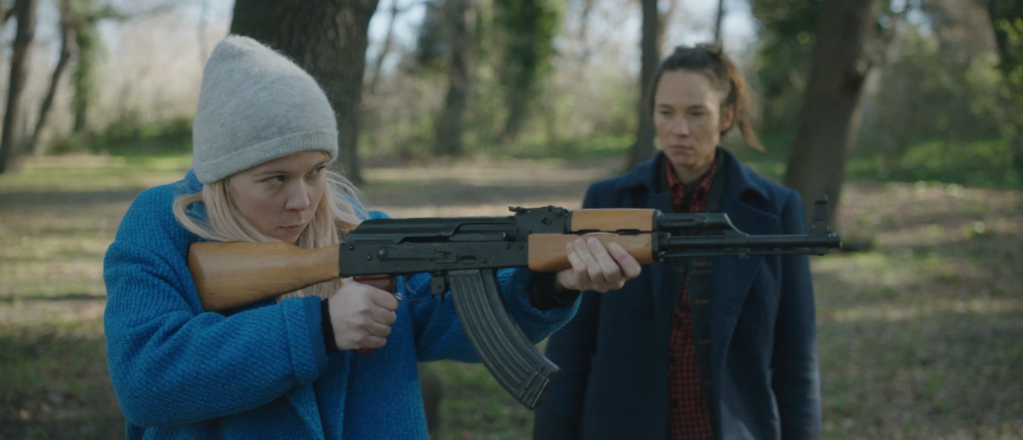 The film opens with a scene in which a young woman Florence Parady (played by India Hair), noticeably upset and teary, gazes at an invisible significant something, while trying to walk through a deep layer of snow. The first minutes are heavily dominated by the sound of crunchy footsteps in the snow, heavy breathing, wind and birds, all of them orchestrating a dramatic prelude to the plot. The sound department has done a grand job at making the slightest sound playing its own part, interluding with the narrative.
Florence is an actrice sent to a shooting range housed in a former farm somewhere in the vast wood in France, to learn how to use weapons. This trip is a part of preparation for a film in which she is supposed to play a professional killer. To her surprise, the instructor turns out to be no one else than her ex girlfriend Sacha (Sabine Timoteo), a strong, poker-faced woman who is like the emotionally reversed image of Florence's extroverted fragility. Timoteo takes over the screen with ease, and the viewer gets reminded of the forceful portraits she gave in Francesco Rizzi's "Cronofobia" (2018) and Alice Rohrwacher's "The Wonders" (2014).
Clémence Poesy appears in a cameo role as the continuity girl on the film shoot that takes place towards the end, and it's a mild reminder that the French director usually stands on the other side of the camera, although not that discretely. Having started her acting career exactly 20 years ago, Poesy has gained international recognition with a lead role of Natasha Rostova in the television mini-series "War & Peace" (Italian-French-German-Polish-Russian coproduction from 2007), before landing the part in Danny Boyle's "127 Hours" alongside James Franco and Kate Mara and later on in the American TV series "Gossip Girl".
Poesy made her directorial debut in 2016 with the short documentary "For a Moment" about the students of the Opera de Paris ballet school, and two years later she wrote and directed her first short feature film "King of the Wind".
Original title: Le Coup des Larmes
Year: 2019
Country: France
Language: French
Duration: 20'
Directed by: Clémence Poésy
Written by:  Clémence Poésy & Eric Forestier
Production: Yukunkun Productions
Executive Producer: Nelson Ghrénassia
Assistant Director: Brice Morin
Cinematography: Joe Russell
1st Camera Assistant: Simon Roche
2nd Camera Assistant: Marine Beauguion
Editing: Raphaelle Martin-Holger
Production Manager: Julien Auer
Production Designer: Alexandre Marcault
Sound Recordist: Benoît Guérineau
Sound Editor: Benoit Gargonne
Sound Mixer: Matthieu Deniau
Music Composer:  Jackson Fourgeaud
Costume Designer: Alice Eyssartier
Make-up/ Hair Stylist: Laurence Abraham