Review: Miles Davis: Birth of the Cool (2019) by Stanley Nelson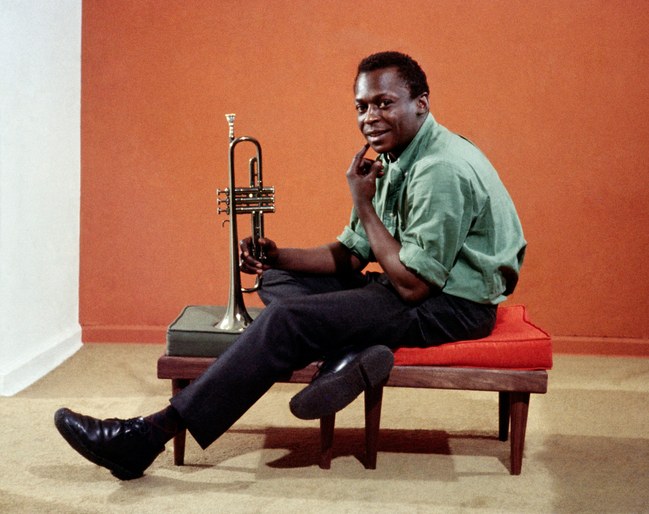 Stanley Nelson's deceptively dry portrait of musical genius Miles Davis, produced as part of PBS's time-honoured American Masters series, gives enough food for thought to inspire further investigation by casual Jazz fans and the uninitiated young, but will offer aficionados little in terms of new information or insight into music. The choice to compose a standard, talking-head style biography instead of a psychedelic flow of sonic exploration renders the task of finding new insights impossible. This is because Miles Davis' genius lives in his music. To say something to that one would have to make music, or at least a film that is closer to music than the pleasantly organised pellets of data on offer here.
But that data, mind you, is good. Davis' life was packed with drama and tragedy, impossible comebacks and musical breakthroughs that still define what we listen to today. Nelson's film lets us see Miles Davis' art as a divine force transforming the myriad miseries of his life – racism, materialism, addiction and violence – into beauty.
Born wealthy, gifted and black in the USA, the rural Davis quickly found his way into a world ruled by musical giants (like Dizzy Gillespie and Charlie Parker, two of Miles' childhood heroes) in New York City's 52nd Street. Nelson places Mile's personal tribulations next to his artistic stages, matching his escape from deeply racist East St. Louis with Be-Bop, his first innovative leap with Birth Of The Cool, which was developed with Gil Evans. His first true love affair, with chanteuse Juliette Greco, coincides with his reinvention of the Jazz ballad, which came to him after meeting the likes of Pablo Picasso and Jean-Paul Sartre in Paris. "Paris is where I understood that all white people were not the same, that some where not prejudiced and others were" rasps Carl Lumbly, who plays the voice of Miles throughout the film.
Birth of The Cool is not afraid to spotlight the many flaws that lead Davis into abject poverty, ruined marriages and even sent him careening into a concrete divider while asleep at the wheel of one of his many Lambos. Reading from Davis' autobiography, Carl Lumbly/Miles defends his caustic personality by saying he needed to protect himself from the outside world. His icy, often abusive temperament was a way of dealing with his lifelong sense of anger and cynicism caused by American racism. Coolness and a razor-sharp sense of fashion coupled with his romantic, vulnerable sound made him "a black superhero". He also fought to change the way black artists were represented by the music industry. Davis insisted that black women, among them his wife Frances Taylor,  grace his album covers instead of white models. Miles would later put an end to Taylor's dreams of being a professional dancer by pulling her out of the original production of West Side Story and eventually ruin their marriage with a nasty cocktail of physical abuse and drugs.
That's a hell of a way to say thank you to the woman who inspired him to investigate Flamenco music and create the immortal Sketches of Spain. Nelson's deluge of information sometimes fails to achieve the perfect balance of tabloid-level gossip with musicological adulation, but it does consistently remind us that extraordinary achievement comes at great cost. 
---
Original Title: Miles Davies: Birth of Cool
Country: US/ UK
Running Time: 115′
Language: English
Production: Eagle Rock Entertainment, Firelight Pictures
Production Manager: Melissa Morton Hicks
Theatrical Distribution: Abramorama (USA), Piece of Magic Entertainment (Austria, Belgium, Luxembourg, Germany, Netherlands, Australia, New Zealand)
TV Distribution: American Masters Pictures (USA), BBC (UK), PBS (USA)
Director: Stanley Nelson
Cinematography: Henry Adebonojo, Herve Cohen, Eric Coleman, Marc Gerke, Jerry Henry, Mead Hut, Clare Major, Antonio Rossi
Editors: Lewis Erskine, Yusuf Kapadia, Natasha Mottola
On-line editor: Don Wyllie
With: Miles Davis, Erin Davis, Ron Carter, Jimmy Cobb, Stanley Crouch, Betty Davis, Cheryl Davis, Flea, Quincy Jones, Herbie Hancock, Juliette Gréco, Carlos Santana, Archie Shepp, Lenny White…