Review: My Father Is My Mother's Brother (2018), by Vadim Ilkov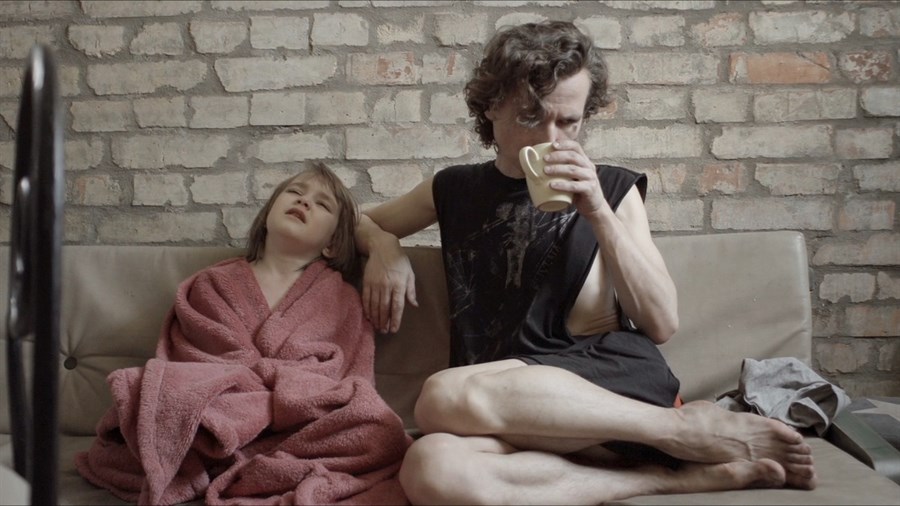 One might assume that the film titled My Father Is My Mother's Brother would be just another futile attempt at provocation, like a nasty incest joke usually is. But the director Vadym Ilkov is too smart to do that kind of thing in his compact, 76 minutes long feature-length observational documentary revolving around the topics of family, relations, society, illness and poverty.
This is Ilkov's second work as a director, after Waltz Alchevsk (2015) in which he followed a group of Ukrainian and Belarus performers in their attempt to establish a collective on an abandoned estate in Donbas region. Ilkov made the name for himself as cinematographer, working on a number of shorts and documentaries, but also Roman Bondarchuk's impressive fiction feature Volcano (2018). In My Father Is My Mother's Brother, he assumes one more role apart from those two: he is also the editor.
Let us start with explaining the confusion in the title. This is not a story about incest in any form, since the film follows Anatoliy "Tolik" Belov and his efforts to take care of his niece Katya. Anatoliy's sister Anya is deemed unfit to perform the role of the mother due to her mental illness and the girl's father is absent from their life. So, he is an uncle, but also a father figure and the only parent the girl has.
That proves to be challenging for the both of them. Katya is a handful and she is constantly demanding the attention. She is even more than ready to throw a tantrum when she does not get what she wants. On the other hand, Anatoliy's life is everything but stable. He is a struggling artist, a singer and a performer trying to make a living for himself, his niece and to help his sister financially in the harsh societal climate. As the film progresses, they are moving from one apartment to another, each less neat and comfortable than the previous one.
Ilkov approach is strictly observational, but even though he does not get involved in his subjects' interactions, it is far from un-involving. He and his camera stay close to them all the time, not actually invading their privacy, but still recording it from proximity that is hard to be ignored. It serves the purpose quite well, and the result is the viewers' empathy for the unlikely family unit.
A parallel might be drawn to Roberto Minervini's work in the American South and it is not just due to the similar milieu of the people from the margins of society. Like Minervini, Ilkov is interested in studying the human behaviour under pressure and is also a master of gaining his subjects' trust. The stylistic polish is, however, quite different and in Ilkov's case it thinner and more raw, devoid of meditative prologues and interludes, more focused on the subjects' actions. But Anatoliy's music, a strange mixture of electronic beats and old-timey, almost operatic singing with explicit and provocative lyrics is and ace up in Ilkov's sleeve, providing the film with a unique sound scheme.
My Father Is My Mother's Brother did exceptionally well at home, scooping the Best Film and Best Director prizes in the national competition in Odessa, followed by the nominations in the same categories from both the Ukrainian Film Academy and Film Critics Association. Outside Ukraine, it was not shown on many prestigious festivals, but it somehow found its slot at this year's edition of Viennale where the presence of Ukrainian films is especially notable this year. Although not completely airtight, it is the film worth seeing in which the director demonstrates the strong and clear voice.
My Father Is My Mother's Brother has won Prix du Jury Régionyon, Most innovative feature film of the International Competition at the Visions du reel in Nyon, Switzerland and Best National film and Best Director in the National Competition in Odessa.
Original Title: Mój tata jest bratem mamy
Country: Ukraine
Language: Russian
Runtime: 76 min.
Director, cinematographer & editor: Vadym Ilkov
Sound Design: Boris Peter & Andriy Rohachov
Producers: Valentyn Vasianovych, Iya Myslytska, Maksym Vasyanovych
Associate Producer: Darya Bassel